AbbVie (NYSE:ABBV) is one of the largest research-based biopharmaceutical companies in the world. The company has about 21,000 employees in more than 90 different countries. It owns 15 primary research and manufacturing facilities across the globe. At present, ABBV is working on 10 programs that are already in Phase III development. There are also more than 7 product candidates under Phase II study.
AbbVie used to be a part of Abbott Laboratories (NYSE:ABT). The parent company, Abbott, decided to split itself into two as a part of its business strategy. AABV entered the stock market at the beginning of this year. Since its market appearance, the stock gained about 16%. We think that there is still room for potential gains as discussed in below.
Financial Highlights
AbbVie has a market capitalization of $63.56 billion with a P/E ratio of 12.02. The current valuation is substantially below the industry's P/E ratio of 28.14. Besides having several drugs on its pipeline, the company has a relatively stable financial position. ABBV has the potential to provide consistent growth in key financial aspects such as earnings per share, revenues, dividends, and cash flow.
On February 15, ABBV announced a cash dividend of $0.40 per share to stockholders on record by April 15. It was also named to the S&P 500 Dividend Aristocrats Index based on the dividend performance of its spin-off company. On the same date, ABBV also authorized a share repurchase program amounting to $1.5 billion. This is a solid proof of management's growing confidence on the company's ability to attain success in the future.
Stock Overview
On the first day that ABBV entered the market, it ended with a closing price of $35.12 per share. As of the time of writing, the price has significantly improved to $40.15, a gain of 14.32% within just 3 months. I still think that ABBV will continue to set new highs on the basis of sound fundamentals.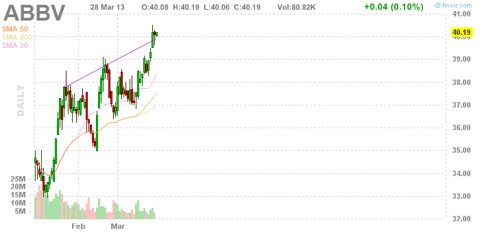 Future Outlook
Fundamentally AbbVie looks good. In its 2013 full-year outlook report released on January 30, the company's projections are encouraging. While growth forecast is lower than the 2012 growth performance, the figures are still in double-digits. As the company expects double-digit growth rates, the stock price is likely to follow.
AbbVie's flagship brand is Humira. Humira is the primary cash source of the company that generates about 47% of its sales. So anything that has to do with Humira will significantly affect the company as a whole. One of its major challenges, at this point, is the upcoming patent expiration of this brand in 2016. However, with 15 major regulatory submissions planned from 2013 towards 2017, there is high potential for the company's growing success in the coming years.
Humira sales amounted to $9.26 billion in last year. $4.4 billion came from the U.S. area while the rest is from international sales. ABBV's other billion-dollar products are Tricor ($1.1 billion in sales), AndroGel ($1.15 billion in sales), and Kaletra ($1.01 billion in sales). By looking at the sales figures alone, ABBV proves to be a strong company. It is fully equipped with high quality products to support its financial stability, as well. Last year, it ended with an annual profit of $3.4 billion with a profit margin of about 20%.
More About Humira
AbbVie is determined to utilize Humira even further. This includes getting FDA approval for 4 new indications. Presently, Humira is primarily indicated for the treatment of moderate to severe rheumatoid arthritis, plaque psoriasis, and ulcerative colitis. It is also prescribed by the doctors to treat ankylosing spondylitis, Crohn's disease, juvenile idiopathic arthritis, and psoriatic arthritis.
Humira is now under Phase III trial for Hidradenitis Suppurativa, Axial Spondyloarthritis, Peripheral Spondyloarthritis, Uveitis, and Pediatric Crohn's Disease. Although it is unlikely that all of these studies will be approved this year, some treatment claims may eventually get FDA approval. This will ignite another upsurge in share prices in the next few months.
Final Recommendations
While ABBV is a relatively new stock in the market, it has a strong industrial background inherited from Abbott. Since its separation, the company has proven that it can independently deliver the financial expectations. It supports strong financials and the management also provided a positive outlook for this year.
AbbVie offers a trailing yield of 4%, which makes it a solid choice for income-oriented investors. Surely, its dependence on Humira creates an additional risk after the patent expiration. However, until then, the dividends are in safe condition. As the company's pipeline spreads into the market, the cash flow is expected to improve. That can offer an opportunity for a dividend raise.
Disclosure: I have no positions in any stocks mentioned, and no plans to initiate any positions within the next 72 hours.
Business relationship disclosure: EfsInvestment is a team of analysts. This article was written by one of our equity researchers. We did not receive compensation for this article (other than from Seeking Alpha), and we have no business relationship with any company whose stock is mentioned in this article.