Stable and low interest rates continue to provide fuel for companies associated with real estate operations and finance. Although my personal forecast for the group is for somewhat moderating performance going forward, I think investors can still profit by looking for under-the-radar opportunities and focus on securities with flexible strategies, higher yields, and lower market capitalizations.
Three Showings
Today we will examine a three position small-cap REIT/mREIT grouping that provides a blended 10% forward dividend yield. What I like about the combination is that while each stock entails above average risk independently, taken as a whole, the hybrid nature of each business model and exposure to diverse milieus within the sector provides a layer of risk mitigation. Total return and income investors should always be looking for creative ways to build portfolios and position themselves for attractive, risk-adjusted returns. The showings:
NorthStar Realty Finance (NRF) 7.57% yield
Colony Financial (CLNY) 6.35% yield
Western Asset Mortgage Capital (NYSE:WMC) 15.5% yield
Listing Details

NorthStar is a commercial-focused REIT possessing a multi-prong income generating strategy. The company underwrites, originates, and buys/sells a wide variety of commercial debt and securities, owns a $1.3 billion, 8% at cost implied cap rate portfolio of real estate, including net lease, healthcare, and manufactured housing property. It earns asset management fees on three non-traded REITs, and receives cash distributions from a private equity fund.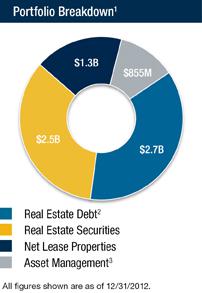 The diversity of the company's business allows it to raise capital and deploy it opportunistically towards each of its businesses. However, given NRF's diverse nature, with characteristics of an operating REIT, an active lending business, and fee based structure, the company is somewhat difficult to evaluate.
Across its lines, NorthStar manages $7 billion of real estate assets, is beholden to a little more than $5 billion of debt, and currently sports an equity market capitalization of about $1.8 billion. The company reports both AFFO and adjusted book value to investors on a quarterly basis. In 2012, reported AFFO totaled $1.71 a share and as of the end of last year stated adjusted book value was $6.75 a share, but that did not include about 25 cents a share in fee income.
In a recent presentation to investors, the company said it is expecting somewhere between $.87-.97 a share in net available cash for distribution to shareholders in 2013. Last year, the company paid out a total of 62 cents a share on an available 74 cents (83.7% payout). According to this information, we can extrapolate that NorthStar might pay out a total of 80 cents this year to shareholders in an optimistic scenario, a 30% bump in the dividend compared to a year ago.
Given the stock's 50% run up over the past 6 months and a blended take on the AFFO/book value data above, I would conclude that NorthStar is probably mildly overvalued and might be set for a period of near-term consolidation. However, fundamentals here appear awfully strong, and if the stock were to drop below $9, which would equate to a 9% yield assuming a high-end dividend payout this year, I would consider putting in an aggressive offer.

Another company in the same neighborhood as NorthStar is Colony Financial. Like NorthStar, Colony maintains a hybrid REIT operating structure and engages in the origination of high yielding senior and mezzanine level loans. However, the vast majority of Colony's effort is currently focused on the purchase of distressed and non-performing debt and the ramp-up of its single family home purchase/rentership platform [CSFR] that has doubled as a portion of overall tangible book value over the past six months. The below chart is somewhat dated, as the company owns 7000 home units now, so I would estimate that CSFR now accounts for closer to 40% of Colony's business.

In its CSFR division, Colony is making a big bet that the trends moving Americans from owning to renting single-family homes will continue into the foreseeable future. This phenomenon, which has been developing for nearly a decade now, has been exacerbated by the financial crisis and housing price volatility. Colony's move to capitalize on distressed property, including foreclosures, short sales, etc.., and profit through near-term rent capture and hopefully longer-term price appreciation is a savvy move, in my opinion.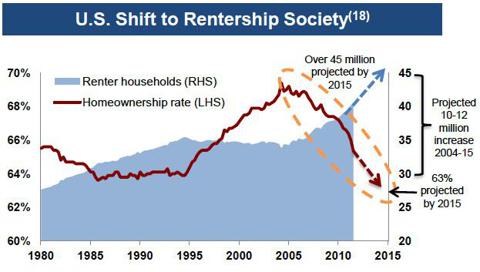 The company's CSFR business exists in seven states (AZ, CA, CO, FL, GA, NV and TX) and is typified by the purchase of a 26 year old (mid 80s) home costing $130,000. The home has about 1700 sq. ft. of living space and monthly rent is about $1165 ($14,000 annualized). After taking into account a variety of average post purchase expenditures including renovations, management costs, etc...., Colony is seeing about a 6-7% annualized net cash return on this operation.
Of the roughly 7000 homes the company owns as of its latest conference call, total occupancy is around 53%. While this seems low on the surface, the company says that occupancy at homes owned for more than six months moves up to the 90% threshold, meaning that homes are quickly being leased following purchase. As the company scales CSFR, business economics could modestly improve in my view, and if there is any wind at the back of housing prices, investors will benefit from embedded gains in the value of the homes Colony is purchasing. While some may be skeptical of the wisdom in this strategy, I think it is an opportunistic way to capitalize near and potentially long-term on weakness in the residential housing market.
A clear positive in Colony's model is the low effective leverage the company employs. Through the course of 2012, debt to average assets averaged in the low to mid teens. While the company indicated in its latest conference call that leverage may rise a bit the remainder of the year, corporate expansion is being funded currently mainly through share offerings, the latest being this past January, with proceeds specifically earmarked for CSFR.
From a current valuation perspective, Colony's hybrid model, like NorthStar's, leaves room for subjectivity on the part of investors. The company reports core earnings as well as book value on a quarterly basis. Core earnings were $1.62 for 2012 and book value was $18.30 as of Dec. 31. As with NorthStar, given a blended operational overview, my sense is that at a $22 price point, the stock is somewhat overheated. However, my view on Colony, like NorthStar, is that it should continue to be able to build shareholder value in the future and achieve steady cash flow, especially if it continues to be successful in scaling CSFR. Any near-term move back to the $20 level should be considered an attractive entry or add point.

Our third and last showing is with a relatively new mREIT on the block, Western Asset Mortgage Capital. The company commenced operations roughly a year ago with a $20/sh. IPO. With recent dealings at the $23 level, coupled with $2.35 in dividends declared in 2012, WMC has provided around 25% in total return to investors over the past year. Though the company has invested almost exclusively in Agency RMBS since inception, Western Asset is chartered as a hybrid mREIT that can spread its wings and participate in non-Agency paper, CMBS, and other asset back investments as opportunities permit or necessitate. Like NorthStar and Colony, this is another company with the flexibility to efficiently allocate company capital.
Some of the things I like about Western Asset compared to others in the RMBS space is number one, its size. WMC, with its $550 market cap, maintains a comparatively small portfolio with about $5 billion in assets. Compare this to a company like American Capital Agency (NASDAQ:AGNC) which is dealing currently with a $100 billion asset book. And though the company has a limited track record, the Western Asset organization is a well established entity, and in my view, an underappreciated credit analysis operation. So far, management appears to have done a fine job navigating the RMBS market.
In a presentation last year, the company spelled out its specific strategy (see below) to battle prepayments, one of the prime risks within the RMBS space. Since RMBS levered mREITs are working with rather thin interest rate spreads to begin with, higher than expected rates of portfolio churn can play havoc with near-term investment results.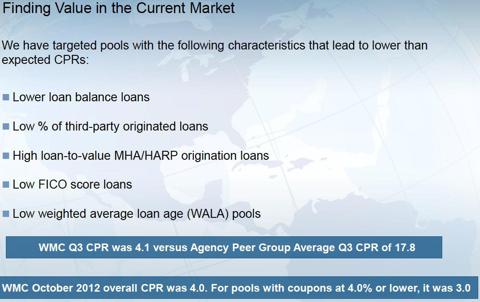 While the risks of mortgage REITs are fairly well documented, it is worth noting that WMC looks to be employing over 9X leverage, which comparatively speaking, is on the high side of the industry right now.
On March 6, WMC reported another solid quarter with net income of $1.06 a share, which exceeded expectations. With a dividend yield of better than 15% based on an annualized $3.60 payout, the company may be hard pressed to raise the dividend much more given already high leverage, low CPR, and minimal near-term spread improvement potential. However, even if the dividend and book value remain flat going forward, there is still mid-teens return potential here. While I like the way the company is being managed, it does trade at a 7% premium to the $21.67 book value it reported earlier this month, so again, investors should be considerate of balancing current valuation circumstance with forward prospects. I personally think investors are best served buying mREITs when they are closer to stated book.
Buyer Feedback
Real estate investors might want to consider these three companies because they are flexibly managed and as a whole provide a diversified small-cap blend of exposure to both residential and commercial real estate markets. Their hybrid natures and smaller capital bases afford them nimble capital decision making opportunity, providing investors with near- and longer-term value.
And though I wouldn't recommend these stocks to risk averse income investors, I think the total return potential and lofty blended yield provides for a diversified and attractive risk-adjusted play, all things considered. Finally, while I like the independent prospects for each and have been a buyer this past year, I'm somewhat cautious of current valuation, and would recommend a dollar cost average or even a watchful waiting approach here to mitigate near-term volatility that may occur.
Disclosure: I am long NRF, CLNY, WMC. I wrote this article myself, and it expresses my own opinions. I am not receiving compensation for it (other than from Seeking Alpha). I have no business relationship with any company whose stock is mentioned in this article.
Disclaimer: The information contained in this article should not be considered or construed as individualized or specific investment advice. Do your own research and consult a professional, if necessary, before making investment decisions.