[Editor's Note: This article has been revised since original publication, as the author erred in the analysis about Edison International. Apologies for any confusion this may have caused.]
Is it time to tiptoe back into California utilities? I have been absent any California utility investments since 2001 after selling positions in small-cap California Water Service (NYSE:CWT) and large-cap Edison International (NYSE:EIX). California Water provides regulated water services to California, Washington, New Mexico and Hawaii, along with offering non-regulated water services. Edison International is one of the largest regulated electric utility firms, serving over 14 million customers mainly in south and central California. Annual reports for CWT can be found here and investor presentations for EIX are here.
Similar to other regulated utilities, these two companies thrive based on the whims of state regulators. As owners of the company, shareholder interests are therefore closely tied to the actions of the California Public Utility Commission CPUC. To the extent that the percentage of total company investments reside in the regulated asset base, the returns on invested capital, or lack thereof, are determined by the rulings of the CPUC. Consistency in rate rulings is one of the stable yet unstable aspects of regulated utilities. For instance, the most recent data from the Edison Electric Institute's Rate Survey indicates that as of 2nd-quarter 2012, the average ROE allowed in the 16 cases nationwide that were finalized was 9.92% and represents the lowest allowed ROE since 2003. The average over the previous four quarters was 10.37% on 60 finalizations.
However, in 2001, the CUPC changed the rules mid-stream so to speak. From CWT's 2001 annual report:
One of the most significant developments at the CPUC in 2001 was a decision to reconsider the way water industry offset expenses are processed. For more than two decades, water utilities have been able to include increases in certain unpredictable and uncontrollable expenses in rates, including electric cost increases, without having to wait to request recovery in general rate case applications, which can only be filed every three years. The CPUC has delayed our requests to recover a large portion of our higher electricity costs until it decides upon the matter of offset expenses. Our electricity costs rose $6 million in 2001, and our unsuccessful efforts to recover all of that cost increase had a significant negative impact on our earnings. We are participating actively in the CPUC proceeding on this issue, both as a company and as an industry, in an effort to protect the interests of both stockholders and customers. We expect our efforts and the efforts of the water industry to yield positive results.
Three items to keep in mind at the time:
California water is a small company and a $6 million in added expense relates to a decrease of 30% in net income and a 30% increase in purchased power. $6 million in higher profits in 2011 would have added $0.40 a share onto reported earnings of $1.15.
For most water utilities, purchased power is the second largest expense after purchased water for resale. It was no different for CWT.
This was during the time when Enron was accused of manipulating the electricity market, causing artificial shortages and spikes in wholesale pricing. Between 1996 and 2000, California regulated electric utilities were being deregulated as to their costs but not deregulated as to their revenue rates from retail customers. Commercial customers, such as CWT did not fall under the same regulatory protection blanket as consumers.
Market supply manipulation by Enron, a lack of new generating capacity, and a drought that reduced output from hydro plants caused wholesale electric rates to skyrocket 800% from April 2000 to December 2000. Manipulation was the largest culprit as statewide generating capacity was over 40GW while demand was about 28GW. On December 5, 2000, the wholesale spot price for electricity was $1500 per MWhr versus $45 a year earlier. Utilities were paying between $0.11 and $0.50 per KWhr but could charge only $0.067 per KWhr.
The difference between capped retail revenues and uncapped, skyrocketing wholesale costs created such a financial strain that Pacific Gas and Electric (NYSE:PCG) was unable to meet its obligations and filed for bankruptcy protection. The stress also brought its California peer Edison to its knees and it, too, was on the verge of bankruptcy. The state stepped in to purchase and finance power purchases for both companies along with San Diego Gas and Electric, and it took two years for the firms to become sufficiently solvent so that they did not need state assistance.
Enron officers were arrested and tried for market manipulation including: Ben Glisan, Jr., Andrew Fastow, Lea Fastow, Richard Causey, Jeffrey Skilling, Kenneth Lay, Dan Boyle and Merrill Lynch bankers Daniel Bayly, Robert Furst, William Fuhs and James Brown.
The upshot of the Great California Electricity Crisis was that investors in PCG, CWT and EIX all took a bath of some sort or another, all based on business model decisions out of their control.
One of the reasons investors choose regulated utilities is the perceived stability of earnings and dividends. Sometimes called Widow and Orphans stocks, regulated utilities rely on stable and increasing allowed returns on a growing regulated asset base. However, investors are ultimately at the mercy of the regulators, and for those investors in California utilities in 2000 and 2001, the outcome was not very rewarding.
Below is the stock chart of EIX and a comparison with the S&P Utility ETF (NYSEARCA:XLU), showing a decline from $32 a share to $10 a share as a direct result of the effect of the crisis.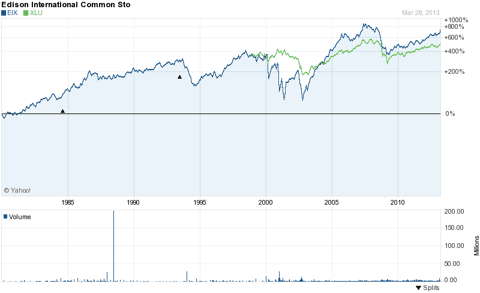 Below is a P&F stock chart of PCG, showing similar drop in share prices:
Although share prices for EIX outperformed XLU since 2004, they were also more volatile during the market meltdown in 2008, giving back most of the outperformance of the previous few years. Over the past 5-years, EIX has matched the share performance of XLU. Much like the utilities ETF, EIX continues to lag its all-time highs. Over the past 12 months, other utilities made new all-time highs and have outperformed both EIX and XLU. EIX's dividend was eliminated after the March 2000 quarterly payment of $0.28 and remained suspended until the Jan 2004 quarterly payment of $0.20.
I am sure there have been investors who have done pretty well holding these stocks. However, for my investment dollars, I prefer the more predictable regulatory relationships historically found in the Midwest (ex-Illinois) and Southern USA, and also found in federally regulated transmission assets. Examples of these could be Southern Company (NYSE:SO), Dominion (NYSE:D), ITC Holdings, (ITC), CenterPoint Energy (NYSE:CNP), and NextEra (NYSE:NEE).
A great overview of the electric regulatory structure can be found in the 68-page pdf file from raponline.org found here.
It is important to review the regulatory environment specific utilities operate in as these will definitely affect investor returns over time. While a bit outdated going back to 2008, below is a map provided by S&P assessing utility regulatory environments by state. This was prepared in conjunction with its credit rating outlooks as these two topics are greatly intertwined, as demonstrated during the California Crisis. The 2011-updated report can be purchased here.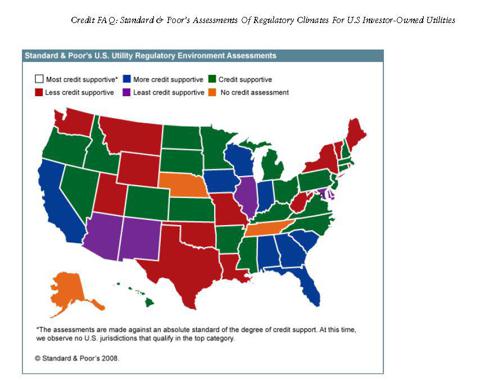 To the question, "Is it time to tiptoe back into California utilities?" my answer is -- maybe, based on the nod from S&P Credit Rating folks. However, offsetting the nod is a growing exposure to the disruptive aspects of intermittent wind generation attempting to replace base-load capacity. The advantage California has on this front is the largest U.S. deployment of geothermal power generation that can be used as base-load capacity.
Author's Note: Please review important disclaimer in author's profile.
Disclosure: I am long SO, ITC. I wrote this article myself, and it expresses my own opinions. I am not receiving compensation for it (other than from Seeking Alpha). I have no business relationship with any company whose stock is mentioned in this article.