In my recent piece, "STEC: Trading Near Cash Value, 140% Upside Potential By 2014", I painted a fairly optimistic view of STEC's (NASDAQ:STEC) chances at a successful - and profitable - turnaround. Unfortunately, the most recent earnings results, along with a fairly uninspiring conference call, have led me to believe that the initial thesis is unlikely to play out, and as a result am stepping to the sidelines on this name until tangible progress is observed as a result of the restructuring efforts.
Q4 Miss, And Low Q1 Guide Cast Doubt On Turnaround Prospects
STEC's business is fundamentally structured to breakeven at a $70M/quarter run rate. In Q4, the company posted sales of $35.1M (below guide of $36M - $40M), implying that in order for STEC to reach a quarterly breakeven by this the end of the next fiscal year, the company would need to see 20% compounded Q/Q growth over the next four quarters. Q1 is traditionally a seasonally down quarter, so I would have been inclined to buy a back end loaded story if there were signs of real growth in the business. However, the company guided to $21M - $23M for Q1, a 37% sequential decline, which seems to contradict a recovery thesis, especially in light of:
A secular growth story in enterprise flash solutions
STEC's relatively low market share, which should - if the products are competitive - help counteract traditional seasonality. There seems to be very little evidence of market share gains.
Digging deeper into the results, management pointed out that sales to EMC (EMC) have declined substantially but that an unnamed non-OEM customer accounted for "over 10%" of 2H sales. While this transition is certainly in-line with the recovery plan outlined several quarters ago, this value needs to be viewed in the context of a dramatically lower (and declining) revenue base. To illustrate my point, I begin with the following statement from the call:
As a percentage of total revenue, non-OEM sales increased to approximately 22% from approximately 6% in 2011. These are important points because they indicative that our transition is underway and we are fully expecting the shift towards the healthy balance of non-OEM and OEM revenue will continue for the foreseeable future.
Full year revenues for 2011 were $308M while 2012's full year revenue was a mere $168M. Looking at absolute dollar figure increases (stripping out the effect of the lower revenues), we see that 22% of non-OEM sales in 2012 comes out to a dollar figure of $37M and in 2011 6% comes out to $18.5M, implying that non-OEM sales merely doubled during 2012 (rather than the misleading figures given that attempt to imply that the growth here was on the order of 3-4x). While the growth in the non-OEM segment has been nice, the revenue base needs to be able to see a sustained level of growth. Had the Q1 guide been robust, a longer-term secular growth/market share capture story could be believed, but the sharp falloff in sales implies that there simply aren't enough customers to avoid the quarter to quarter volatility in sales. At these revenue levels - well under half the required revenues to reach breakeven - this is not acceptable.
The Environment Is Getting Less Friendly
Despite the soothsaying from management that these turnaronds take time, and that the company has managed these transistions before, it is very difficult to envision a massive, sudden surge in the demand for STEC's products, and I believe that competitive weakness may have materially affected the Q1 guide. In particular, I see the market share/demand for STEC's products actually taking a continued hit on a number of drivers:
Intel (NASDAQ:INTC), one of the leaders in enteprise flash, is refreshing its already market leading product line in the April/May timeframe, which could only serve to drain further market share from the smaller players like STEC. Intel competes in both SATA/SAS as well as PCIe solutions, and has a key advantage in that it can bundle the flash storage solutions with its processor/motherboard/interconnect platforms.
PCIe flash leaders such as Fusion-io (NYSE:FIO) and Violin memory both offer much more focused product lines in the high GM/high ASP PCIe space, which should prove to be a major competitive pressure on the higher gross margin portion of STEC's new - and unproven - product line
Western Digital (NYSE:WDC) and Seagate (NASDAQ:STX), both proven leaders in the hard disk drive space have made nontrivial investments and have formed partnerships with smaller enterprise SSD players (Skyera and Virident, respectfully). This not only puts STEC out of the running for a potential acquisition by the most obvious candidates, but Western Digital and Seagate ultimately have the cash flow to amplify their smaller partners' efforts by virtue of massive scale
I believe that the weakness is also due to the relatively anemic sales force that the company has had in place until fairly recently. While it the new hires (and +20% Y/Y opex) may eventually lead to an outsized growth in sales, it seems that without any evidence to support a turnaround, the view will rightly be that increased opex and accelerating cash burn will eventually drain STEC's reserves, and the shareholders along with it. Simply put, there is simply too much risk without any evidence of reward to invest in this business.
Cash Burn Eats Into Valuation Support
The cash position is down to $158M from $186M in the most recent quarter. Non-GAAP net loss in the coming quarter is expected to be $0.40 - $0.42 per share, which implies cash burn in the $19M range for the quarter (as Non-GAAP estimates factor out non-cash expenses). Should this level of cash burn continue over - at the very least - the next four quarters, then the cash position could be cut in half. I expect that this is too pessimistic in light of seasonality, but the cornerstone of the STEC thesis at this point is a high cash level to fuel a business that is seeing a reversal in sales momentum. Sell-side estimates model, which model a $1.45/share loss for the fiscal year, with estimates of (0.41) and (0.39) for Q1 and Q2, seem to believe in a slightly back-end loaded, but still quite unprofitable year.
At this point, given management's unwillingness (and perhaps inability) to forecast beyond the current quarter, it is prudent to assume that the valuation support afforded to the stock by its cash position will continue to erode dramatically over the coming quarters.
Management Unwilling To Consider Strategic Alternatives?
Balch Hill and Potomac Capital, two of STEC's largest shareholders, issued an open letter to STEC's management, urging the company to,
Kick out the current CEO because too closely associated with the former CEO (accused of insider trading) to build any real credibility with investors
Consider strategic alternatives, including a sale of the company, if it cannot operate (profitably?) as a standalone entity.
The response to this letter was ultimately captured in the following excerpt,
We are disappointed that the dissidents have decided to pursue this wasteful course of action. The Board and management team remain fully committed to creating value for all shareholders, and that remains our focus
The irony here, of course, is that the Board and management team have proven wholly incompetent at creating long term value for its shareholders. The most recent earnings report and guide is simply further confirmation of the fact that this turnaround is not likely to work before most - if not all - of STEC's cash reserves are burned and the stock sees a significant readjustment in valuation as a result: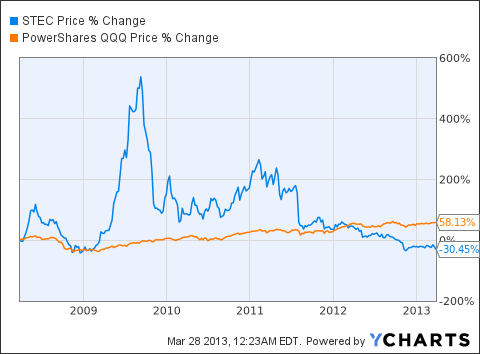 The major concern here is that the company is not being operated in the best interests of the shareholders, and it is beginning to look like Balch Hill and Potomac Capital are now all-too-painfully aware of this fact.
Conclusion: Stay On The Sides
At this point, with no signs of a turnaround in STEC's business and ever increasing competition in the enterprise flash space, it seems that the secular growth wave is simply not enough of a tide to raise this boat. Should the business turn a corner and start to show real signs of life, there will be plenty of time to hop on board. Right now, the cash burn, competitive pressures, and still-shrinking sales with little-to-no visibility, cement the notion that even as a speculative play, STEC is a poor bet at this time.
Disclosure: I am long INTC. I wrote this article myself, and it expresses my own opinions. I am not receiving compensation for it (other than from Seeking Alpha). I have no business relationship with any company whose stock is mentioned in this article.