In an article that I wrote on Wednesday about AIG's (NYSE:AIG) new Claw back Plan, I mentioned that it was ironic that the:
...filing comes on the same day that S&P revised the outlook on JPMorgan (NYSE:JPM) from Negative to Stable on "risk-management corrective actions." S&P's reasoning is:

"The outlook revision reflects our belief that JPM has successfully addressed our concerns related to its Chief Investment Office losses, risk-management practices, and governance issues," said Standard & Poor's credit analyst Stuart Plesser. "Specifically, we believe that risk-management missteps were isolated to the CIO unit and that JPM has properly remediated them, or is in the process of doing so. In addition, we believe the synthetic credit portfolio, which gave rise to the CIO losses, has been wound down, for the most part, and additional losses, if any, will be immaterial."
On second thought, I started to wonder how exactly JPM "successfully addressed" S&P's concerns. After looking around, the answer was found in a proxy statement that JPM filed on Friday the 22nd and it appears JPM has already made some clawbacks of its own. Highlights from the proxy statement:
With respect to compensation and personnel actions as a result of CIO, the Firm took the following actions, all of which were reviewed with the Board:

The compensation actions for the Chief Executive Officer and the former Chief Financial Officer as detailed in this section and approved by the Board.

Replaced the management team responsible for the losses.

Invoked comprehensive clawbacks of previously granted outstanding awards and/or repayment of previously vested awards subject to clawbacks for those with primary responsibility (over $100 million recaptured).

For a group of employees deemed to have been closely associated with CIO events, reduced or eliminated compensation that otherwise would have been awarded by an aggregate of approximately 60%.

A number of employees were permitted to resign or reassigned to other positions deemed to be more appropriate and experienced significant reductions in compensation.
Also from this proxy we find that Mr. Dimon's compensation for 2012 decreased by 50% to $11.5 million.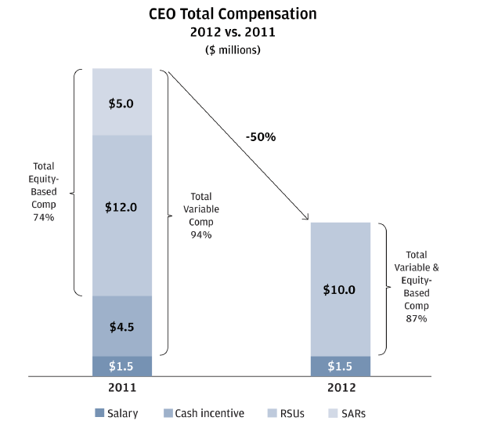 Since I seem to enjoy finding strange similarities, I'd would add that (ironically) like Bank of America (NYSE:BAC), the CEO of JPM (Dimon) gets paid less than the CEO of Asset Management (Mary Callahan Erdoes - $15 Million), the Co-CEO of Corporate & Investment Bank (Daniel E. Pinto - $17 million) and the Co-Chief Operating Officer (Matthew E. Zames - $17 million).
From a Proxy filed today, the 28th, we find that BAC's CEO Mr. Brian Moynihan was paid $12 million in total compensation for 2012 while Thomas K. Montag (Co-Chief Operating Officer) was paid $14.5 million.
Even though these measures remind investors of the evil doings some upper management has been involved in, it is encouraging that the boards of these companies are taking the steps that they can to prevent bonuses from being paid in conjunction with these deeds as well as implementing pay structures that deter new managements from repeating them. Some other steps the banks seem to be doing are tying up management compensation with longer time restrictions on the sale of the stock. This, to promote a long-term focus on growth and earnings.
Some positives for JPM:
Earnings growth as evidenced below: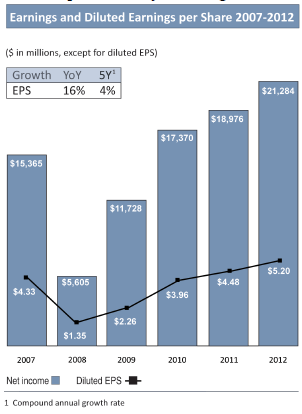 Shares are up 9% this year and 57% above their 52 week lows.
Recently announced governmental approval will allow JPM to buy back shares and increase its already 2.5% dividend yield.
Disclosure: I am long AIG. I wrote this article myself, and it expresses my own opinions. I am not receiving compensation for it (other than from Seeking Alpha). I have no business relationship with any company whose stock is mentioned in this article.