By John Spence & Tom Lydon
Gold ETFs opened lower on the last day of the first quarter and are on track for a decline of more than 4% for the period amid record withdrawals from the precious metal funds.
SPDR Gold Shares (NYSEARCA:GLD), the largest bullion-backed ETF, has seen net outflows of $6.6 billion so far this year. The gold ETF still holds about 1,221 metric tons of gold and $62.9 billion of assets under management.
Holdings in gold exchange traded products fell 6.9% during the first quarter, Bloomberg News reports.
A resurgent U.S. dollar has weighed on gold prices this quarter. PowerShares DB US Dollar Index Bullish (NYSEARCA:UUP) is on track for a gain of about 4% and is trading at its highest levels since August of last year.
"The substantial ETF outflows are very worrying," said Filip Petersson, a commodities strategist at SEB AB in Stockholm. They represent "a major bear trigger," the strategist told Bloomberg.
Gold has enjoyed a 12-year bull rally but is down about 15% from its all-time high set in September 2011. George Soros is among the noted investors who have recently scaled back their holdings in GLD and other gold ETFs.
The precious metal is currently trading around $1,600 an ounce as traders keep a close eye on the unfolding banking crisis in Cyprus that has forced the eurozone debt crisis back into the headlines.
Gold ETFs have been on the market for about a decade. There are now more than 54 physical gold exchange traded funds in the world, holding 81 million ounces of gold bullion worth $130 billion, with $2 billion of trading on stock exchanges each day, according to Boost Research.
"It will be interesting to see what happens over the next 10 years," Boost said in a recent note. "Gold ETPs still haven't reached their potential, especially in Asia; and China is still yet to launch a range of gold ETPs supposedly in development."
Similarly, Graham Tuckwell, chairman of ETF Securities, believes untapped demand from China and India, and retail investors, will lead to a second decade of growth for the gold market. ETF Securities manages ETFS Physical Swiss Gold Shares (NYSEARCA:SGOL). The firm has 13 different products that track the spot price of gold.
"Ten years ago, you heard about gold, people talked and got emotional about it, but you couldn't buy it readily. It is widely acknowledged that the launch of gold ETPs has had a very significant impact on the gold market and is now a key part of it. We have witnessed a decade of growth, and despite some predicting the end of the gold bull market, I think the next decade has a lot more to go," Tuckwell said.
"Untapped demand from China and other parts of Asia will be one of the biggest factors to drive product development and broaden access," he added. "While the larger investors in these markets can already buy gold ETPs on other exchanges, smaller investors want to buy on their local exchange. Currently, these products are not widely available in these regions, and the demand is growing. The second change that will occur is greater investment by retail investors in the Western world."
ETFS Physical Swiss Gold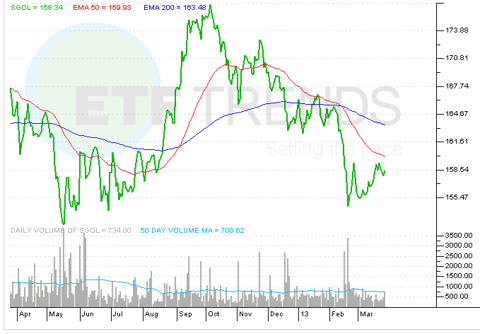 Full disclosure: Tom Lydon's clients own GLD.
Disclosure: I am long GLD. I wrote this article myself, and it expresses my own opinions. I am not receiving compensation for it. I have no business relationship with any company whose stock is mentioned in this article.