By John Spence & Tom Lydon
Teucrium Corn Fund (NYSEARCA:CORN) plunged 6% on Thursday following a government report that U.S. farmers intend to plant the biggest crop since 1936.
The corn ETF was selling off on heavy volume after the USDA estimated farmers will plant 97.3 million acres of corn this year. Corn was limit down in Chicago.
"The biggest surprise in this report is the higher-than-expected corn stocks and the smaller-than-expected soybean acreage number," said Al Kluis, Kluis Publishing analyst, in an Agriculture.com report.
"Inventories of corn on March 1 fell to a nine-year low of 5.399 billion bushels in the U.S., the world's biggest grower and exporter, mostly because last year's drought cut output," Bloomberg News reports. "While that's down 10% from a year earlier, analysts in a Bloomberg survey were expecting a drop to 4.995 billion."
It was the biggest daily drop in corn prices in nearly a year.
"This is a majorly bearish report," Dennis DeLaughter, an analyst at Vantage RM, in the Bloomberg story.
Teucrium Soybean Fund (NYSEARCA:SOYB) was down 2% in afternoon trading. The weakness in corn and soybean prices after the USDA report spread into related commodity ETFs. PowerShares DB Agriculture Fund (NYSE:DBA) slipped 1.3% and iPath Grains ETN (JJG) tumbled 6%.
Teucrium Corn Fund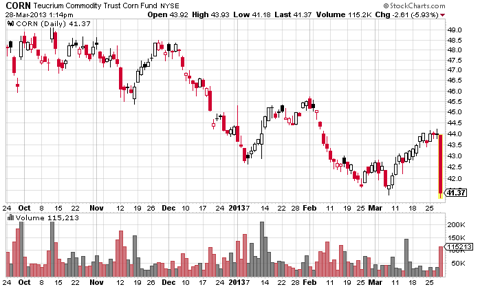 Disclosure: I have no positions in any stocks mentioned, and no plans to initiate any positions within the next 72 hours. I wrote this article myself, and it expresses my own opinions. I am not receiving compensation for it. I have no business relationship with any company whose stock is mentioned in this article.