By: Jayson Derrick
A month ago I wrote an article where I shared my positive looking outlook for 2013 and given the continuous run up in the S&P 500 (NYSEARCA:SPY), I stand by my analysis. When the underlying reasons for a positive or negative view change, one's opinion should change accordingly. Currently, the underlying fundamental and intermediate-term tactical framework of the market that has driven my view has certainly not changed over the past few weeks, let alone the past few years. I will change my positive outlook when either (1) the market is no longer in a well-defined uptrend with a consistent and strong rise in the volatility index (NYSEARCA:VXX) (2) higher inflation expectations cause the Fed to raise rates and money availability to shrink. Absent both of these indicators, with the majority of indices and indicators recently nearing/making all-time new highs and core inflation still benign, I see no reason to change my view. Below are some of the most widely tracked, followed, and traded indexes, for simplicity I am focusing on their corresponding exchange traded products.
| | | |
| --- | --- | --- |
| Index | Current Price | 52 week high |
| Dow Jones Industrial Average (NYSEARCA:DIA) | $144.93 | $145.35 |
| S&P 500 | $155.98 | $156.80 |
| Nasdaq Composite Index (NASDAQ:QQQ) | $68.81 | $68.86 |
| Russell 1000 (NYSEARCA:IWB) | $86.92 | $87.30 |
| Russell 2000 (NYSEARCA:IWM) | $94.16 | $94.96 |
| Russell 3000 (NYSEARCA:IWV) | $93.09 | $93.47 |
| Energy Select Sector SPRD (NYSEARCA:XLE) | $79.60 | $80.14 |
| Financial Select Sector SPDR (NYSEARCA:XLF) | $18.15 | $18.48 |
| Industrial Select Sector SPDR (NYSEARCA:XLI) | $41.50 | $42.16 |
| VelocityShares Daily Inverse VIX ST ETN (NASDAQ:XIV) | $23.29 | $24.17 |
Given the fact that virtually every index above is trading close to 52 week highs, it is easy to say that a correction in the very near term is a possibility. Given the extended rally, overbought condition, and loss of near-term momentum over the past few trading sessions a correction can occur. The S&P 500 was 9% above the 200 day moving averages, and it is realistic to expect the market to pull back towards the 200 day average. It is easy to say that corrections are natural, normal, healthy when the market is going up with full force, but it never feels that way when it is going down. We are in a bull market with a very strong foundation, although corrections come very quickly. Instead of focusing on the "if" a correction occurs, investors should be discussing what to buy when a correction occurs, before the markets hit new all time highs when the bears return to hibernation mode.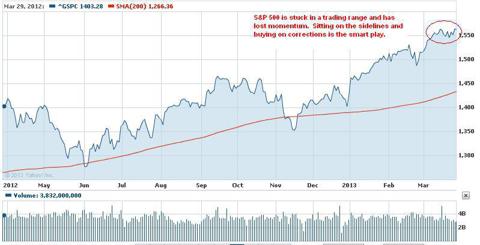 Fundamentally, the market is still in a "sweet spot" with many key indicators pointing to a continued to a longer term bull market.
Low core inflation. Core inflation remains historically low with few signs of turning.
Historically low real rates. Real rates have stayed at historically accommodative levels since early 2009. As long as core inflation behaves, real rates can remain historically low, thus improving money availability.
Key data. The economy is trading better from historically weak levels as evidenced by consumer confidence, employment and housing. The current environment is all favorable and key economic data is trending well.
What to buy on dips?
In my previous 2013 outlook I recommended buying Apple (NASDAQ:AAPL) and stand by my decision and believe that Apple at current prices is a bargain. If Apple dips even more and tests the $400 level it is a strong buy.
From a technical point of view, Apple shares have been punished as of late. Within the past 6 months, Apple is down over 30%, compared to a healthy rise in the S&P 500, and virtually flat Nasdaq index. Many can argue that Apple has already priced in a correction, and won't fall victim to a further 5% decline if the overall major indexes decline. Apple therefore has a strong risk/reward ratio, especially given the fact that the second half of 2013 will likely have several product announcements that should reaccelerate earnings growth from a negative 14% in the first half of 2013.
In a previous article, I explored the possibility of a cheaper iPhone that can be used specifically to target highly price sensitive users in emerging economies such as China. In recent public comments, CEO Tim Cook noted that the original iPod cost $399 and the company eventually released a $49 iPod Shuffle which addressed a broader market. Apple should recreate this action by released a cheaper device in the second half of 2013. Low end smartphone segments will be a $135 billion market in 2013, which is a completely new market segment that the company is not participating in. The low end smartphone market is actually growing at a faster rate than the high-end market, so it is a no brainer for Apple to come in and steal market share from their competitors.
Apple will also likely announce a television and ultimately a smartwatch. The launch of these products can silence Apple critics who continuously blast the company for not releasing new, innovative products. These critics have been questioning the ability of the company to release new and exciting products without Stee Jobs at the company helm. Apple will prove this year that they are still a company that can still innovate.
Las Vegas Sands (NYSE:LVS)
Las Vegas Sands has a beta of 1.83, so from a technical point of view it is a strong buy in a bull market, as well as a great buy on market dips. Going back 6 months, Las Vegas Sands is up over 20%, outperforming the S&P 500 by more than 10%.
Fundamentally, the case is just as strong. Las Vegas Sands is a major player in worldwide gaming, and one of the dominant forces in Asia, specifically Macau and Cotai. Given the strong start in 2013 of the Macau gaming market, Las Vegas Sands stands to benefit from a market that continues to exhibit robust growth with mass table and electronic gaming machine revenues up 29.3% and 8.7%, respectively. March gaming revenues are expected to increase, setting yet a new record month for the region.
The level of growth in the region, in addition to Las Vegas Sands' aggressive expansion to Cotai, coupled with massive infrastructure improvements that reduce travel time and increase gaming play, should continue to be beneficial to Las Vegas Sands. The level of growth that we have seen has not been evenly distributed amongst the major players as Las Vegas Sands is the clear winner, as the company grew their gross gaming revenues for January and February by 23.5%, compared to MGM's (NYSE:MGM) 3.5% gain, and Wynn's (NASDAQ:WYNN) 0.2% growth. The numbers are not indicating a shift any time soon, and the market share leadership board will remain in place throughout the year. Las Vegas Sands remains a great investment and the primary beneficiary of growth in the Macau market, recent property enhancements at Venetian, and management's strategic decision to position the Four Seasons to a premium mass market offering from VIP should help drive near-term and long term performance.

Conclusion
In trading, there is a famous saying "the trend is your friend" and trading against the trend (or the Fed) can be costly. The markets will end up higher at the end of 2013, and it would not be unreasonable to see the S&P 500 trading as high as 1760, a generous target placed by Cannacord Genuity.
Disclosure: I have no positions in any stocks mentioned, and no plans to initiate any positions within the next 72 hours. I wrote this article myself, and it expresses my own opinions. I am not receiving compensation for it (other than from Seeking Alpha). I have no business relationship with any company whose stock is mentioned in this article.