As my readers are well aware, I spend a great deal of time covering Intel (NASDAQ:INTC). It is a very complex business with a lot of moving parts, and I believe that there's always a new insight to be gleaned from studying the company and the news flow surrounding it. However, I'm going to step out of my usual role in trying to understand and illuminate certain parts of the business and step into the role of an investigative journalist. In particular, I believe that I have been able to confirm the rumored Intel foundry deal with Cisco (NASDAQ:CSCO).
Why Intel Custom Foundry?
Around 2010, Intel apparently decided that entering the boutique custom foundry business for strategic partners was a good idea. Now, as Intel followers/investors are well aware, Intel gets more margin per wafer when it sells its own processors than it typically would if it were simply collecting the foundry margin which, according to Taiwan Semiconductor's (NYSE:TSM) gross margin profile (the largest independent foundry in the world), is around 40% - 50%: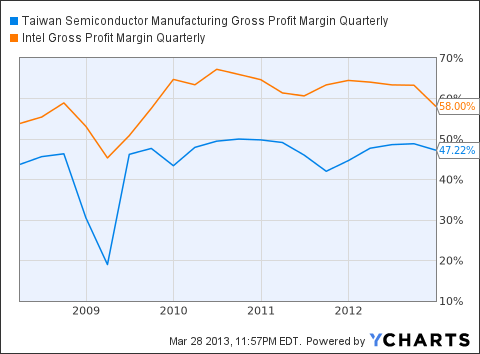 TSM Gross Profit Margin Quarterly data by YCharts
So, why would Intel want to take foundry business if it is so low margin? Well, the key is that Intel has a massive process technology lead over the industry. While Intel has been shipping 22nm FinFET chips in high volume since late 2011, the rest of the semiconductor manufacturing world is busy posturing with powerpoints that proclaim that they, too, will have the technology in a year or so - well before they have even tackled their upcoming 20nm nodes. This process technology advantage has afforded Intel a key advantage over Advanced Micro Devices (NASDAQ:AMD) in terms of cost per chip, performance-per-watt, and system integration, and the bet here is that other semiconductor companies - particularly those locked in a duopoly situation - would love to have any advantage to get a leg up on their competitors. Intel is betting that they'd be willing to pay for it, too.
The recently announced foundry deal that Intel inked with Altera (NASDAQ:ALTR) (which happens to be in such a duopoly in the FPGA/programmable logic space) is an example of such an exclusive deal in which Intel does not enable a direct competitor, but it does enable a company to have a significant competitive advantage over its own rivals. It costs to be boss, and Altera is apparently well aware of this fact.
However, Altera's annual revenues are in the $2B neighborhood, and ultra high end FPGAs are only a fraction of that number. The Altera deal is nice for Intel, but it will hardly move the needle. But you know what would move the needle? The oft-rumored Cisco deal.
The Cisco Opportunity: Confirmed
Cisco is one of the world's leading providers of custom networking ASICs ("application specific integrated circuit"). The rumored foundry opportunity is widely viewed as being worth at least $1B, and at 50% gross margin, that means a cool $500M to the gross profit line. Nobody outside of Intel and Cisco know what this deal is worth, but it's safe to say that Intel isn't signing these deals for the bragging rights.
While the deal has been widely assumed to be "done", there hasn't been any real evidence of such beyond the rumor mill - until today. As part of my due diligence in order to get a glimpse into what the future holds for Intel (and every other semiconductor company that I follow), I often make liberal use of LinkedIn (LNKD) to see what the engineers are working on. In doing so, I ran across the following from the profile of an engineer at Intel: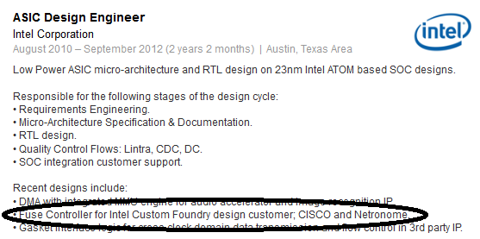 The profile explicitly mentions that Cisco is an Intel Custom Foundry customer and that Intel is already actively engaged in the alleged partnership. I don't know how much clearer it can get that the Intel/Cisco deal is a "go".
Conclusion
Intel isn't stupid and has demonstrated over the years that it can grow net income, margins, and revenues. While the naysayers and detractors tend to exaggerate Intel's "peril", longer-term investors should take solace in the fact that Intel is doing its very best to monetize its assets and ultimately grow the business. While I still believe Intel's fabs will be plenty full of its own chips (Intel has repeatedly stated that it has no desire to be a general purpose fondry), there is a really significant growth opportunity for these high margin boutique foundry partnerships.
The Cisco deal alone, if it's worth $1B in sales and has operating margins of even 15% (much lower than corporate average), should add ~$0.03/share to the bottom line. Imagine several more of these kinds of deals over the next couple of years, and further imagine that each account expands, and we're talking some very serious business that should ultimately pay off big for shareholders.
Disclosure: I am long INTC, AMD. I wrote this article myself, and it expresses my own opinions. I am not receiving compensation for it (other than from Seeking Alpha). I have no business relationship with any company whose stock is mentioned in this article.
Additional disclosure: I may go long CSCO at any time.