Our basic need to eat food daily has helped to make General Mills (NYSE:GIS) a consistent, reliable, dividend paying investment over the long-term. The company's variety of cereals, soups, yogurts, baking mixes, frozen foods, and other goodies are consumed daily and contribute to the company's top and bottom lines.
The company reported positive increases for its fiscal third quarter of 2013. Net sales increased 8% to $4.4 million, while earnings per share increased 3% to $0.60. New businesses (primarily Yoki and Yoplait Canada) accounted for 6 of the 8 net sales percentage points.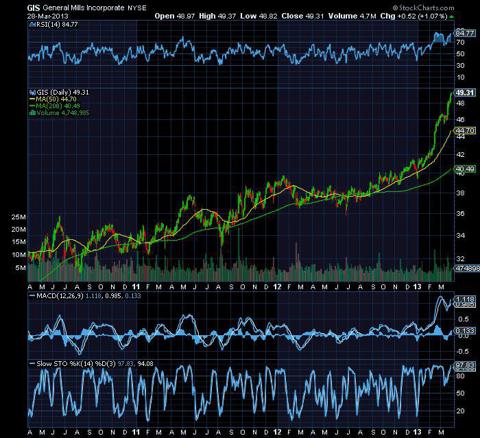 General Mills is a champion dividend paying company with a yield of 3.2%. The company and its predecessor firms have paid dividends for 114 consecutive years without interruption or reduction. General Mills offers a dividend reinvestment plan as a convenient way to invest and accumulate shares in the company.
The company also is committed to returning cash to shareholders through share repurchases. The company's goal is to achieve an average annual net reduction in diluted shares outstanding of 2%.
The company did see a 10% increase in input costs in 2012 over 2011. As a result of this increase, gross margin fell from 40% in 2011 to 36.3% in 2012. However, General Mills was able to offset some of the input costs with its companywide productivity initiative, known as Holistic Margin Management.
General Mills is focused on 5 key drivers for future growth:
1. Innovation: Developing new products/processes and improving existing ones.
2. Brand Building: Ramping up consumer marketing for brand support.
3. Leading Customer Growth: Partnering with retailers to grow each other's business
4. Margin Expansion: Protect margins by eliminating non-value added costs
5. International Expansion: Expanding into emerging markets and other areas outside the U.S.
In 2012, 25% of revenue was generated outside the United States. If joint ventures are included, the percentage of international sales jumps to 30%. International business is expected to lead the company's growth for the future.
The acquisition of the Yoki brand in Brazil, and contributions from Diablitos in Venezuela, and La Satena in Argentina, led to a 157% increase in Latin American sales for fiscal Q3 2013. The company increased sales 24% in Canada, 17% in the Asia/Pacific region, and 3% in Europe.
General Mills is exposed to commodity price risk. This includes the various ingredients used in the company's products such as oats, wheat, corn, oils, and non-fat dry milk. It also includes energy costs such as natural gas and diesel fuel. Derivatives are used to manage this risk. The company aims to achieve certainty with regard to the future price of commodities used in its supply chain. This is managed through purchase orders, exchange-traded futures and options, long-term contracts with suppliers, and over-the-counter options and swaps.
General Mills is expected to grow earnings at about 8% annually for the next five years. When accounting for the reinvestment of the 3.2% dividend, this provides a total CAGR of 11.2%. The stock should continue to perform well over the long-term. However, it looks due for a pullback after the recent strong run-up in 2013.
Disclosure: I have no positions in any stocks mentioned, and no plans to initiate any positions within the next 72 hours. I wrote this article myself, and it expresses my own opinions. I am not receiving compensation for it (other than from Seeking Alpha). I have no business relationship with any company whose stock is mentioned in this article.