We came across this recent interview in which Casey Research (Marin Katusa) makes some excellent points about resource investing, although he does not go into detail. We decided to elaborate the two core ideas of his interview in this article.
(1) By being contrarian in resource investing some investors truly became billionaires. Very well known examples include Rick Rule and Doug Casey; also Jim Rogers made a fortune in the resource markets. Applying the contrarian approach to today's markets means that now is the time to be accumulating, although not yet very aggressively. The worse the decline in resource shares becomes the more you could accumulate. One extremely important condition is that investors MUST be extraordinarily selective: a significant part of the miners will disappear, and the majority will continue to make losses. Investors who select the winners based on the right criteria could make fortunes in the coming years. Be aware that only some 10% of the miners will be true winners.
One of the quotes in the interview that is certainly worth reflecting on: "When shares are on sale, people are scared." We quote from a recent article in which Rick Rule described the mental state of most investors that are invested in the miners right now: "It is like someone walked in the street and ignored every store that a for sale sign and went to the only store that had the full price, no discounts ever sign. Now is the time to buy because we are in a bear market. We sell high in a bull market; we buy low in a bear market." He continued by stating that the key challenge is to master your emotions: "Either you take advantage of your emotion, or you will be taken advantage of your emotion."
Natural resource based businesses (including gold and silver mining) are cyclical. Bear markets, like we are in now, beget bull markets. Bull markets beget bear markets. When you are feeling terrified, you have to be aggressive; when you are feeling brilliant, you have to sell. If you do not do that, you will be a victim. It is just the way it works. If you ignore these facts, you are roadkill on a good day.
(2) Related to the previous point miners with excellent management teams are much more likely to survive and become a winner. This is a very appealing finding, because of its simplicity. It is really easy to check the background and track record of a management team; it only requires a limited time investment based on some desktop research.
We decided to do a reality check of this point. We looked into the share price performance of gold and silver miners that are run by people in "The Next 10" of Casey Research, a selection of highly talented and young entrepreneurs in the resource sector. The results are shown below. Based on these data, our conclusion is that miners with strong and talented management teams are able to track the performance of the TSX (which we used as a basis), or in several cases truly outperform the index!
Base for comparison of the next charts is the TSX Venture Composite Index [(NYSEARCA:GDXJ) is representative as well] during the past 6 months.
Brian Dalton, President and CEO of Altius Minerals (ALS.TO) (OTCPK:ATUSF) is running one of the Next Ten miners that is outperforming the TSXV.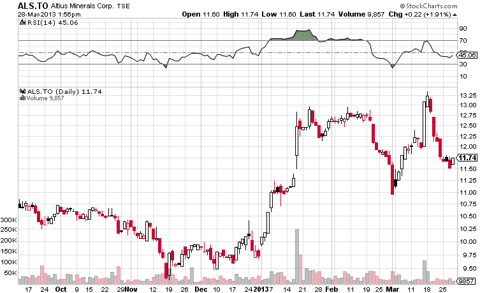 Marcel de Groot, CEO of Luna Gold (OTCPK:LGCUF) is running one of the Next Ten miners that is outperforming the TSXV.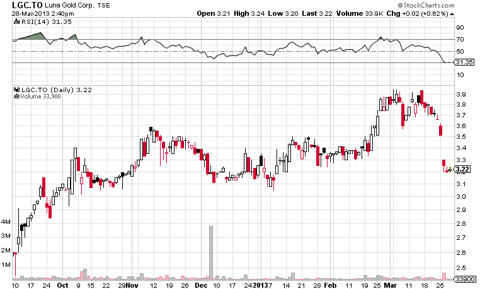 Amir Adnani, President, CEO, and Director, Uranium Energy Corp. (NYSEMKT:UEC) and Brazil Resources Inc. (BRIZF.OB) is running one of the Next Ten miners that is outperforming the TSXV.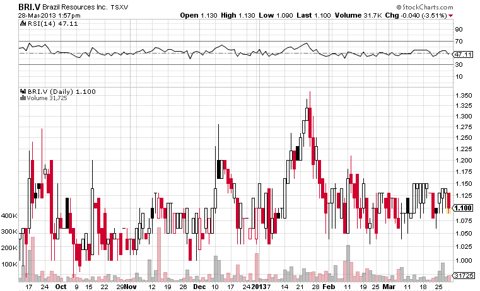 Nolan Watson, CEO of Sandstorm Gold (NYSEMKT:SAND) and director at Bear Creek Mining (OTCPK:BCEKF). He is on the Next Ten list and his company BCM is holding up with the TSXV.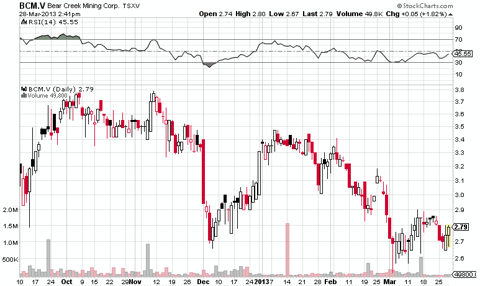 Ari Sussman, Executive Chairman of Colossus Minerals (OTC:COLUF) and President and CEO of Continental Gold. He is on the Next Ten list and his company CSI is holding up with the TSXV.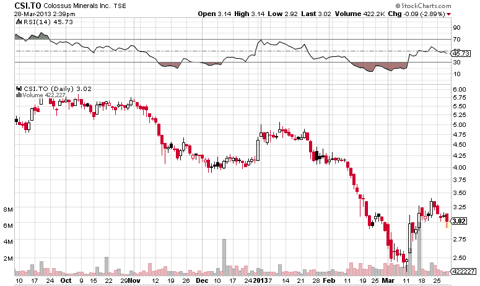 Morgan Poliquin, President and CEO of Almaden Minerals (NYSEMKT:AAU). He is on the Next Ten list and his company AMM is holding up with the TSXV.
In closing, Marin Katusa mentions one of the most promising junior & exploration miners in which Casey / Rule / Katusa believe, is Brazil Resources. The small company has better than expected discoveries, they have easy access to capital in times these extremely difficult times, and their management team has a proven track record (easy to check as mentioned before). It has the potential to become one of the winners in the foreseeable future.
Disclosure: I have no positions in any stocks mentioned, and no plans to initiate any positions within the next 72 hours. I wrote this article myself, and it expresses my own opinions. I am not receiving compensation for it. I have no business relationship with any company whose stock is mentioned in this article.