In the past, I have been afraid of the biotechnology industry and stayed away from the stocks of its companies, but recently I read an article about MannKind (NASDAQ:MNKD), a company that has developed a drug named Afrezza that functions very similarly to a healthy pancreas. This article informed me about MannKind, but it also got me very interested in the speculative possibilities of biotech stocks in general. I am rather risk averse but have found a method that I think any person can use, no matter what their risk tolerance, to speculate on a stock while still keeping their money relatively safe.
How a drug comes to market
The path a drug must take to make it to market in the U.S. is both long and expensive, on average taking approximately 12 years and $500 to $800 million to get a drug from development to market. Listed below is the most common path a drug will take. Unless otherwise noted, the information below is taken from a paper written by the Journal of the American Board of Family Medicine.
Preclinical- This testing is done in a lab setting or on animals. It is done to determine what effect the drug has on its subject and if it is safe enough to test on humans.
IND- If the drug is determined to be safe enough to use on humans, the company will submit an Investigational New Drug (IND) application to the FDA. If the FDA does not reject the application within 30 days, the company may begin clinical testing.
Phase I- This is the first time the drug is used on humans. This testing is done on a small amount of healthy people without the targeted disease to determine its overall safety as well as the safe dosage range.
Phase II- In this phase the drug is given to a medium amount of patients with the targeted disease to determine the overall effectiveness, effective dosage range, and side effects.
Phase III- Here the drug is given to a large amount of patients to confirm its effectiveness and see its long term effects.
NDA- If the drug comes out of Phase III with positive results, the company will submit a New Drug Application (NDA) to the FDA.
FDA Approval- Because of the Prescription Drug User Fee Act (PDUFA), the FDA must accept and file the application within 60 days of submission. After filing it, the FDA has 10 months to review it and make a decision to approve or reject it unless there have been significant changes to the application during the last three months of the review. The deadline for FDA approval or rejection is called the PDUFA date, and represents 12 months [60 days + 10 months] from the time of submission. The FDA's goal for fiscal years 2013-2017 is to have 90% of these applications completed by this deadline.
The reason it is so important to understand the drug development process becomes clearer when the success rate for each phase is revealed. In the illustration below (source: phrma.org), we can see that for every 5,000 drugs that are discovered, only 250 make it to preclinical testing. Of those 250, only 5 will make it past the IND to be tested on humans. Of these 5, only 1 will make it through the clinical trials and be approved by the FDA. By this measure, only 0.02% of drugs make it from discovery to the market.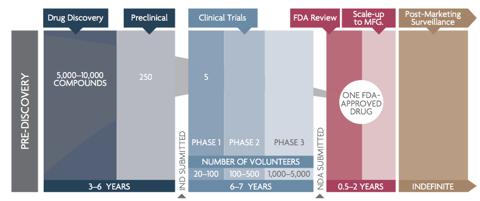 According to The Center for Information & Study on Clinical Research Participation (CISCRP), 70% of drugs that start clinical testing make it through Phase I. About 50% of the drugs that make it out of Phase I will make it through Phase II, meaning that approximately one-third of drugs that enter clinical testing make it through Phase II. About 80% of the one-third that make it through Phase II will pass Phase III. This leaves us with just over 25% of drugs making it from the IND to the NDA. The FDA approves approximately 60% of the NDAs it processes, allowing 16% of drugs that begin clinical testing to come to market. This process takes an average of 12 years and costs an average of $500 million to $800 million.
When to invest
Many smaller biotech companies rely on one single drug to make or break their company. This results in a stock price that rises to various levels depending on what stage of development the drug is in. The statistics given above can be used to determine the probability that a company will have success with its big drug. If you invest in a company right after its "miracle drug" has been discovered, statistically you have a 0.02% chance of making it big. If you invest after the company begins testing the drug in a laboratory setting or on animals, you have a 0.4% chance of picking a winner. Your chances significantly increase once clinical trials begin. If you invest at the beginning of Phases I or II, you have a 20% and 25% chance respectively. Those who invest at the beginning of Phase III, however, have a 50% chance of their drug getting approved. After Phase III trials have been completed successfully, you have a 60% chance of seeing your shares jump on FDA approval news.
So when is the best time to invest? I think the beginning of Phase III shows the best risk-return ratio. Because 80% of drugs that enter Phase III testing will fare well enough to get an NDA submitted on their behalf [even if only 50% will be approved], the odds are in your favor. In a small biotech company, with a market cap of less than $1billion and no overwhelmingly successful drugs of its own already on the market, the share price is likely to double simply on news that the NDA has been submitted. This is a great time to consolidate your position, perhaps sell one half of your stake so that you will not lose any money if the NDA is rejected, but still have enough of a position to benefit greatly if the drug is approved and the stock price subsequently increases dramatically. This is my way of hedging while speculating and I am currently using it and plan to continue to use it in the future. Shown below are some examples of some small cap biotech companies that have had their stock moved on news of one drug they are developing.
Examples
As shown on the first chart below, MannKind saw its stock price more than triple from the time it submitted its first NDA for Afrezza to the time it was tentatively rejected by the FDA. Upon this tentative rejection, the price fell to the level it was at when the FDA first accepted and filed the NDA. It again saw a similar price jump on the second submission, this time the stock price approximately doubled. It again fell upon rejection, this time to the level it was at when MannKind first submitted the NDA. Currently Afrezza is in Phase III clinical testing and MannKind hopes it will be able to submit a new NDA in September or October of this year.

Afrezza is a great example of a drug that influenced a stock price in a big way, even though it is yet to be approved. Based on the data presented here, if an investor had purchased shares in MannKind at $3 before the first NDA was submitted back in March of 2009, he would have seen them double in price to approximately $6 by the time the FDA accepted and filed the NDA in May, two months later. If the investor had sold half of his shares at this point, he would have earned back his principal but still kept the other half of his shares, protecting him from loss when the FDA rejected Afrezza, but still exposing him to great gains had the FDA accepted Afrezza. Because the FDA almost always takes the full 12 months to review an NDA (understandable as the smallest of them generally have well over 100,000 pages), the investor could have waited even longer and sold in February, a month before the PDUFA date. Had he done this, he would have been able to consolidate his position at $9 per share and made an even greater return on his money.
Acadia Pharmaceuticals (NASDAQ:ACAD) is another small pharmaceutical company with a market cap of $596 million and growing. The company's main drug, Pimavanserin, is currently in Phase III clinical testing for the treatment of Parkinson's Disease Psychosis. In November of 2012, shares more than doubled from $2.30 to $5.50 in one trading day on positive top-line results for Pivotal Phase III testing of Pimavanserin. It dropped slightly over the next few trading sessions, but then changed directions to rise steadily over the next few months to approximately $6.50 on March 20th, when the final results of the Pivotal Phase III Trial were announced. On that day the stock price climbed more than 20% to close the day at $8.24. The stock is up almost 250% in the past 52 weeks.

Acadia illustrates another great time to invest in a company in the midst of developing its wonder drug. In this case, the stock rose 130% in one trading day on initial Pivotal Phase III data for Pimavanserin in November 2012. It rose another 20% in March when the final results were announced for the Pivotal Phase III trial. The price per share during this first Phase III trial was around $2.50. An investor would have seen a return of 300% had he invested before or during this trial. Acadia's stock price tripled and it hasn't even submitted an NDA yet! A drug that simply makes it to Phase III clinical testing has an 80% chance of getting an NDA submitted on its behalf, even if only 60% of these NDAs will be approved. The beginning of Phase III clinical testing presents a great opportunity for investors to get in when a stock still has plenty of upside.
One drug is more likely to move a stock price if the company developing it has a fairly small market cap and no proven drugs under its belt. If a company does have a larger market cap or one or more drugs already on the market, the stock price is likely to move comparatively less than it would in a smaller and less proven company. A somewhat more developed company with multiple drugs in its pipeline and a larger market cap than MannKind and Acadia is Isis Pharmaceutical (ISIS). Isis developed a drug called KYNAMRO that is used in the treatment of homozygous familial hypercholesterolemia (HoFH), a rare but very serious disease that affects 1 in a million people worldwide. This drug is described by the company as "Isis' lead product." The stock was priced at approximately $9 when Isis submitted the NDA for KYNAMRO. Isis peaked at about $16 before crashing on negative news, but the price did manage to climb back to $13 before the drug was approved by the FDA.

Because Isis has multiple drugs in its pipeline, it is not as likely to see huge jumps in its share price on good news for just one of its drugs. That being said, Isis' price per share did still double, but it did not do so until after the FDA had approved KYNAMRO. The main reason for using Isis as an example here is to show that you are more likely to see dramatic returns on your investment in smaller, less proven companies. The other reason Isis was chosen is because of the huge drop in price that occurred in October 2012. This drop is related to a post on the FDA website by the endocrinology drug committee that stated 3.1% of patients treated with KYNAMRO in the clinical testing developed either benign or malignant tumors. The chart of Isis' stock price above shows the risks inherent with investing in any biotech stock--bad press. Even though the news did not lead to an FDA rejection, it did put a pretty big dent in the stock price, and it can happen with any biotech company.
Conclusion
As with all types of investments, investing in the biotech industry does come with risk. The biotech industry is known as one of the riskiest areas of the stock market as there is so much that can go wrong. As with all investing, the more you know, the better off you are. Knowing the probability that a drug will make it from discovery to market at any given stage of development is useful as it can help you determine a risk to return ratio that you can work with. There are definitely other things outside of probability and statistics that should help you determine whether or not to invest in a particular company. Knowing when to take the gains you do have and what the chances are that you will make even more is an essential first step to successfully investing in the high risk and high return biotech industry.
Disclosure: I am long MNKD. I wrote this article myself, and it expresses my own opinions. I am not receiving compensation for it (other than from Seeking Alpha). I have no business relationship with any company whose stock is mentioned in this article.