Investment Thesis
Rarely do you find a company as well (this could be argued) and evenly diversified as MDU Resources (NYSE:MDU) is with 33%, 33%, and 34% of their earnings contributions coming from MDU's E&P segment, Construction segment, and Regulated segment, respectively. Within each of its segments there is a tremendous amount of opportunity to grow as the outlook for 2013 through 2015 looks to be quite promising. A steadily growing construction backlog, 6% annual base rate growth in their regulated segment, opportunity for a JV to enhance midstream presence in Bakken, and projected growth of 25-30% for oil production from their E&P segment.
($ in millions)
| | | | |
| --- | --- | --- | --- |
| Shares out. | 188.8 | LTM Revenue | $4,075 |
| Enterprise value | $6.379 | LTM EBITDA | $770 |
| Dividend yield | 2.8% | LTM Net profit | $(0.80) |
| 3M Daily Vol. | 0.70 | Cash | $49 |
| Share sold short / Days to cover | 2.2 / 4 | Debt | $1,779 |
| Beta | 1.08 | Assets | $6,682 |
Company Description
MDU operates as a diversified natural resource company in the United States. The company's Electric segment generates and distributes electricity in the northern Great Plains. Its Natural Gas segment distributes natural gas in the northern Great Plains and Northwest regions. The company's Pipeline and Energy Services segment provides natural gas transportation, underground storage, processing, and gathering services, as well as oil gathering through systems in the Rocky Mountain and northern Great Plains regions. Its Exploration and Production operates in the Rocky Mountain and Mid-Continent regions of the United States and the Gulf of Mexico. The company's Construction Materials segment mines and markets crushed stone, sand, gravel, and related construction materials. This segment also provides utility excavation services and inside electrical wiring, cabling, and mechanical services. MDU Resources Group, Inc. was founded in 1924 and is based in Bismarck, North Dakota.
Utilities: MDU's regulated business segment includes electric utility operations, natural gas utility operations, and pipeline and energy services. The company distributes electricity in Montana, North Dakota, South Dakota and Wyoming, owning or having an interest in eleven electric generating facilities, including two wind farms. MDU distributes natural gas in Montana, North Dakota, South Dakota, Wyoming, Oregon, Idaho, and Minnesota. MDU's 2007 acquisition of Cascade Natural Gas Corporation and 2008 acquisition of Intermountain Gas Company tripled its natural gas distribution customer base.
Exploration & Production: Fidelity Exploration and Production Company, a subsidiary of MDU, is involved in the acquisition, exploration, development, and production of oil and natural gas. Fidelity operates in Texas, Louisiana, Oklahoma, New Mexico, Colorado, Utah, North Dakota, and Wyoming. This segment represents MDU's growth engine in upcoming years.
Construction: Knife River Corporation, a subsidiary of MDU, mines and sells a wide variety of construction materials including crushed stone, sand, gravel, ready-mix concrete, cement, and asphalt. MDU has significantly expanded their construction materials business by completing a very large number of successful acquisitions. Knife River operates in the central, southern, and western portions of the U.S. MDU's Construction Services unit consists of the construction and maintenance of electrical systems, traffic and communications systems, gas pipelines, and mechanical systems. These services are available for a wide variety of commercial and industrial applications. This unit also includes businesses that are involved in equipment rental and sales, and electrical wholesale and distribution.
Competitive Landscape
The tumbling of oil prices and historically low natural gas prices have stifled the company over the last five years, especially the Exploration and Production segment. Then the vast economic slowdown caused the company's Construction Materials segment to see similar downward pressures. With a diverse revenue stream, MDU is navigating the tough economic backdrop nicely. Its stable utility business helped provide downside protection during the rocky times.
Although natural gas prices are near all-time lows, the demand is up for the energy product due to the low prices, a positive for natural gas utilities. Meanwhile, MDU has been transitioning from a gas heavy portfolio to more of a liquids portfolio, which should still be a positive for the company as oil prices rise in the next few years.
Catalysts
Electric and natural gas utilities: Plans to invest ~$1B and increase base rate by 6% compounded annually over the next 6 years. The investment of $70M in 2013 to expand infrastructure in the Bakken area and building of the 86 MW simple cycle turbine in North Dakota will help maintain the slow and steady growth of this business unit.
Pipeline and energy services: Over the last 2 years, MDU has increased Bakken takeaway capacity by nearly 4x (Pipeline capacity over 1 Bcf/d). Also, MDU is pursuing growth and presence in the liquids based midstream operations through a recent acquisition of a 50% interest in Pronghorn. With continued growth in Bakken production over the next decade, you can expect MDU to maintain its presence and continue steady growth from this segment.
E&P: Projecting a 25-30% increase in liquids production from 2012 levels and expect to decrease natural gas production by 15-25% through natural decline of production, divestiture, and reduced investments in natural gas wells. MDU is expecting CapEx of $400M this year to capitalize on the growth opportunities.
Construction: MDU's backlog is higher than in 2012 and with more government-funded projects coming up (MAP-21 funding bill) the demand is expected to maintain certain levels and potentially grow.
Valuation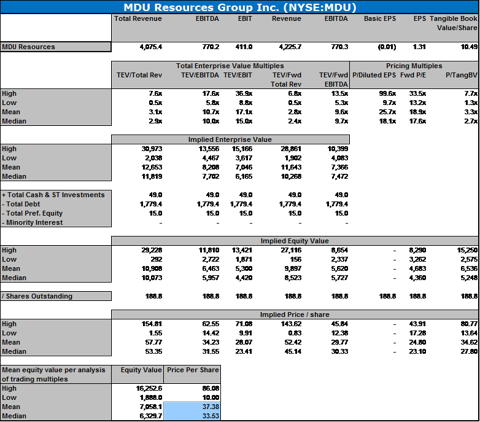 MDU Resources should outperform and could easily reach $30 over the next twelve months, slightly above the average of our implied valuation and DCF analysis. We like the way MDU has diversified its business portfolio, which allows it to capture value when opportunities present themselves, and protects it from slides in each different industry. Two of the three segments, Regulated and Construction, provide good consistent growth and could offer positive catalysts if they make opportunistic acquisitions and/or get big chunks of approaching government funded construction projects. Their third segment, E&P, is what will provide the real growth and it will change the type of multiple MDU earns. Currently trading around 8x trailing EBITDA, most peers (which, to be fair, is tough to nail down) trade at or above 10 to 12x.
Disclosure: I have no positions in any stocks mentioned, and no plans to initiate any positions within the next 72 hours. I wrote this article myself, and it expresses my own opinions. I am not receiving compensation for it (other than from Seeking Alpha). I have no business relationship with any company whose stock is mentioned in this article.