Historically, investors have been hesitant to invest in BRIC companies due to their volatile markets. Despite concerns these countries have been prone to foreign over-investment since the last decade. India for example has continued to receive foreign investment as it grows to be one of the largest emerging markets. This high return potential does not come without high risk, including high political risks, which are reflected in the market.
With this cautiousness in mind, we created a list below that might interest you.
Beginning with a universe of BRIC companies trading on the U.S. exchanges, we looked through their 13F's in search of bearish sentiment from institutional investors, with significant net institutional sales over the last quarter representing at least 5% of share float. This indicates that institutional investors such as hedge fund managers and mutual fund managers expect these names to underperform.
Hedge funds are signaling that these BRIC stocks pose a risk. Do you agree with their sentiment? Use this list as a starting point for your own analysis.
The List
For an ‪interactive version of this chart, click on the image below. Analyst ratings sourced from Zacks Investment Research.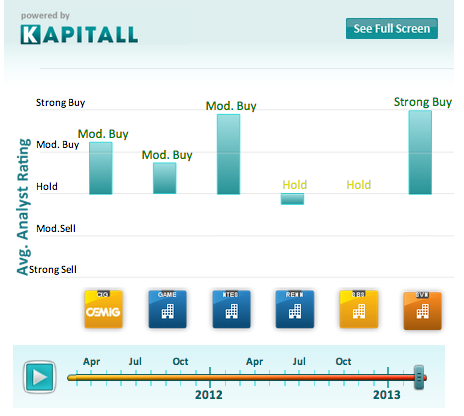 1. Cia Energetica de Minas Gerais (NYSE:CIG): Engages in the generation, transformation, transmission, distribution, and sale of electric energy primarily in Minas Gerais, Brazil.
2. Shanda Games Limited (NASDAQ:GAME): Engages in the development and operation of online games in the People's Republic of China.
3. NetEase.com, Inc. (NASDAQ:NTES): Engages in the development of applications, services, and other technologies for the Internet in China.
4. Renren Inc. (NYSE:RENN): Operates a social networking Internet platform in China.
5. Companhia de Saneamento Basico do Estado de Sao Paulo (NYSE:SBS): Provides water and sewage services to residential, commercial, industrial, and governmental customers in the State of Sao Paulo.
6. 7 Days Group Holdings Limited (NYSE:SVN): Operates limited service economy hotels under the brand name of "7 Days Inn" in the People's Republic of China.
* Institutional data sourced from Fidelity, all other data sourced from Finviz
Disclosure: I have no positions in any stocks mentioned, and no plans to initiate any positions within the next 72 hours.
Business relationship disclosure: Business relationship disclosure: Kapitall is a team of analysts. This article was written by Rebecca Lipman, one of our writers. We did not receive compensation for this article (other than from Seeking Alpha), and we have no business relationship with any company whose stock is mentioned in this article.