Starbucks Corp. (NASDAQ:SBUX) is the world's leading roaster, marketer, and retailer of specialty coffee and has operations in more than 60 countries. The biggest coffee chain in the world traces its roots to Seattle, Washington, where the first location was opened in 1971. Starbucks owns and operates 53% of its about 17,000 retail store locations and licenses the rest. About 35% of Starbucks locations are outside of North America. The company also sells coffee products through food service channels and supermarkets.
SBUX has three main operating segments: Americas; Europe, Middle East, and Africa ("EMEA"); and China / Asia Pacific ("CAP").
Why We Like Starbucks
We like SBUX for the following reasons:
EPS and revenue growth
Strong domestic business
Coffee deflation and improving margins
Strong balance sheet
Potential dividend increases
Early days of growth in China
Incremental growth from India and other emerging markets
Strong quarterly earnings
EPS and Revenue Growth
Both in the near and long term, Starbucks has significant potential for EPS and revenue growth and margins expansion. SBUX saw a decline in its EPS in 2008, but since then the company has recovered well and on average grew its EPS by 27% in the last four years. In the last two years, the company's EPS increased by 18% on average. Going forward, SBUX is expected to grow EPS by 20% in 2013. Revenue growth, on the other hand, has also been significant in the last few years. After taking a dip in 2009, revenue grew by 10% on average in the last three years and in 2012 by 13%. Similarly, 2013 is expected to be another strong year for SBUX and revenue is expected to grow by more than 12%. The Seattle based coffee chain is boasting one of the strongest growth rates among its restaurant peers.
While the domestic retail business continues to deliver strong results driven by both same-store sales and unit growth, new product innovation, improving guest satisfaction, an improved cost structure and China / Asia Pacific should supplement this with higher growth as product/store development and margins expand.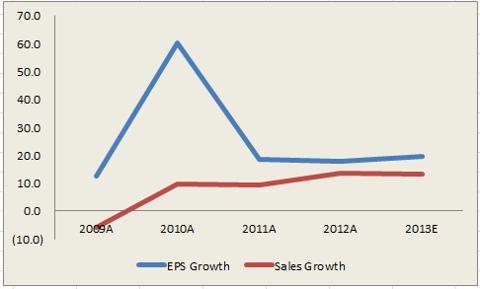 Strong Domestic Business
The company's core domestic business remains strong and is aided by food product expansion and coffee deflation. The domestic business, which is 75% of overall profits, has seen consistent 7-10% same-store sales ("SSS") growth over the past three years. Driven in part by the introduction of a higher-quality food menu following the acquisition of the La Boulange bakery, SSS growth is expected to continue at a mid-single-digit pace going forward.
Coffee Deflation and Improving Margins
Thanks to the falling coffee prices over the past 1.5 years, Starbucks is one of the few restaurant companies with a commodity tailwind in 2013, 2014, and likely 2015. Coffee deflation will help SBUX improve its margins further. The company has absorbed a significant amount of inflation over the past two years. Coffee C Futures have declined substantially in the past two years, from a peak of 260-280 cents to a recent price of 136.70 cents.
Arabica coffee futures traded on ICE Futures U.S. in New York fell 37% last year, making it the worst performing commodity in the Standard & Poor's GSCI gauge of 24 raw materials. Starbucks is expected to get back roughly $0.25-$0.30 of the EPS hit that it absorbed split evenly between 2013, 2014, and 2015.
Strong Balance Sheet and Dividend
Starbucks also has a strong balance sheet poised for increased return of capital. The company's debt/equity ratio of 0.11 is significantly lower than the industry average of 0.80. Similarly, debt/assets ratio of 0.06 is also considerably lower than the industry average 0.32. SBUX has a current ratio of 1.85 vs. the industry average of only 1.11. The world's biggest coffee chain has a debt/EBITDA ratio of 0.20, which is significantly lower than the industry average of 1.59. SBUX's EBITDA/interest and CFO/Total debt ratios of 88.44 and 1.28 respectively are also considerably better than the industry averages of 11.26 and 0.57 respectively.
Starbucks is under-levered relative to its peers and could potentially raise debt in the near term. Standard & Poor's has a credit rating of A- on both foreign and local long-term Starbucks debt; moreover, the rating agency has a stable outlook on the company's debt. While a material amount of cash has gone to acquisitions recently, management has committed to using any new cash to increase dividends and buybacks.
Goldman Sachs analysts wrote in their report in December last year that the firm expects Starbucks to double its dividend from $0.72 in 2012 to $1.56 in 2016. SBUX started paying dividends in 2012, and paid first quarterly dividend of $0.10 in April 2012. Since then the company has increased its dividend by 110% to $0.21. SBUX has a dividend yield of 1.5%. The company last paid dividend of $0.21 on 22nd February, 2013.

Source: Y-Charts
China, India, and Other emerging markets to add incremental growth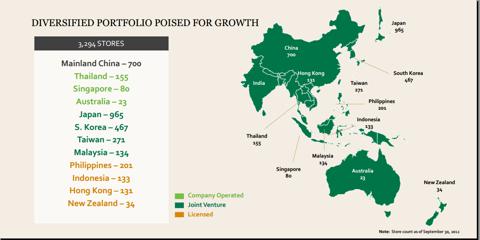 Source: Company presentations (Note: Store count as of Sep. 30, 2012)
China and Asia-Pacific, Starbucks' fastest growing retail store market, will approach 4,000 stores by the end of 2013, including 1,000 in Mainland China, 1,000 in Japan, 500 in Korea and company's recently opened first store in Vietnam. The company is further expected to expand its emerging market operations to 7,000 units by 2016. This would likely imply that roughly 25% of all SBUX units will be in emerging markets by 2016.
According to John Culver, Starbucks' China and Asia-Pacific president, China is the company's most successful new market entry today, and by 2014 the country is expected to become SBUX's largest market outside of the U.S. Starbucks is on plan to have 1,500 stores in 70 cities in China by 2015. In the next four years the company also expects to double its operations in Korea, which according to SBUX presents the biggest growth opportunity in Asia-pacific, from 500 units to 1000 units.
India is another attractive market where the company could eventually have thousands of units. Starbucks, as part of its venture with Tata, opened its first Indian store in October last year and now has seven outlets in the country. The booming coffee demand in India has also prompted other international companies such as Italy's Lavazza SpA and Switzerland's Nestlé SA to set up operations in the traditionally tea-drinking subcontinent.
Currently India represents only 1.4% of the total global demand, but according to the market research firm Euromonitor International the demand is forecasted to grow almost 9% to $486.6 million this year.
Though India's coffee consumption is tiny compared with the United States but in a population of 1.2 billion people, it's the expanding middle class of 300 to 400 million that is attracting big international companies to the subcontinent.
"The size of the Indian economy and the rate of growth of the cafe sector, combined with rising spending power and shift in consumer preferences present a tremendous opportunity for us," said Avani Saglani Davda, chief executive of Tata Starbucks Ltd., a venture between the Seattle-based coffee chain and India's Tata Global Beverages Ltd.
"Young people are turning to places like Starbucks because they want a trendy place to socialize and can take their iPhones and connect to the free Wi-Fi," said Roberio Oliveira Silva, head of the London-based International Coffee Organization. "Coffee culture has taken India by storm and it will continue to do so because of higher incomes and greater urbanization."
Among other emerging markets, Brazil is in the early stages of growth. Other growing markets where SBUX already has reached a critical mass of over 100 units include Turkey, Thailand, the Philippines, Malaysia and Indonesia.
Recent Results
Despite the economic uncertainty across the world, SBUX reported better than expected results, as customers in Starbucks' top market spent more than expected during the holiday season.
In line with the street's expectations, SBUX's profit rose 13% in the latest quarter. In the first quarter of the fiscal year 2013 SBUX earned $432.2 million, or 57 cents a share, up from $382.1 million, or 50 cents a share, a year earlier. Revenue for the quarter rose 11% to $3.8 billion. The results were in line with the analysts' expectations of an EPS of $0.57 and revenue of $3.85 billion.
Results were helped by a 6% increase in global sales at cafes open at least a year. Analysts polled by Consensus Metrix had expected an increase of 5.5%. Sales were helped by a 4% increase in traffic and a 2% increase in average spending per visit.
Similarly SSS in the U.S. dominated Americas region, which contribute about three-fourth of the overall revenue, rose 7% vs. the consensus estimates of 5.9%.
Valuations
The biggest criticism that Starbucks receives is its premium valuations. The stock has a price/earnings ratio of 39.7 and a forward P/E of 20.8. However, once you look at the company's PEG ratio, which takes into account Starbucks' growth potential, the stock is trading at very attractive valuations.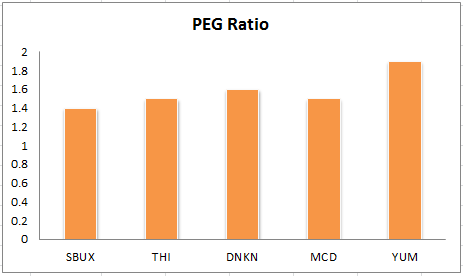 PEG ratio comparison of different companies
Conclusion
We have a buy rating on SBUX. The Seattle based company's strong performance in the recent years reflects the turnaround Starbucks has made since its struggles during the recession. After bringing back its founder, Howard Schultz, as chief executive in 2008, the company embarked on a reorganization that included closing under-performing stores in the United States. We remain confident in the company's ability to continue making progress on its domestic turnaround, driven by new product innovation, an improved cost structure, and an improving guest satisfaction.
SBUX is only at an early stage of its international expansion and is looking at a long runway of growth, driven by the implementation of successful initiatives that helped turnaround the company's U.S. business, including product innovation and in-store efficiencies. Other than international expansion, numerous other future growth drivers remain in place including single serve, consumer packaged goods (NYSE:CPG), its new improved food program via La Boulange and expansion into tangential categories such as tea and juice. Moreover, the company's under-levered balance sheet and significant FCF provide opportunities for increased buybacks and dividends.
Lastly the company's CPG segment represents an attractive opportunity for the company to leverage the success of the Starbucks retail store model and make the brand available throughout multiple channels both domestically and internationally.
Risks To Our Analysis
The factors that we believe present risks to our thesis on SBUX and could have a negative impact on SBUX stock price include a slowdown in the U.S. SSS, potential commodity inflation, and increasing domestic competition. Increasing commodity prices, particularly coffee and dairy, could have a negative impact on Starbucks' earnings. Growing competition within the domestic specialty coffee category and a downturn in the global economy also present potential risks to SBUX's earnings and could negatively impact stock price.
Disclosure: I have no positions in any stocks mentioned, and no plans to initiate any positions within the next 72 hours. I wrote this article myself, and it expresses my own opinions. I am not receiving compensation for it (other than from Seeking Alpha). I have no business relationship with any company whose stock is mentioned in this article.