I am not certain that one should go long Tesla (NASDAQ:TSLA). I understand the world-changing aspects of Tesla, and there are several catalysts which might make Tesla move up explosively. But at the same time I have fears regarding the need for short-term dilution as well as regarding the faddish nature of the products so far, due to usage constraints and the possible costs of the battery.
However, a few circumstances have banded together in such a way that they might have generated a decent trading/investing opportunity.
The catalysts
There are several possible catalysts for Tesla to move up strongly in the short term, namely:
Taking into account all of the above, together with the massive short interest in the name, any of those catalysts could be the spark which ignites a stupendous short squeeze. The situation is made even more explosive because the cost to keep a Tesla short position open has, itself, been exploding into prohibitive territory, as we can see below (Source: Interactive Brokers):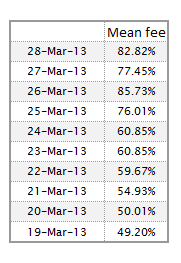 The trade
So taking into account these catalysts, what kind of interesting trade exists for Tesla?
First, a bit of background information. Option pricing includes a component which is an implied interest rate. Now, holding Tesla stock short forces the borrower to pay an interest rate of up to 82%/year as we saw. This means that some (or many) of those trying to short Tesla will, instead, try to short it buying puts or selling calls. At the same time, the market makers selling those puts are forced to hedge them by shorting the stock (and paying the huge short rebate). What this all means is that while put pricing is pushed upwards, call pricing is pushed downwards by these dynamics.
Indeed, call pricing is pushed down so much, that near-term slightly in-the-money calls fall towards having almost no time value to them. It is this effect that builds an interesting trade: It becomes possible to bet on Tesla going up while sustaining downside risk that's smaller than the risk one would sustain by going long the stock outright, while paying nothing for the privilege.
Usually, betting on Tesla or any other name through calls would mean foregoing part of the upside, to pay for the time value in the option. Here, since the time value is mostly gone the upside is all there while the downside is capped.
For instance, look at the following calls:
TSLA April 19 Strike $35, Ask $3.10, Last $3.00
TSLA May 17 Strike $35, Ask $3.70
With TSLA at $37.90, these have little time value in them. The first of these calls matures after the April 2 announcement, and the second matures after the earnings announcement which might also produce a surprise as I said.
Holding these calls into either announcement is superior to holding the stock outright. After all, if things go badly one would just lose the investment in the calls - that is, any movement of TSLA below $35 would hardly produce any additional loss, whereas holding the stock could produce greater losses. At the same time, the upside would be entirely the same.
In short, there are several potential catalysts which might generate a large short squeeze in Tesla, and due to the huge short interest and short rebate rates, calls on Tesla stock are so cheap that it makes a lot more sense to try and catch this potential short squeeze using calls instead of stock. This is true as long as the position in Tesla calls is kept to the same size as the position in Tesla stock: 1 call per each 100 shares.
Disclosure: I have no positions in any stocks mentioned, and no plans to initiate any positions within the next 72 hours. I wrote this article myself, and it expresses my own opinions. I am not receiving compensation for it (other than from Seeking Alpha). I have no business relationship with any company whose stock is mentioned in this article.
Additional disclosure: I might buy TSLA calls in the next 72 hours.