A recently released report from Goldman (NYSE:GS) is making the rounds and is amping up the buying temperature for a perennial institutional favorite, the carry trade. Even Bloomberg has picked up the story and is running with the theme. They specifically call out two ZH favorites, the BRL and the AUD - however we think this move is really too early/too late, depending on how you look at it.
As seen below, (), the BRL would have been a great buy right after our
last
post on it. However, we now expect a major turnaround after the current market situation "resolves" itself and investors return to their bunkers.
As we have posted extensively on the reasons why we see the market correcting in the near term, we won't rehash the details but suffice to say that you don't want to be caught short on the unwind. If not a direct directional bet, going long vol on the BRL in particular and EM baskets in general seems the smartest play in currency right now.
Additionally, look for unrelated casualties (GBP) as the US equity correlation across some of the majors brings down some of the recent gainers.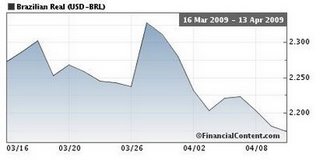 Disclosure: short GBP/EUR, short GBP/USD, square AUD/JPY