2013 looks like it may be the year of the merger in credit services. As an industry, credit services have traditionally been very fragmented, but are now entering into a period of industrial consolidation. In this article, I'll recount two of the most recent pending deals, and then discuss future potential acquisition targets.
Asset Acceptance
Asset Acceptance Capital Corporation (AACC) is a financial services company engaged in the purchase and collection of defaulted and charged-off accounts receivable. It has been in the collections business in one form or another since 1962, and a large portion of its current portfolio consists of credit card receivables that consumer lenders have charged off and sold to AACC. On March 6, management announced plans for the company to sell itself to Encore Capital (NASDAQ:ECPG), one of its competitors. According to the terms of the deal, shareholders are entitled to $6.50 per share, with shareholders able to choose between cash and ECPG stock for up to 25% of the transaction.
Almost immediately after the initial deal announcement, a flurry of law firms announced that they would challenge whether management obtained the best possible price, and are pursuing some sort of investigation or legal action to quash the deal or sweeten the terms. The basic arguments they make is that AACC traded for as high as $7.96 last November and at least one analyst has a target price of $8.00. It looks like investors have recently begun to give this possibility serious consideration, with AACC closing at $6.74 on Thursday, a significant premium to the deal price: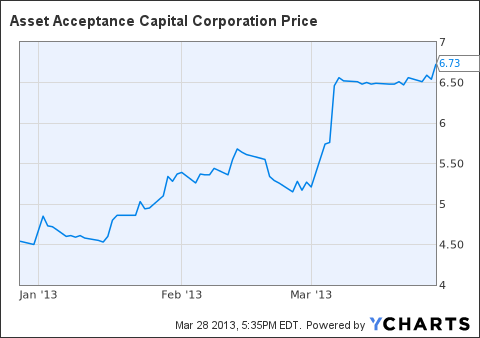 Nicholas Financial
Nicholas Financial (NASDAQ:NICK) is a well-run subprime auto loan financing company with conservative management and a solid track record. As I have argued elsewhere (here), the company has been severely undervalued by the market.
Someone else out there with a lot of money agrees with me. On March 20th, NICK distributed a press release announcing that management had received an unsolicited bid from a third-party acquirer and were retaining a financial advisor to assist them with negotiating a possible deal. Since then, shares have jumped more than 10%.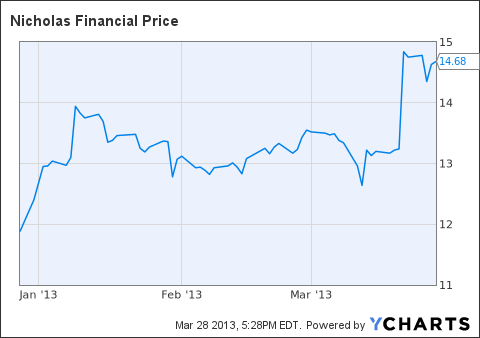 Who's Next?
There are several reasons to think that these two deals are part of a larger trend, including: 1.) Cheap financing is available 2.) Many consumer credit companies have more-or-less recovered from the crisis but trade at low valuations 3.) Aspiring regional banks and megabanks are rapidly expanding into niche credit services as part of their growth strategies.
I can hardly blame them. Although credit services is one of the least glamorous corners of the financial sector, it can provide successful operators with a profit bonanza. So here's some future potential targets that might look tasty to larger competitors, banks, or private equity firms that are worth a closer look:
Consumer Portfolio Services
Consumer Portfolio Services (NASDAQ:CPSS) may be an attractive acquisition target for a traditional bank trying to break into auto finance. Unlike NICK, which holds all loans to maturity or default, CPSS has a model that focuses on securitizing and selling off its loans. Regionals with aspirations of playing with the big boys might be interested in buying such securitization expertise while also entering into an important market segment. In the last year, the stock has been on a tear as the company has slowly crawled back to profitability and its securitization models once again appears viable: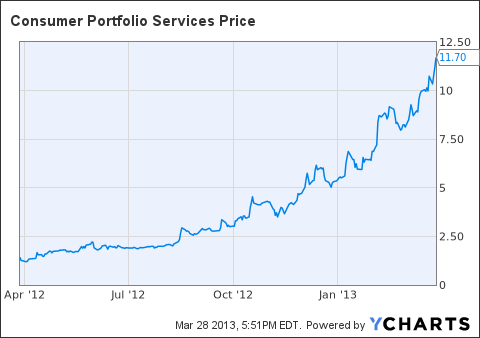 The First Marblehead Corporation
The First Marblehead Corporation (NYSE:FMD) focuses on education loans as well as origination and securitization services. The company's stock crashed during the recent crisis and the company's business has been holding on to dear life ever since. While FMD's track record is hardly inspiring, it might be a cheap way for a larger company to make a contrarian bet on the education loan sector.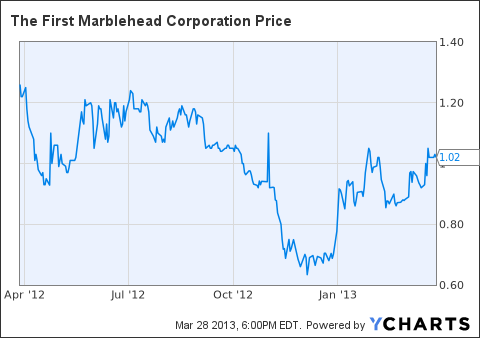 World Acceptance
World Acceptance Corporation (NASDAQ:WRLD) is the biggest company in this article, with a market cap of $1.1 billion. It provides short-term and medium-term loans to consumers, and has a solid track record of growth and profitability. Despite its proven successes, WRLD trades at a P/E ttm of 11, perhaps because its industry has come under increasing public and regulatory scrutiny in recent years. Although regulations may come and go, the fact of the matter is this industry isn't going anywhere. Credit is a fundamental element of our postindustrial society and social safety net, for better or for worse. As bigger financial companies begin to expand again, they'll want a piece of WRLD's racket.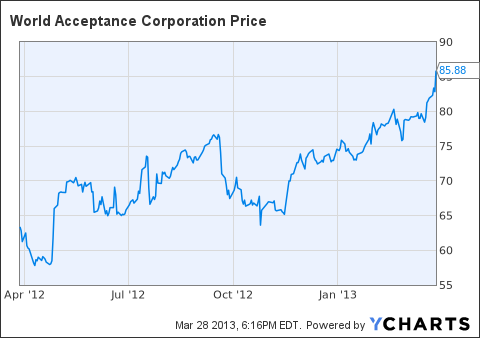 Conclusion
Credit services is a rapidly changing industry. Consolidation in banking has begun to bleed into credit services as banks have entered the fray as larger credit services companies swallow up the competition. While the weakest competitors were pulled out to sea during the financial crisis, many well-run firms have survived and have begun to regain momentum. Although the market has started to notice and bid up the prices of some stocks, the sector as a whole remains undervalued, adding fuel to the deal-making fire. In the next decade, credit services may go the way of credit cards or banking, with a few massive players dominating the scene. It will be interesting to watch the show.
Disclosure: I am long NICK. I wrote this article myself, and it expresses my own opinions. I am not receiving compensation for it (other than from Seeking Alpha). I have no business relationship with any company whose stock is mentioned in this article.