Along with declaring a quarterly dividend of $0.45 on common shares today (payable on May 1, 2013 to stockholders of record at the close of business April 10, 2013), the AT&T (NYSE:T) board of directors continued to show their commitment to returning value to shareholders by authorizing the repurchase of up to an additional 300 million shares. This representing 5.5% of AT&T's common shares outstanding.
In addition to cashflows and dividends, I like to focus on stocks that return value by repurchasing their own shares, as it increases my stake in their businesses in a tax efficient way.
AT&T has a long history of returning value to its shareholders, and this has made it a regular on the quarterly list of the top 20 biggest buybacks of the S&P 500. In 2012, AT&T repurchased 371 million shares, or approximately 6% of the shares outstanding. After buying back the 371 million shares, 229 million remained authorized, so this newest announcement will allow for up to 529 million in total to be repurchased.
In addition to the share repurchasing plan, below is a brief look at AT&T's dividend history: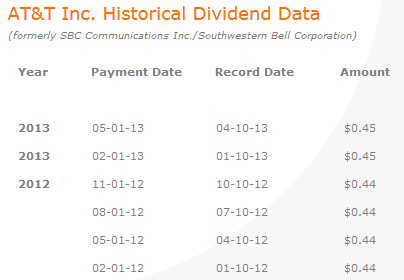 Up 10% this year, AT&T shares currently trade with a P/E of 30.36 and carry a dividend yield of 4.92%. Analysts have a mean target price of $36.64 and median target of $37.00. With $127.4 billion in revenues last year, AT&T had $39.176 billion in cash from operating activities, from which it paid out $10.241 billion in dividends and used $12.275 billion to repurchase shares (record return per annual report, linked above).
Bottom Line
AT&T's solid cashflows, dividend and buyback program leave no doubt that the board has the intention and means to return value to its shareholders. The current dividend yield of 4.92% is very attractive, and any price dip would only offer a more attractive investment.
Disclosure: I have no positions in any stocks mentioned, but may initiate a long position in T over the next 72 hours. I wrote this article myself, and it expresses my own opinions. I am not receiving compensation for it (other than from Seeking Alpha). I have no business relationship with any company whose stock is mentioned in this article.