Introduction
The International Energy Agency forecasts that the US will become the world's largest oil producer and exporter of natural gas by 2020, and could attain energy self-sufficiency by 2035. Companies which provide transportation services for the commodities of oil and gas stand to profit greatly from this progressive increment in pipeline and transport solution utilization. Kinder Morgan Energy Partners (NYSE:KMP), Enterprise Products Partners (NYSE:EPD) and Enbridge Energy Partners (NYSE:EEP) will be the three companies under discussion to determine the best options for stocks out of the three dividend giants.
Recent News and Events
Kinder Morgan Energy Partners operates more than 37,000 miles of natural gas and petroleum product pipelines and owns 180 bulk terminals and rail transhipping facilities with 200 million barrels of storage capacity. Enterprise Products Partners has grown significantly since its IPO in July of 1998, increasing its asset base from $715 million to $34 billion as of June 30, 2012. This phenomenal growth is a result of both acquisitions and expansions from organic growth opportunities. Enbridge Energy Partners operates crude oil and natural gas transportation systems in the US. Its main crude oil system is the largest transporter for growing oil production from Western Canada. Its deliveries to refining centers and carriers in the US account for roughly 15% of US oil imports, while its deliveries to Ontario, Canada, satisfy approximately 70% of refinery demand in that region.
KMP is working on initiating the Tennessee natural gas pipeline in Pennsylvania, and is also going to build a new Trans-Mountain pipeline across the indigenous land in Canada to transport tar sands to the country's West Coast. Both of these projects are the target of ongoing resistance campaigns.
EPD is supporting the development of a 270-mile pipeline system that will deliver ethane to petrochemical plants in the Gulf Coast region, while EEP, on the other hand, has been embroiled in an oil-spill scandal in Michigan's Kalamazoo River in 2010, which could push the cleanup bill to almost $1 billion.
Stock Performance
The positive aspect of the transport industry regarding commodities is that their demand and operations are not hampered by seasonal effects, since consumption varies almost meaninglessly throughout the year. In fact, consumption only increases at times, accentuated from the average level. Over the course of the past 5 years, this view is further underlined by the stock price performances of KMP, EPD and EEP. Enterprise Products Partners has been the pick of the three stocks over the past 5 years, as its price has progressed 105.7%. Kinder Morgan stood second with a 62.33% appreciation of its price, while Enbridge Energy Partners increased by 25.83%. S&P 500 and the DJIA have grown by 16.26% over the same 5 year period, which puts EPD in the prime position to be an attractive option for investors.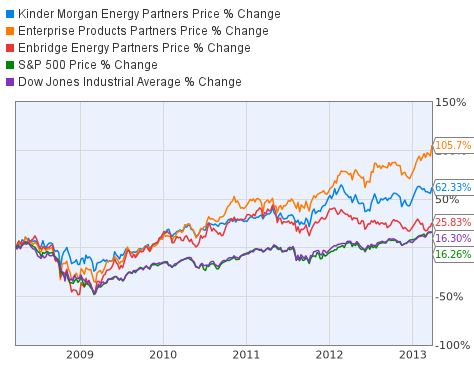 Enterprise Products Partners continues its advantage over the year as well. Since January 2013, in particular, the stock has been showing bullish trends continuing into March, with the stock having appreciated 17.17% over the past year. At the same time, Enbridge Energy Partners is lagging badly behind, having lost almost 5% of its value over the past year. Perhaps the costs of the oil spill are affecting the company's potential to grow and invest in new projects. Furthermore, the negative effect of having been involved in oil spills, courtrooms and reimbursements makes EEP the most unattractive option out of the three competitors.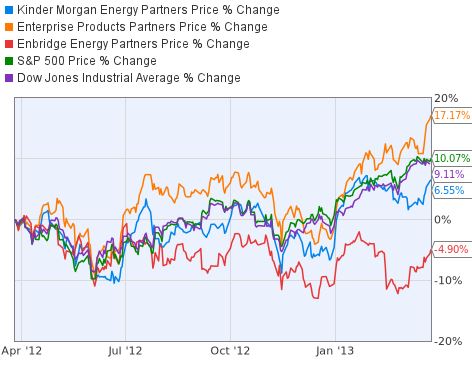 Financial Review
KMP's 52-week range starts from $74.12 to $89.32 and currently trades at $89.78. EPD, on the other hand, is the mid-priced stock with its stock price being $60.30 and its 52-week range is $45.67 to $59.89. EEP has a 52-week range of $26.88 to $31.43 and is currently trading at $30.14.
There are many ways to estimate the fair stock value of a company. For this purpose, we applied the discounted-earnings-plus-equity model developed by EFS Investment analysts to these competitors.
Indicator

Kinder Morgan Energy Partners

Enterprise Products Partners

Enbridge Energy Partners

Price/Earnings ttm

54.41

22.25

23.55

Price/Book

2.0

4.0

2.0

EPS Growth

(3 Year Avg.)

0.0

39.9

4.3

Dividend Yield, %

5.79

4.38

7.21

Debt/Equity

1.4

1.1

1.3

Return on Equity

-0.8

38.3

24.2

Current Price

$89.78

$60.30

$30.14

$29-$51

$38-$53

$15-$29

Stock Valuation

Overvalued

Overvalued

Overvalued

Premium over Fair Value

43%

12%

4%
Data from Morningstar and Financial Visualizations on March 29, 2013
The calculations based on this model allow us to suggest the following: currently, all stocks are well overvalued. In addition, EFS's fair stock price valuation indicates that Kinder Morgan is trading at the highest premium over its fair value.
Kinder Morgan Energy Partners is the most expensive option for stock of the three listed above and it also has the unwanted notoriety of having a negative -0.8 ROE, which is a grave concern for investors. A negative ROE means that investors are losing money on each dollar that they have invested in the company. Furthermore, KMP also has the highest debt/equity ratio, a ratio which shows that the amount of debt the company has is more than the total capital invested in it. However, the firm's acquisition of the Tennessee Gas Pipeline Company and a 50% stake in the El Paso Natural Gas pipeline system will help it improve its margins and capital expansion plan. The firm recently announced that it has raised its capacity expansion plans for the Trans Mountain pipeline in Canada to 890,000 barrels per day (bpd), up from its earlier plan of 750,000 bpd, citing stronger demand from shippers. The additional capacity is likely to come online by 2017. The company has a very attractive yield, but it is not backed by strong growth, either organic or inorganic.
Enterprise Products Partners, on the other hand, offers a lower yield, but has backed it up with strong EPS over the past three years. Besides having a high ROE and low debt to equity, the stock is also the most fairly valued of the three. However, the company's payout ratio has been close to the 100% mark for the past three years, raising concerns about its ability to grow. In the past year, Enterprise has paid more than $2 billion in dividend distributions. And since going public in 1998, the partnership has increased its distribution 40 times. In fact, the company has increased its dividend each quarter since 2004.
Enbridge Energy Partners has the highest yield compared to its competitors. While it outweighs EPD's offerings in this regard, the company's Achilles' heel is its EPS growth, which is substantially less than its competitors. Furthermore, the company has also completed its Bakken crude expansion project. The company's affiliate Enbridge Rail (North Dakota) has agreed to a three year deal with Phillips 66 for unit train loading of Bakken shale crude oil at the Enbridge Berthold, North Dakota, station.
Morningstar provides the following ratings for these three companies: KMP - 1/5 buy, 4/5 hold. EPD - 5/6 buy, 1/6 hold. EEP - 1/4 buy, 3/4 hold.
Final Words
The MLPs offer high dividend yields because of their exemption from taxation. However, this might be an advantage compared to stocks of other industries. Perhaps the best stock for an investor would be the one which continues to take advantage of the high dividend while insuring that earnings are not affected due to seasonal or operational hiccups. Keeping this measure of overall stability in mind, Enterprise Products outperforms the two companies hands down, with its higher than average yield and healthy earnings over the past 3 years. But that's not all. I believe that EPD also has the best prospects of growth for the future compared to its competitors. Due to its size of operations, management team, growing projects, excess cash from operations, performance track record and the ability to pay consecutively increasing dividends, EPD is a clear winner.
Disclosure: I have no positions in any stocks mentioned, and no plans to initiate any positions within the next 72 hours. I wrote this article myself, and it expresses my own opinions. I am not receiving compensation for it (other than from Seeking Alpha). I have no business relationship with any company whose stock is mentioned in this article.