Cisco Systems (NASDAQ:CSCO), the poster child of the can't-miss stock of the late 90s, has performed rather abysmally in the past decade. The shares have been stuck in a never ending range of $12-27 for the duration of the decade, underperforming the S&P 500 index. In my opinion, a large portion of this underperformance is due to CSCO refusing to pay a dividend to shareholders. The thesis of this article will examine the investment case for CSCO today in light of the recent hike to its dividend and more enlightened capital allocation plans.
| | | | | | | |
| --- | --- | --- | --- | --- | --- | --- |
| Year | 2007 | 2008 | 2009 | 2010 | 2011 | 2012 |
| Revenues in millions | 34,922 | 39540 | 36117 | 40040 | 43218 | 46061 |
| Shares outstanding in millions | 6100 | 5893 | 5785 | 5655 | 5435 | 5298 |
| Net profit margins | 21% | 20.4% | 17% | 19.4% | 20.9% | 21.7% |
| Return on capital | 19.9% | 20.2% | 12.9% | 14.3% | 14.7% | 15.3% |
| Return on equity | 23.3% | 23.4% | 15.9% | 17.5% | 19.1% | 19.5% |
August 15, 2012 may go down as one of the most important days in CSCO's recent history due to the following pronouncement by Frank Calderoni, its CFO: "Going forward we intend to our capital allocation strategy to return a minimum of 50% of our free cash flow annually to dividend and share repurchases while providing sufficient financial flexibility to effectively invest in the business and strategic opportunities."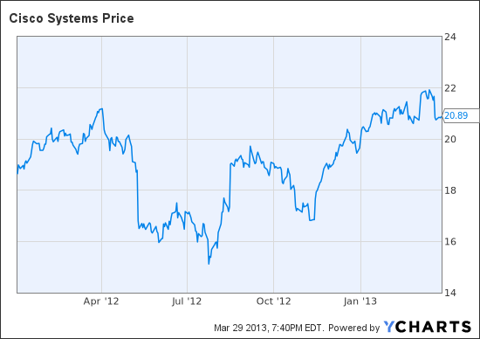 Certainly, a very powerful and potentially lucrative pronouncement by the CFO. As we can see from the chart above, investors cheered the news, driving the shares higher. As the initial enthusiasm waned, the shares sold off a bit. It seemed investors were in "show me" mode, awaiting the company's first move. The company responded by hiking the quarterly dividend to 14 cents a share, which caused the shares to rally above $20, where it was trading at in April 2012.
Just this week, FBR Capital downgraded CSCO shares with a $17 price target, causing a greater than 3% sell-off. As we can see from the table above, CSCO has managed to aggressively grow revenue while growing net profits and shrinking the share count. CSCO is a stable large cap company with predictable revenue. In some ways, it is similar to IBM in this regard. The price target will be proven to be extremely pessimistic as the year progresses.
My optimism is fostered by the recent announcement of a hike in the dividend to 17 cents per share. In the course of less than a year, the company has managed to more than double the dividend from 8 cents to its current rate. At its current rate above three percent, downside risk should be limited from here going forward.
CSCO has managed to maintain net profit margins since 2007 while growing its revenue base by over 40 percent. As we can see from the table above, the company's dominant position in the industry is underscored by its high net profit margin. Its most similar competitor, Juniper Networks' (NYSE:JNPR) highest net profit margin is 16% during the same time period. JNPR's net profit margin has declined precipitously since, coming in at just over 6% in 2012. Clearly, CSCO is the dominant player with the ability to grow its revenue while maintaining its lofty profit margins.. For the shares to reach the $17 price target assigned to it, the company would have to see significant profit erosion combined with a sales decrease. While past results are no guarantee of future results, at CSCO's current depressed multiple, I find this scenario highly unlikely.
As satisfying as the dividend hike is, the real gains will come from buying back shares at these levels. Cisco CEO John Chambers has a long track record of buying back shares, however it was always done at less than advantageous prices. With the company earning $1.85 per share last year, the shares are cheap and unloved, making this an ideal time for the company to retire its shares. As we can see from the table above, the company has aggressively reduced its share count since 2007.
Now that the company has demonstrated its commitment to shareholder returns, sentiment for the shares should dramatically improve. CSCO is actively emulating IBM's playbook, which should be very profitable for shareholders going forward. For a more in depth discussion of IBM's strategy, please click here. Going forward, I expect CSCO shares to be a rewarding endeavor for the patient, long-term holder. Thank you for reading, and I look forward to your comments.
Disclosure: I am long IBM, and I may initiate a new position in CSCO. I wrote this article myself, and it expresses my own opinions. I am not receiving compensation for it (other than from Seeking Alpha). I have no business relationship with any company whose stock is mentioned in this article.
Additional disclosure: The article is for informational purposes only.