There are a number of good reasons to believe that gold (NYSEARCA:GLD) prices have bottomed and are ready to take off in Q2. Not the least of which is the uncertainty being stoked over the attempted impairment of depositors in Cyprus, creating the disturbing idea of central banks so desperate to goose money velocity that they would stoop to threatening to undue the very trust in the banking system that keeps it afloat in the first place, deposit insurance. Huge liquidity flows coming from the Fed and savings being driven out of banks is a perfect recipe for not only an equity rally -- like the S&P 500 (NYSEARCA:SPY) finally besting its all-time high -- but also a take-off in the price of gold. This makes it a perfect time for us to look at mining companies, which have, frankly, been one of the worst possible investments over the past three years.
As I said when the Cyprus thievery was first announced, gold will gain on the loss of confidence in the banking system. As time goes along, the physical market will overwhelm the paper market and he who has the gold will make the rules in the market.
Those that have paper will not.
There is nothing more dangerous than trying to pick a gold exploration company when it comes to investing. Even the best ones are, at best, dart throws. That said, however, I like what I see in the mix of geography and management in Valor Gold (VGLD.OB). Valor just published its 10-K annual report with the SEC this week, you can review it here. In it, you will see a number of things, not the least of which is the need for it to raise capital soon to continue its drilling program.
Valor has a number of things that, in my mind, set it apart immediately, the most significant of which is that it is located in the very prolific area of North Central Nevada. Valor's main property, Red Rock, lies at the intersection of three major gold trends -- Battle Mountain, Rabbit Creek and the Caetano Caldera -- which together have produced more than 110 million ounces of gold. This property, the largest lease in the area, is surrounded by active mines of Newmont Mining (NYSE:NEM), Barrick Gold (NYSE:ABX) and Allied Nevada Gold Corp (NYSEMKT:ANV). Barrick and Newmont each have mines operating near Red Rock.
Red Rock is a property that has had a lot of previous work performed on it including the geologic mapping, rock and soil geochemistry as well as initial drilling. According to the company's investor presentation, surface gold up to 0.38 oz/ton has been found there. While there are plenty of open-pit mines operating in Nevada, that's not where the excitement within the industry is being generated.
It is the deep gold that has sparked this rush back into Nevada. The conventional wisdom has been that the lower you go past a certain point, the worse the yields got. But that wisdom no longer holds true necessarily. In this area of Nevada, there are deep seams of Carlin-like material being uncovered below 2500 feet, and the work that has been done on Red Rock implies some high probability targets of substantial size.
I spoke with Valor's investor relations department recently after reading this earlier Seeking Alpha article on Valor, and they took me through their investor presentation. The picture below is what I found most impressive. To simplify, the top picture is a west to east cross-section of the area where both Newmont (Rain Graben) and Gold Standard Ventures (NYSEMKT:GSV) have made major discoveries. The bottom picture is a south to north cross-section of Red Rock. The red areas represent where gold could be concentrated.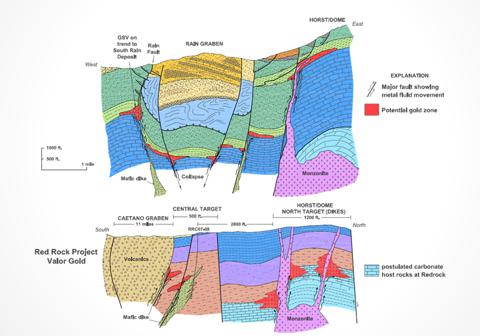 Part of investing in any exploration company is knowing something about the management and the geologic team working the claim. In Valor's case, as it is a spin-off of Pershing Gold (NASDAQ:PGLC) -- Pershing is a major shareholder (28.5%) -- a number of the people involved in Pershing are now with Valor. The firm has a two-man geologic advisory board, both of whom have excellent track records in finding gold for the likes of Newmont and Freeport McMoran (NYSE:FCX).
In particular, the work of Win Rowe is very interesting, especially for a chemist/material scientist like me who has done similar work with a scanning electron microscope to look for spatial variations of constituent elements in metal alloys. His applying that same type of spatial mapping on a geographic scale to Red Rock yielded up pretty obvious results.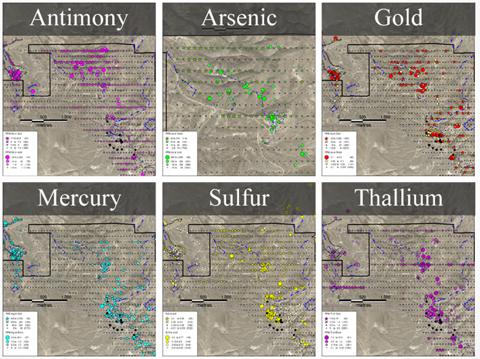 Carlin-type deposits are highly correlated with these main group elements (Sb, As, Tl, S) as well as Hg. The map above is of the northern border of Red Rock and Valor has four targeted zones for this property alone.
So, while Valor has some proven surface gold at Red Rock, it is primarily interested in developing these potential deep, high-grade zones. Looking at what Newmont and Barrick have found in its underground mines, ore grades greater than 0.3 oz/ton are not uncommon.
The potential for this property alone makes Valor an interesting option to add to the speculative portion of your portfolio. The early results of Valor's drilling already yield gold and the latest deep drill results yielded Carlin-type rocks containing gold.
I haven't even touched on the potential for both the Battle Mountain property and the recently acquired Reese River property, both of which are located in the same region. To acquire Reese River, Valor had to sell 9% of the company to Paramount Gold (NYSEMKT:PZG) but, like Pershing's stake, this is not a passive investor situation. In essence, what both Paramount and Pershing have done is concentrate a number of high-quality properties into an entity whose sole purpose is make itself an attractive acquisition target.
This is why I find taking the risk on Valor worth considering. With a number of the majors smarting from higher extraction costs and lower profits than they had previously promised, over-paying for marginal properties it will be a tough sell, but if the grades and bodies that the geophysical data and initial drilling results suggest are there, this could be a good long-term play for an early investor.
Disclosure: I have no positions in any stocks mentioned, but may initiate a long position in VGLD.OB over the next 72 hours. I wrote this article myself, and it expresses my own opinions. I am not receiving compensation for it (other than from Seeking Alpha). I have no business relationship with any company whose stock is mentioned in this article.