Scanning insider purchases for this past week, I noticed that a director of agricultural machinery-maker AGCO Corporation (NYSE:AGCO) has purchased a very large amount of stock. On March 22, 25, 26, 27 and 28, Director Mallika Srinivasan made purchases of $8.8M, $13.5M, $11.5M, $11.6M, and $11.3M, respectively. She also made huge purchases in November of last year. Purchases of this type are sometimes a good sign, and they serve as alerts for watchful investors that they should take a closer look at the company.
AGCO Corporation makes a variety of tractors that serve different types of farms. This Georgia corporation also make sprayers, balers, tillers, cultivators, storage bins, feed delivery systems and diesel engines.
On its face, AGCO has solid metrics, which make it seem very undervalued. It has a forward P/E of 8.91; a PEG of .79; price to sales of .51; and long-term debt to equity of a reasonable .35.
But it faces decreasing margins as it re-engineers engines to make them comply with environmental regulations. That may cut into earnings going forward. Additionally, as Zacks noted, demand for machinery of the kind that AGCO makes is directly linked to economic activity and the world economy is not clearly strong. Quite to the contrary, economist global growth projections have come down slightly over the past few months. UBS recently downgraded AGCO and John Deere due to their stock correlation with the price of corn, which they see declining this year. Is it possible that AGCO's Director sees something that analysts do not?
The company initiated a share repurchase program about 8 months ago, and that may help boost, or at least support, EPS for coming quarters. Additionally, the company started a dividend this quarter that may attract investors which can support share price.
The purchases can say something about the value and growth prospects of the individual company, but they can also say something about the state of the industry. It is hard to say. This stock is not a slam dunk in either direction in my opinion. In the long term, it looks attractive, but a variety of factors this year could cause it to slump. What can be said is that despite significant potential for margin compression, earnings declines, and revenue declines, this Director is buying in size.
AGCO competes against John Deere (NYSE:DE), Caterpillar (NYSE:CAT), CNH Global (NYSE:CNH), and Kubota (KUB). It should also be noted that we chose John Deere as one of our Top Stocks of 2013.
Chart
As you can see in the chart, AGCO sold off following its recent downgrades, but it has held the "cloud," which is a technical analysis tool of Ichimoku. The could acts as support and resistance, and a break through it often leads to a change in trend. Right now it could be classified as neutral. In order to regain upward momentum, it would need to break out of the cloud, and break above the Tenkan and Kijun (blue and red lines).
Additionally, I would like to see the oscillator break above 50. As you can see, it was above 50 since its run from $44 in November. When in a strong upward trend, you will often see it bouncing above 50.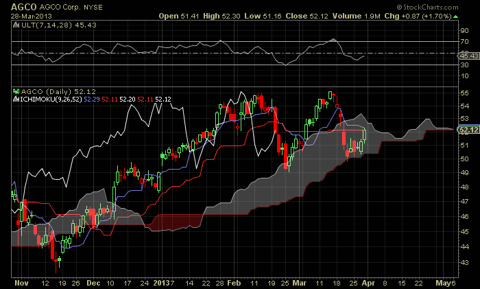 Play
This stock has a high beta, meaning it is generally much more volatile than the market. I don't think that it is clear what direction this will head, but I do expect continued large movements, but possibly within a range given the uncertainty.
The following idea is not for someone who has never traded options. I think I would consider a strangle using back month options -- Aug $60 call and Aug $45 put -- for about $1.75. Then I would run monthly butterflies, starting with May, at $45/50/55 for about $1.80. If something crazy happens and the stock plummets or explodes upwards, you are protected with the strangle. If the stock continues to stay near $50, it will pay for the strangle and then some. If the stock moves up towards $55, I would run butterflies of $50/55/60.
Disclaimer: We do not know your personal financial situation, so the information contained in this article represents an opinion, and should not be construed as personalized investment advice. Past performance is no guarantee of future results. Do your own research on individual issues.
Disclosure: I have no positions in any stocks mentioned, and no plans to initiate any positions within the next 72 hours. I wrote this article myself, and it expresses my own opinions. I am not receiving compensation for it (other than from Seeking Alpha). I have no business relationship with any company whose stock is mentioned in this article.