As you can see from the chart below, shares of Coach (NYSE:COH) have not been kind to investors over the past 12 months. Shares have been pummeled particularly hard since the Fiscal 2013 second quarter earnings report in January, as investors were not pleased with results and unloaded shares like lightning, as the volume bars depict below the graph.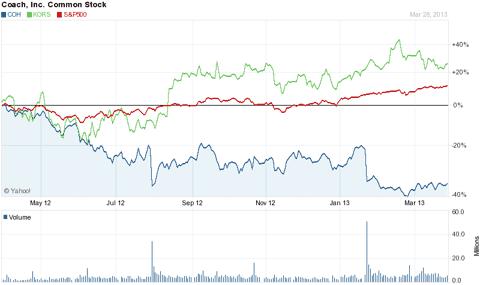 Source: Yahoo! Finance Charts
Admittedly it was a disappointing quarter for COH, particularly in the North American segment, with sales of women's handbags not meeting many expectations (comp sales down 2%). This is a fact acknowledged by company management on the respective second quarter 2013 earnings call.
On this call, management notes that two factors hurt the North American business in the quarter; namely, a muted consumer environment in the U.S. with fiscal cliff uncertainty weighing on shoppers and a slow recovery from Hurricane Sandy in the Tri-state area and, more importantly with regards to the long term business prospects, intensified competition and heightened promotional activity in the women's bag and accessory category, especially in the weeks leading up to Christmas. Traffic was stated to have been down in December more so than the other months in the quarter.
Now, many investors paying only minimal attention to this space will correctly state that Michael Kors (NYSE:KORS) is the culprit identified as "intensified competition" in the U.S. I believe KORS has made itself a force to be reckoned with in the women's luxury category, and I will readily admit that. One must acknowledge the legitimate threat they pose to COH in light of the fact that for the first time COH management honestly admitted to failing to grow as fast as their product line's 10% growth attained as a whole. They are open with the fact that they lost a small percentage of their market share, presumably directly to KORS.
In light of this fact, COH guidance for the remainder of 2013 took on a cautious note, and the subsequent share price decline has been fast and furious. However, I am of the belief that at $50 per share, COH is undervalued compared to a conservative estimate of their earnings ability in the years to come. The following outlines this thesis in a few brief points:
1: COH continues to enjoy strong brand recognition and position in their major categories. They enjoy approximately 30% market share in the North American women's bag segment despite intense competition from KORS and others.
2: I believe COH has quality management in place. Despite the aforementioned intense promotional activity by many companies in the quarter, they maintained a disciplined pricing approach in an effort to protect their brand's integrity. I am of the opinion that this is the right strategy. Rather than succumb to the desire to meet Wall Street growth hopes by boosting sales with price reductions over the holiday season, they are ensuring that they protect the quality and status of the Coach brand, which both protects operating margins and protects the image they have with loyal or aspiring customers. It appears this strategy has legs, as some of the noted strengths of the recent quarter include strength in leather bags and bags priced above the $400 mark. It seems they are maintaining their luxury status well. I am reminded of Warren Buffett's approach to the insurance business that has largely helped fuel Berkshire's (NYSE:BRK.A) growth. His managing team's refusal to price insurance ridiculously low to grab as many customers as possible has allowed them to run one of the most consistently profitable insurance operations ever.
3: Even as the North American business stats are largely responsible for the decline of share price, COH is becoming decreasingly reliant on North American handbag business to drive earnings. While North America still accounts for approximately 66-67% of sales, growth in Asian markets is continuing at an admirable pace. In the most recent quarter, China experienced 40% sales growth with continuation of double digit comparable store sales. International sales as a total group were up 12% year over year despite headwinds from Japanese currency effects. Men's product segments are demonstrating good growth both domestically and internationally as well, with management affirming a view that the Men's business will grow around 50% for 2013 in total to sales of $600 million. A direct quote from COH management team: "We have experienced success in Men's across all concepts and store types and across all geographies and channels." After a relatively short time entering the Men's accessories segment, COH already enjoys 17% market share of a relatively fragmented market. They should be able to continue to leverage their status with men to grow this operation. This appears to be particularly true in the Asian markets, as COH will have opened 30 new dual gender stores in China in total for 2013, with 10 of those yet to be opened in the second half of the year.
4: COH trades at very low valuations currently. When net cash is backed out, the price to earnings multiple for trailing twelve months becomes 12.98 x. This compares to KORS P/E ratio of over 30 with net cash backed out. In other words, KORS would essentially need to grow 130% faster than COH over a substantial length of time to make the valuation difference deserved. Admittedly, KORS is growing much faster at the moment, but should this growth curve level off some, I suspect KORS multiple will contract quickly. In fact, COH can serve as the case study to support that hypothesis.
5: COH has a great balance sheet, and has become very shareholder friendly. Do not be fooled by the current 2.4% dividend yield. COH has been steadily increasing the dividend payout for a few years, and looks poised to do so again. The current dividend rate is $1.2/share on ttm earnings of $3.63, which yields a payout ratio of about 33%. I believe it is reasonable to expect a 25% increase in the dividend payout as there is plenty of room to do so; this level of increase would bring the payout to $1.50 per share, or 3% of current trading prices for a healthy return. It would also yield a payout ratio of only 42% assuming the EPS figure remained unchanged (which it almost certainly won't) setting the stage for multiple years of dividend hikes and improving yield on cost.
6: Aside from organic business growth possible from returning strength to the North American women's business segment, overseas growth, and growth in men's items, EPS can be hugely benefited from share repurchases. As of the most recent quarterly report, COH has $1.4 billion remaining on the current repurchase authorization, or the ability to shrink shares outstanding 10% at current prices. With no net income growth, and share count reduction of 10%, EPS can still grow up to 11.1% over the coming year. This, in conjunction with a 3% yield, would achieve a total return of over 14% pre-tax assuming no net income growth and unchanged price multiple. I believe the dividend yield and the $860 million in cash with virtually non-existent debt will support at minimum current price to earnings multiples, and any growth in net income from the discussed opportunities becomes icing on the cake.
7: If the company manages the most conservative of expectations by reducing share count by 3-5% per year, grow net income organically at 5% annually, and continue to increase the dividend at a healthy and sustainable rate, COH shares trade at a total EPS growth rate of equal to or even greater than the current P/E multiple (i.e. a PE/G ratio of below 1) which is undervalued by most investors' standards. A cursory glance at the table below demonstrates their likelihood of accomplishing the above minimalist goals. In fact, even in light of the tough Christmas quarter, EPS was grown at 5%.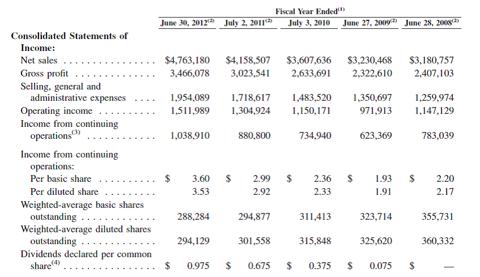 Source: 2012 Annual Report to shareholders available at the company website.
While I don't believe COH is likely to regain status as a high-growth stock, I believe the above key points demonstrate the stock is likely significantly undervalued at current levels and warrants an investment, particularly in light a dearth of discounted companies in the broader markets at current highs. My hope as a recent acquirer of COH shares is that management will agree, then put their money where their mouth is and accelerate the share repurchase pace at current depressed prices to increase remaining shareholder ownership optimally. Rarely are investors hurt beyond repair by a market share leader with strong profitability trading at under 14 times earnings, and often they may be rewarded.
Disclosure: I am long COH. I wrote this article myself, and it expresses my own opinions. I am not receiving compensation for it (other than from Seeking Alpha). I have no business relationship with any company whose stock is mentioned in this article.