The 10% jump (and 10.6% total return) for the S&P 500 (NYSEARCA:SPY) in Q1 was off-the-charts, literally, as the close of 1569 was an all-time closing high. This marks the fourth consecutive year of a strong start to the year, a topic I raised in January when I discussed the new seasonal trade and predicted the rally would persist. Of course, this Q1 wasn't as good as the first quarter of 2012, which saw a 12.6% total return, but it was one of the best quarters since the rally began in 2009, which had two very strong quarters in the middle of the year as the rally began, with a 14.6% gain in Q2 and a 15.6% advance in Q3. More recently, Q4-2011 saw an 11.8% return, and Q4-2010 saw a 10.8% return on the back of an 11.3% return in Q3-2010.
With the market up a lot and at all time highs, nervous nellies are coming out of the woodwork, proclaiming that this must not be a good time to own stocks. While I am in the camp of those who believe a small pullback could take place soon, I think that this bull market has legs, is healthy and has much further to go. I began the year with a 1664 year-end forecast, and, after capturing 60% of the expected gains in just one quarter, I think the market could end up exceeding my target. With that said, though, I don't think that every quarter will rise 10% or more! With such a big debate developing over whether or not setting an all-time high is a warning sign of imminent danger for stock investors, I thought it might be useful to take a look at the market from several different perspectives.
Conservative Leadership
Here is how the awesome quarter looked from a sector perspective: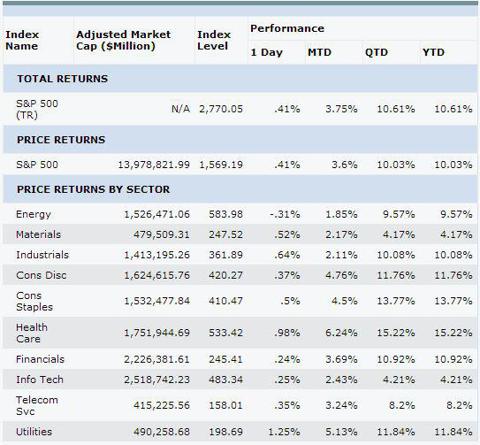 First of all, it's worth giving the market a high-five for having a great quarter with its largest component not only lagging but downright plunging, as Apple (NASDAQ:AAPL) posted a 17% loss. This had the effect of pulling down Technology, the worst performing part of the market at +4.2%. Even without this drag, though, the sector would have trailed the market.
What really jumps out is the strong performance from the low-beta or defensive sectors. Health Care led the way at +15.2%, with Consumer Staples close behind at 13.8% and Utilities at 11.8%. In case it's not clear how conservative stocks are leading, the stately Dow Jones Industrial Average (NYSEARCA:DIA) rallied more than the S&P 500, increasing in price by 11.3%.
I don't understand the logic behind the argument, but many have suggested that this leadership is somehow negative. While it's true that defensive stocks tend to do better than cyclicals when the market is in decline, I see no evidence that their leadership is a harbinger of bad things to come. Rather, it reflects the return of the confidence of the conservative investor. High quality stocks attracting investors is not negative!
From my perspective, there are few signs of the type of speculative excess typically associated with frothy markets. We have seen only a few small corners of the market get overheated, like 3-D printers, cloud-based technology companies and marijuana stocks. The IPO market has come back to life, but it's not exactly gangbusters. M&A is percolating, but we aren't yet seeing bidding wars or crazy deal valuations. This isn't 2007, and the lenders are much more conservative these days. The bottom-line: Strong leadership is a big positive.
Valuation
Stocks were mispriced in 2009 due to extremely poor liquidity. The most dire earnings fears never played out, but the estimates plunged and the PE ratios too. I have waged this debate for years with the bears, but on cyclically depressed earnings, PEs are supposed to be high. Instead, though, they contracted as investors exited the asset class. A fancy way of saying this is that the equity risk-premium rose.
The past few years have been all about taking the downside earnings plunge scenario off the table and PE multiples expanding to a more reasonable level in the context of a slow-growth economy with low interest rates. I am going to keep this very simple and share a 25-year trailing PE chart: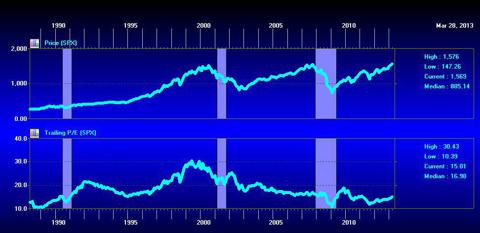 25 years is a long time. The very low PE of 10X was hit twice. First, after the crash in 1987, when interest rates spiked up and a recession that never happened got priced in. Second, in 2009, at the bottom of the biggest bear since the 1930s. For some reason, people think that 15X, which is roughly the current level, is high. Even leaving out the very correct argument that the extremely low interest rates we "enjoy" today suggest an above-average multiple, we sit below the median of 17X. So, while we aren't rock bottom, we are still pretty low. Especially if earnings growth ever picks up! The bottom-line is that valuation is fair to perhaps a little cheap. There is no reason to sell stocks on valuation.
Economic Cycle
One of the best understood aspects of the stock market is that it is forward-looking, seemingly capable of predicting the future even when we can't. Of course things that happen today, especially when they are surprises (like a natural disaster), certainly impact the price of stocks, but usually it's because the market is discounting the impact that it will have in the future. I don't mean to overplay this point, as the market has been said to predict 5 of the last 2 recessions! We all remember the massive head-fake from the summer of 2011, for instance. But the point is that what stocks fear the most is an economic contraction.
While exogenous events could certainly cause a recession, but, after a couple of years now of a very weak Europe and slowing emerging economies, this seems unlikely. In my view, the domestic recovery hasn't even started! Real GDP is just barely where it was 5 years ago. We have excess capacity in labor, real estate and factories. The Great Recession fixed a lot of imbalances. Fiscal and monetary policy actions likely kept the bottom from being even worse than it might have been, but the consequence has been a tepid recovery. I know how popular it was to talk about stalling into a recession, but this isn't typically the way economic cycles play out.
There is one more topic I want to address, and that's profit margins. Many think that profits are overstated because profits are so high relative to sales. In fact, they have never been higher. Six years ago, this concerned me, but there is a longer-term trend towards higher peaks. Until we start to see some labor cost pressure, it's very unlikely that margins will stop expanding. While I don't expect a large increase in profit margins, where we are in the economic cycle suggests it should expand. One wild-card is federal tax policy, but this is likely a longer-term issue. The bottom-line is that we are early in the recovery cycle despite being four years from the recessionary trough.
Credit
One of the signs of trouble for the market can be widening credit spreads. With concerns still about Europe, the system is still somewhat fragile, but, encouragingly, spreads are narrow and firm. Above, we saw that Financials (NYSEARCA:XLF), while not the leader like they were in 2012, are still beating the market. This remains a key area of focus following the credit crisis. Another "tell" is the junk bond market. Yields here are low too, and the spreads, depicted in the chart, are narrow: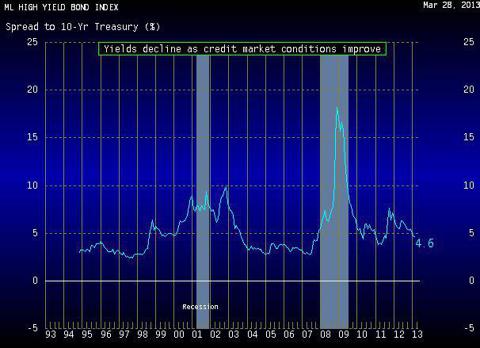 Spreads are low but not extreme. Importantly, they are trending lower, not higher. The bottom line is that this key area of potential concern is not giving us anything but a bullish read.
Interest Rates
One of the loudest bearish arguments I see many making is that rates are bound to rise, and this will crush stocks. If only they weren't being suppressed by the Fed, then rates would rise and choke the economy. Let's address this one slowly. First, why do rates matter? On the one hand, interest rates affect stocks because they are "competition". With the 10-year yielding less than 2%, it's likely that an investment in it is locking in negative real yields for a decade. Not much competition! The stock market delivered more than 5 years of bond-return just this quarter! The other issue is that interest rates impact earnings potentially. How? Short-term interest rates represent an opportunity cost. When they are high, businesses are careful about inventory. Long-term interest rates impact capital decisions. I am simplifying, but it's easy to see that higher rates ultimately are bad for stocks.
Now, let's assess the current situation. First, will rates rise, and, if so, how much? This, of course, could be a whole separate article. To be clear, a sudden jump in interest rates not due to the economy strengthening (i.e. stagflation) would be a real problem. What we will likely see, though, is that the economy will strengthen and the Federal Reserve will need to become less accommodative. Fears that they are "behind the curve" could lead to long-term rates jumping, but let's think about it. Keep in mind that this scenario is due to a strengthening economy. In that case, earnings will likely be rising, providing a cushion for the negative impact of rising rates on valuation (i.e. pressure on the PE ratio).
It's very premature to make a knee-jerk conclusion that rising rates are instantly bad. This is a process that will play out over quarters, if not years. The astute investor needs to think about when rising rates become a problem. It's not when they lift off of stupidly low levels. I have given it some thought and won't be concerned about the valuation issue until rates rise more than 2% (4% 10-year Treasury). Calling the economic impact is a lot more challenging. Many companies have locked in long-term rates at rock-bottom prices. Similarly, the federal government has some roll-over risk, but it has locked in a lot of long-term financing too (plus, in this scenario, tax receipts are rising and expenditures dropping as the economy improves). The bottom-line is that rising rates will likely be a symptom of stronger growth and are not a substantial threat in the near term.
Technicals
The market is in fine shape technically. Leadership is broad, breadth is good, and the market isn't particularly overbought. I know that there are lots of different ways to characterize this, but let's consider that the recent gains follow a quarter in which we saw a decline. While the market jumped 10% this quarter, it's up just 11.4% over the past year (and just 18.4% over the past two years). The 200dma is 1436, which means that the current price is 9% above where it has traded on average over the past 200 days. This is somewhat stretched, but it can be easily fixed by consolidating - it's not necessarily bearish. More concerning to me is that so many stocks I follow and the market too are extended. It's been over three months since stocks have touched their 50dma. The good news is that it won't take much to fix this, as the 50dma is rising and currently at 1526.
I want to finish this oddly chartless section on technicals with a final observation. We have had a 10% correction in each of the past three years, though last year's was less onerous. Last year we declined 11% from the 1422 interim peak that was set on April 2nd. Late in the year, we had a 9% retreat from the September 14th interim peak. In 2011, we suffered a 22% peak-to-trough correction that boarded on being labeled a bear market. Following the flash crash in 2010, we pulled back 17%. The point is that it's easy to expect a 10% pullback at any time based on recent experience, especially if you ascribe to the "new seasonals". I think one has to be careful and remember the last bull market. Some may not realize this, but from the lows of 2003 to the peak in 2007, the market never pulled back 10%. So, the bottom line is that this is one area that has a bit of caution.
Conclusion
I purposefully ended with "technicals" because that's about the only thing that bears have working for them potentially in my view. As bullish as I have been and remain, I know that nothing goes straight up indefinitely. I have been taking a more cautious approach to the market and expect that we could see a pullback to the 1480-1510 area after extending first to 1590, just past the all-time high of 1576. I recently hosted a webinar at Marketfy to discuss this topic and how I am finding stocks to recommend selling or shorting. The bottom-line, though, is that the pullback, if it even materializes, is likely to be a buy opportunity.
Disclosure: I have no positions in any stocks mentioned, and no plans to initiate any positions within the next 72 hours. I wrote this article myself, and it expresses my own opinions. I am not receiving compensation for it (other than from Seeking Alpha). I have no business relationship with any company whose stock is mentioned in this article.