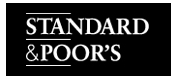 Standard & Poor's expects local governments to maintain credit quality, despite the effects of the housing slump. S&P's view contrasts with Moody's recent negative outlook rating for the sector.

With government revenues hit hard by still-falling home prices in many parts of the U.S., S&P looks at the implications for municipal debtholders in Local Governments Prove Resilient In Weathering The Housing Slump.
Despite a much-weaker housing market, Standard&Poor's Ratings Services believes that many municipal government managers and elected officials will likely be able to balance budgets and maintain strong credit quality, although doing so may require considerable discipline and a willingness to make tough choices.
Many of these municipal bond issuers may, however, have to draw down on their reserves, and take other actions, S&P says.
The New York Times reports the results of a survey by the Nelson Rockefeller Institute showing a sharp drop in tax revenues in the fourth quarter, especially in western states such as Arizona, California and Nevada, hard hit by the housing slump.
Utah, for example, where construction-related employment has been battered, had the sharpest decline in personal income tax collections in the nation in the last quarter of 2008, down 18.5 percent from the same period in 2007.