Purpose
This is a real-time comparison between a small stock portfolio (mostly based on dividend-growth investing, or DGI) and an S&P 500 index fund. The purpose is to: compare 1-year results on the basis of total return and income received, and to serve as a teaching tool. $10,000 is the starting amount for each portfolio. Securities will assume to have been purchased at the closing of February 28, 2013. March 1st, 2014 will be the comparison date. Reminder, this is not an actual portfolio, but we shall pretend that it is. In addition, I own several of the individual stocks listed, so I do have some actual skin in the game.
This article presents the results from March. To see the rules and assumptions used in this exercise, please see my first article here.
March Results
Without further ado, the total return results are shown below.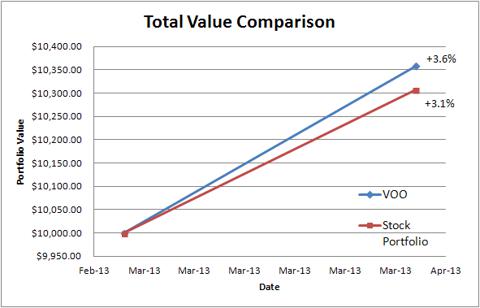 Both portfolios increased around the same amount with VOO taking a slight lead. VOO did receive its quarterly dividend payment, so that could be a cause for the larger lead. But 1 month is still just a blink of an eye. Good job to both portfolios after 1 month.
Since income is distributed quarterly in each portfolio, the first income comparison will be at the end of May.
Notable Events
During March, I noticed the following notable events for our portfolios:
Apple (NASDAQ:AAPL): This company's price has been all over the place. Do we care? Probably not. Volatility is part of the game. As Benjamin Graham wrote in "The Intelligent Investor":
"The owner of equity stocks should regard them first and foremost as conferring part ownership of a business. With that perspective in mind, the stock owner should not be too concerned with erratic fluctuations in stock prices, since in the short term, the stock market behaves like a voting machine, but in the long term it acts like a weighing machine (i.e. its true value will in the long run be reflected in its stock price)."
Do you check the market value of your house or rental property every week? Every month? Ignore the short-term market fluctuations of the stock market and focus on the long term (+5 years).
Aflac (NYSE:AFL): Reinvested $10.51 in dividends.
Linn Energy (LNCO): Nothing to update.
IBM (NYSE:IBM): Reinvested $6.35 in dividends.
Deere & Co (NYSE:DE): Nothing to update.
CSX (NYSE:CSX): Reinvested $9.15 in dividends.
General Dynamics (NYSE:GD): They increased their dividend by 9.8% on March 6th. It is payable May 10th. This is not only good news, but shall I even say that it was expected? Good dividend growers are supposed to keep growing their dividend. That's why we have them in the portfolio: stability and predictability.
VOO: Reinvested $48.21 in dividends.
Why did you pick only 7 companies?
Many people have suggested that less than 10 companies is too small a concentration in a typical person's portfolio. I absolutely agree with them. Generally speaking, most portfolios should balance between 5 and 50 companies. Why the large spread? It's all dependent on the investor themselves. Let's visit a few of the variables that an investor has to think about.
Starting Amount - If you are starting out with $100 to invest, then you'll probably have to start with 1 stock and DRIP it (a $10 broker fee is not a good idea starting with $100). If you are starting out with $100,000 to invest, then you have the option of purchasing several companies and DRIPing or reinvesting the dividends yourself (a few $10 broker fees aren't a big deal starting at $100,000)
Time for Research - If an investor is able to follow only 5 companies thoroughly, then you have a small pool to swim in and fewer opportunities will present themselves to you. But, if you can follow 50 companies on a quarterly basis, then you have a greater chance of finding a market inefficiency to take advantage of and buy good companies at favorable prices.
Stock Valuations - Okay, so you've found 500 companies that you really like: you like their business model, their company morals and ethics, and their shareholder friendliness. Even if you have enough money, would you buy them all at this very instant? (Side note: that's what happens when you buy an index fund!) I would suggest not to, as some companies would be overvalued to their present earnings. For instance, I would love to be an owner of Colgate-Palmolive (NYSE:CL), but it currently has a P/E of 22.7 with an estimated 5yr growth of 9.7% (courtesy of finviz.com). I would be a buyer once the P/E comes back down to 15.
Concentration Psychology - Although unforeseen events rarely occur without warning - a 'black swan' event - it's still good to be thinking about how negative events would affect your brain. More than likely, you did a poor job of doing due diligence on your company, and the earnings and dividends weren't as stable as you thought. It's already happened to me a few times (CLF, ACI). Before purchasing, I'd consider how a 50% realized loss for one company would affect you. I'm guessing I will make more mistakes in the future, therefore 15-25 stocks seems appropriate than 5.
On a side note, understand how unrealized losses would affect you as well. If you still believe the company will continue to be running smoothly far into the future, then it may be a good time to take a larger position. Remember, over the short term, a stock price may have little to do with the company's fundamentals.
Some people love their 5 companies and wouldn't trade them for the world; while some people love income stability and 50 companies make them feel at ease. The answer will be different for everyone.
This is why we chose 7 companies
For this exercise, we assumed that this person started with $10,000. Keeping each purchase above $1000 meant that a $10 broker fee is less than 1% of total expenses. This can be easily done through an online brokerage which can DRIP your holdings. I currently follow around 50 companies and these 7 seemed more attractive from a valuation standpoint. Although I'd prefer to have a higher number of stocks in this portfolio, hopefully this person will be able to add more capital in the future to expand their total number of holdings. Remember that it's ok to start with just 1 stock if you only have that $100. The key is to just start.
Disclosure: I am long GD, DE, AFL, AAPL, LNCO. I wrote this article myself, and it expresses my own opinions. I am not receiving compensation for it (other than from Seeking Alpha). I have no business relationship with any company whose stock is mentioned in this article.