By Cagdas Ozcan
McDonald's (NYSE:MCD) is the biggest fast food chain in the world. The company is operating in more than 119 countries and runs over 33,500 restaurants. Fast food industry is growing at a slow pace, and the company has seen its growth in revenues decline over the past two years. Growth in the stock price has also been less than impressive for the company. Over the last year, the stock only grew by 1.82%. WHile the stock returned about 18% in this year, we think that the stock will remain a bit sluggish this year as it reached its fair value. In order to calculate the fair value of the stock, we decided to use our FED+ model on the company. Results of the model are discussed below.
As of the time of writing this article, MCD stock was trading at around $98, with a 52-week range of $83.31 - $99.70. It has a market cap of about $99.2 billion. The trailing twelve-month P/E ratio of 18.40 is above the forward P/E ratio of 15.20. P/B, P/S, and P/CF ratios stand at 6.5, 3.7, and 14.5, respectively. The operating margin is 31.2% while the net profit margin is 19.8%.
McDonald's has a 2-star rating from Morningstar. Out of the twenty eight analysts covering the stock, fifteen have a buy recommendation and thirteen have hold recommendations, and only one analyst have an underperform rating. Average five-year annualized growth forecast estimate is 9.20%.
We can estimate the stock's fair value using discounted earnings plus equity model as follows.
Discounted Earnings plus Equity Model
This model is primarily used for estimating the returns from long-term projects. It is also frequently used to price fair-valued IPOs. The methodology is based on discounting the present value of the future earnings to the current period:
V = E0 + E1 /(1+r) + E2 /(1+r)2 + E3/(1+r)3 + E4/(1+r)4 + E5/(1+r)5+ Disposal Value
V = E0 + E0 (1+g)/(1+r) + E0(1+g)2/(1+r)2 + … + E0(1+g)5/(1+r)5 + E0(1+g)5/[r(1+r)5]
The earnings after the last period act as a perpetuity that creates regular earnings:
Disposal Value = D = E0(1+g)5/[r(1+r)5] = E5 / r
While this formula might look scary for many of us, it easily calculates the fair value of a stock. All we need is the current-period earnings, earnings growth estimate, and the discount rate. To be as objective as possible, I use Morningstar data for my estimates. You can set these parameters as you wish, according to your own diligence.
Valuation
Historically, the average return of the DJI has been around 11% (including dividends). Therefore, I will use 11% as my discount rate.
In order to smooth the results, I will also take the average of ttm EPS along with the mean EPS estimate for the next year. The average EPS for McDonalds is $5.93.
While analysts tend to impose subjective opinions on their estimates, the average analyst estimate is a good starting point. Average five-year growth forecast is 9.20%. Book value per share is $15.23.
Fair Value Estimator

V0

E0

$5.93

V1

E0 (1+g)/(1+r)

$5.83

V2

E0((1+g)/(1+r))2

$5.74

V3

E0((1+g)/(1+r))3

$5.65

V4

E0((1+g)/(1+r))4

$5.55

V5

E0((1+g)/(1+r))5

$5.46

D

E0(1+g)5/[r(1+r)5]

$49.68

BV

Equals

$15.23

Fair Value Range

Lower Boundary

$83.85

Upper Boundary

$99.08

Potential

0.18%
(You can download FED+ Fair Value Estimator, here.)
I decided to add the book value per share so that we can distinguish between a low-debt and debt-loaded company. The lower boundary does not include the book value. According to my 5-year discounted-earnings-plus-book-value model, the fair-value range for McDonald's is between $83.85 and $99.08 per share. At a price of about $98, McDonald's is trading close to the upper boundary of its fair value range. The stock is about fairly valued at the moment as it is trading very close to its fair value maximum.
Summary
)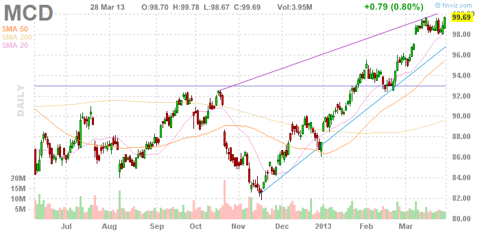 Fast food sellers have seen declining growth in revenues, which has caused the stock price to move slowly. At the moment, McDonald's is trading at its fair value, according to our fair value model. The model is based on long-term earnings growth, which shows that the market has taken into account the future growth potential of the company. Analyst opinion also indicates that the stock is trading at or close to its fair value, as almost half of the analysts covering the stock have a hold recommendation. McDonald's offers a dividends yield of about 3%, which might interest some income investors. While it was a good buy under $84, the stock has little or no upside potential at the current valuation.
Disclosure: I have no positions in any stocks mentioned, and no plans to initiate any positions within the next 72 hours.
Business relationship disclosure: Efsinvestment is a team of analysts. This article was written by Cagdas Ozcan, one of our equity analysts. We did not receive compensation for this article (other than from Seeking Alpha), and we have no business relationship with any company whose stock is mentioned in this article.