By Cagdas Ozcan
Philip Morris (NYSE:PM) has been one of the better performing companies over the past year. Solid dividends, a generous payout, and impressive growth in stock price have been a big pull for investors. The tobacco giant is one of the biggest companies in the world, and currently holds more than 15% of global market share. Philip Morris' brand Marlboro is the bestselling brand in the world. While investing in tobacco stocks is a bit risky, we think that Phillip Morris' dividends are in safe condition. In this article, we have tried to perform an analysis of the trend in free cash flows and debt metrics in order to measure the dividend stability of the company. Results of the model are discussed below.
Free Cash Flows
Free Cash Flows

2012

2011

2010

Net Income

$9,145

$8,897

$7,498

Depreciation and other noncash charges

$898

$993

$932

Funds from Operations (FFO)

$10,043

$9,890

$8,430

change in noncash current assets

$256

$986

$1,194

change in noncash current liabilities

$366

$347

$187

Operating Cash flows

$9,421

$10,529

$9,437

Capital Expenditures

$1,056

$897

$713

Free Operating Cash Flow

$8,365

$9,632

$8,724
Source: SEC Filings
Over the past three years, the company has shown an impressive increase in its funds from operations. At the end of 2010, FFO for Philip Morris stood at just above $8 billion. However, by the end of 2012, FFO had jumped up to over $10 billion. On the other hand, operating cash flows of the company have shown a mixed trend over the past three years. At the end of 2010, operating cash flows stood at $9.4 billion and went up to $10.53 billion in 2011, before coming down to $9.4 billion at the end of 2012. In addition, the firm has been investing a considerable amount of money in capital expenditures.
Philip Morris spent just above $700 million in capital expenditures at the end of 2010, which went up to $1.05 billion at the end of 2012. Moreover, free operating cash flows increased during 2011 before falling below 2010 levels. The long-term debt for Philip Morris also increased during 2012, and currently it stands at $17.6 billion. Due to an increase in capital expenditures, free operating cash flows have come down in 2012.
Essential Ratios
Essential Ratios

2012

2011

2010

Funds from Operations(FFO)/Total Debt

0.57

0.67

0.63

FFO/Capital spending requirements

9.51

11.03

11.82

(Free Operating Cash Flow + Interest expense )/ Interest expense

10.74

13.04

10.96

Debt Service coverage

1.52

3.47

4.25
FFO to total debt ratio is a conventional ratio to measure a company's ability to meet its debt obligations. As it is clear from the table, the firm is in a strong position, and FFO to total debt ratio is strong despite experiencing a decline in the last year. FFO to capital spending requirements ratio is also healthy for Philip Morris, indicating that the company is able to meet its capital spending requirements through internally generated funds. It is especially important for dividend paying companies to have healthy coverage ratios. If the firm is not able to meet its debt obligations, it is likely that the firm will cut its dividends to meet its debt obligations.
However, at Philip Morris the situation looks in control as the company has incredibly strong coverage ratios. The interest expense for Philip Morris is low and has not touched $1 billion in the previous three years. As a result, the interest coverage ratio is extremely strong at 10.74. In addition, the company has been able to meet its debt service requirements, and a ratio of 1.52 indicates a strong position for Philip Morris. After the analysis, we can say that the firm should not have any trouble meeting its debt obligations and the dividends of the company look safe.
Summary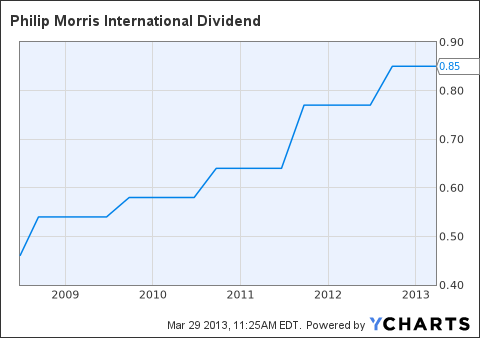 PM Dividend data by YCharts
We conducted this analysis to gauge the financial strength of the company, and we are satisfied with the results. The company has solid free cash flows and impressive debt ratios, which indicate that there should not be any financial trouble in the near future. Furthermore, the company is one of the biggest brands in the world, and enjoys a certain pricing power. On the negative side, the tobacco industry is always exposed to strict regulatory conditions, and stricter regulatory environment in the future might hamper the performance of the company. Nonetheless, the company is in a strong condition, and it should not have trouble maintaining its dividends.
Disclosure: I have no positions in any stocks mentioned, and no plans to initiate any positions within the next 72 hours.
Business relationship disclosure: Efsinvestment is a team of analysts. This article was written by Cagdas Ozcan, one of our equity analysts. We did not receive compensation for this article (other than from Seeking Alpha), and we have no business relationship with any company whose stock is mentioned in this article.