BlackBerry's (NASDAQ:BBRY) earnings report came and went without too much fanfare. The company's recovery is on track, the balance sheet is healthy, and it seems that the case to go short this name continues to fade. That being said, I believe that while some traders may stick around to try to trade the imminent launch of the Q10 phone from BlackBerry, much of the "hot money" is probably going to flow out of the name until some other major catalysts start showing up on the horizon.
Nokia (NYSE:NOK) is another former smartphone champion that faded into irrelevance as the smartphone revolution hit. After a brief stint working with Intel (NASDAQ:INTC) on the ill-fated MeeGo platform, Nokia teamed up with Microsoft (NASDAQ:MSFT) and became a Windows Phone exclusive phone vendor. After a rocky start with its original Lumia phones built with Windows Phone 7, it seems that Nokia is finally hitting its stride with its latest generation Lumia phones built on modern hardware and Microsoft's latest Windows Phone 8.
Nokia's Stock: Forgotten But Not Out
Nokia's 6 month stock performance speaks volumes: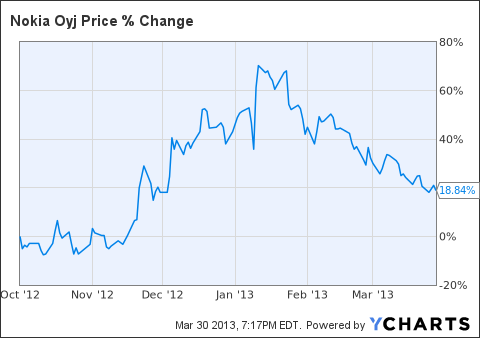 After the initial excitement over the Lumia Windows Phone 8 lineup launch, the good news about China Mobile (NYSE:CHL) carrying its phones, and the rollout of a particularly well targeted range of phones from the very highest end to the low end, the stock has gradually faded much of its gains as the excitement has died down. I believe that part of this is due to the recent commotion surrounding BlackBerry , as well as the launch of Samsung's (OTC:SSNLF) flagship Galaxy S IV. Those events are over and done with for now (although BlackBerry's Q10 may invoke further investor excitement), so the "hot money" that has taken its gains in these names will now need somewhere else to put it. Why not Nokia?
Here are a couple of reasons to get excited about Nokia in the near- to medium-term:
Windows Phone is getting some love and outselling both BlackBerry and even the mighty Apple (NASDAQ:AAPL) in a number of countries, including Poland, Russia, and South Africa. Nokia is by far the largest vendor of Windows Phone devices, with 78% market share
Nokia has ~$6B in net cash, or roughly 50% of its ~$12B market capitalization
The company is aggressively targeting a wide spectrum of devices from cheaper, low end smartphones to much higher end devices. As investors criticize Apple for not having a cheaper iPhone out, it's clear that Nokia is on the ball in realizing where the future unit growth is going to be for these devices
Conclusion
Ultimately, that BlackBerry money is going to flow somewhere, and I believe that Nokia may be a forgotten smartphone turnaround play that could easily see some new interest, especially as Windows Phone gains acceptance in the market place, and as Nokia leads that charge. Further, any hint that Nokia may also expand its product portfolio to include Android could lead to substantial gains in the shares, as investors now don't have to take on the additional risk of Microsoft's new platform simply not gaining traction as quickly as investors had hoped.
As always, don't fall in love with this stock - it's a trade. Don't risk more than you can afford to lose, scale into the position (don't go all in at once), and keep an eye on newsflow.
Disclosure: I am long MSFT, INTC. I wrote this article myself, and it expresses my own opinions. I am not receiving compensation for it (other than from Seeking Alpha). I have no business relationship with any company whose stock is mentioned in this article.
Additional disclosure: I may go long NOK at any time.