Atmos Energy (NYSE:ATO) has been a good stock for investors, as the yearly chart below shows. Atmos Energy also offers a very nice 3.4% annual dividend, which sweetens the deal. So, from an investor standpoint, Atmos is a "slow and steady" stock that will yield you some good long-term gains.
Click to enlarge image.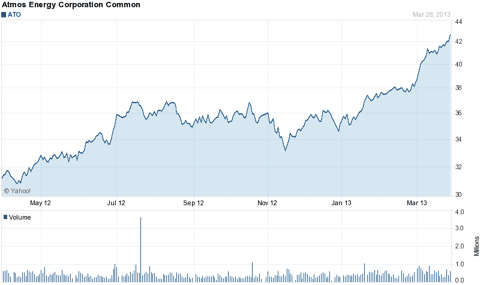 While this is all well and good, Atmos Energy is doing something behind the scenes that is hurting its customers. This could be what helps drive revenue, but might cause future customer upheaval that, in turn, may hurt Atmos Energy overall. Atmos Energy charges a customer charge each month. This charge is how Atmos makes the bulk of its money (on the consumer side of the business), and is not a rare occurrence in an energy or gas company. The problem, though, is a recent customer charge rate that went into effect a few months ago. In central Texas, the rate went from $7.50 a month to $17.70 a month, or a change of +136%. To a homeowner or renter getting this bill, it may come as a bit of a sticker shock. For many, there is no gas competition and a customer has to either take it or have no gas.
So where did this increase come from and were people informed? This is from Atmos Energy:
Why have my rates changed? Why has my customer charge increased from $7.50 to $17.70?

The average North and Central Texas residential customer uses about 4.5 MCF of natural gas per month. These customers will see an increase of about 2% or $11.50 per year. While the customer charge has increased, it is important to note that the consumption charge has decreased significantly from $2.51 per MCF to $0.42 per MCF. Therefore, most customers will experience a decrease in winter bills (when bills are typically higher due to greater consumption) and an increase in summer bills (when consumption is lower).

I thought natural gas prices were going down.

The rate change has to do with the cost to deliver the gas to you as a customer - not the cost of the commodity. By law, Atmos Energy cannot earn any profit on the cost of the natural gas. We simply pass the cost of the gas we have paid straight through to the consumer, which is exactly why our customers have seen a decrease in their bills over the last three years due to lower gas prices.

Why does Atmos Energy need to change its rates?

Atmos Energy continues to invest significantly in the safety and reliability of our natural gas system. We have invested approximately $400 million in capital projects in the North and Central Texas service area since the last rate case.

Did the City approve this rate change?

In Texas, all cities have original jurisdiction over gas utility rates. The Company filed the rate case with 441 cities on January 31, 2012. Customers were provided notice of the rate case filing in newspapers in February 2012. Atmos Energy's request for a rate increase was denied by all cities in the Mid-Tex Division. Atmos Energy then appealed the filing to the Railroad Commission of Texas, where a hearing was conducted to determine the reasonableness of the Company's request to increase rates. The Commission issued a final ruling in the case December 4, 2012.

Who pays for the cost of the rate case?

The total cost of a rate case includes both city and Company legal fees, printing, postage and other expenses. These expenses will be recovered through a surcharge on customer bills at a later date after they have been reviewed and approved by the Railroad Commission of Texas.
Let's really look into this by the numbers to see how Atmos Energy has addressed the questions and needs of the customer.
No. 1: This is a quick way of telling customers that the customer charge is going up but rates are going down. See? Everything is fine, don't panic.
No. 2: This isn't about the rate of gas. OK, moving on...
No. 3: So the rate increase is to help with the safety of the gas lines and other projects. I'll get back to this.
No. 4: I want to quote the company here: "Customers were provided notice of the rate case filing in newspapers in February 2012." Newspapers? Telling your customers in a newspaper that rates are going up is about the same as using a tin cup to call them. It was a way for Atmos Energy to bury its rate hike, but it was not illegal because it used a (dying) media to inform the masses. I'm willing to bet hardly anyone saw this. Another quote: "Atmos Energy's request for a rate increase was denied by all cities in the Mid-Tex Division." You see that? No one wanted the increase. So Atmos said "forget that" and went to court. And won.
No. 5: So Atmos Energy had to go to court because Texas didn't want an increase in charges. Atmos Energy won and will now make the customers pay for the process. Is this Atmos Energy saying the customer is wrong and now they have to pay for it?
So Atmos Energy raised the privilege of being a customer by over 100% to pay for "safety." Texas didn't want this and Atmos Energy passed its court costs back to the customer because of it. Is Atmos Energy so hard up that it couldn't have absorbed some of this safety investment itself instead of charging customers? Let's take a look.
Atmos Energy's yearly financials show revenue of over $3.4 billion for 2012. That's a lot, sure, but it is down significantly from 2011 ($4.3 billion), 2010 ($4.66 billion), and 2009 ($4.87 billion). In fact, a trend seems to have formed that revenue is going down quite quickly.
Atmos Energy has also maintained a nice dividend and it has slowly increased through the years. It hasn't missed a quarterly dividend and probably has no plans to. Investors should be happy. They get a nice payout and the stock has been rising for a while now.
Here's a crazy idea, though -- if Atmos Energy took one quarterly dividend (35 cents a share right now) and used that (at 90 million-plus shares outstanding) to pay for its "safety" that is of such concern, it would save over $30 million, which could have been used to pay for the improvements instead of passing it on to the customers. But this idea will never work, of course, because if you take away an established dividend from an investor, the stock will plummet.
So here's another idea -- use cash on hand to pay for the improvements. At the end of 2012, Atmos Energy had $125 million in cash on hand. Using some of that could surely help ease the rate hike for customers, right? You may think that, but what large company gives its cash back to customers unless mandated by a higher power? Also, while $125 million sounds like a lot of money, when your income is in the billions and debt is also in the billions (near $3 billion), $125 million isn't that much. So Atmos Energy won't be spending money on saving customer money. But it is spending money on this?
One may start to wonder, if revenue is down and debt is in the billions, isn't a customer rate increase a quick way to increase money while basically doing nothing? Could this not be a cash grab for Atmos Energy to help the bottom line? I can't prove that Atmos Energy is using the rate increase to pay or not pay only for safety initiatives. We only have its word and the five points I outlined in this article. If rates start increasing in other areas, more customers may start to voice more of an opinion. If more customers are unhappy, Atmos Energy may start to receive bad press.
Right now, in some areas Atmos Energy is the sole provider of gas. But also in some areas, customers can now shop for electricity rates through different companies. If Atmos Energy keeps passing the buck to the consumers and enough of a stink is raised, how soon until there is a cry for being able to shop for gas companies? Then investors may not see Atmos Energy as the nice value stock it is right now.
Disclosure: I have no positions in any stocks mentioned, and no plans to initiate any positions within the next 72 hours. I wrote this article myself, and it expresses my own opinions. I am not receiving compensation for it (other than from Seeking Alpha). I have no business relationship with any company whose stock is mentioned in this article.