Everyone remembers their favorite childhood game used to pass the time in waiting rooms, car rides, and other places that never provided much immediate sensory stimulation when you were a child or teen.
I was discussing this with a colleague a few days ago while talking about some technology sector equities, and thought it would be a great forum on which to deliver a stock that I'd "marry" (go long), "date" (go semi-long), and kill (go short) in a particular sector. In an effort to provide the public with some ideas for technology investing and trading, here's what I came up with. This is my technology investing version of "Date, Marry, Kill".
Date - Intel (INTC)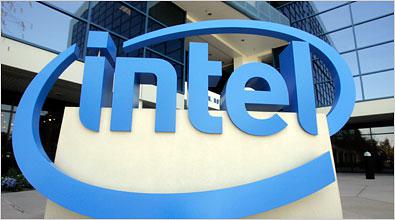 With $11 billion in net income in 2012, Intel is the standalone leader in the semiconductor and processor field. Chances are, Intel's processor or chips of some sort are in the computer that you're using to read this article.
The fundamentals of the company look great, so I'm taking a "date" look at this one via the information provided by the technicals. No doubt it's been a tough last year for Intel, who can never seem to make any sort of sustained upward progress over that $30 mark. Shares are off about 20% from their highs this year: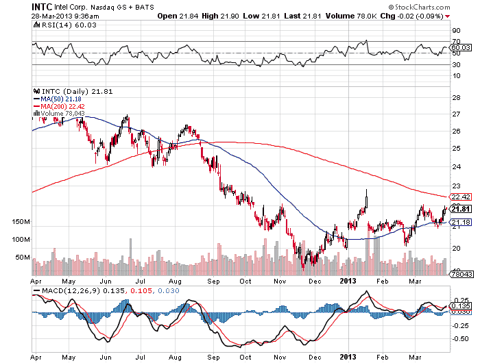 Intel has been having recent issues breaking past the $22 mark. As I was about to state my case for buying after $22 is broken, I noticed Eric Parnell did it for me in his superlatively written article "Technology Stocks Worth Consideration At Market Highs":
The microprocessor giant offers steady operating results relative to its semiconductor peers and offers a generous 4.2% yield. Moreover, the company trades at just 10.2x trailing 12-month earnings. But the fact that it is a chip company makes it far more economically sensitive in an environment where the course of future global growth remains genuinely uncertain. And from a technical standpoint, although the stock has recently rallied, it has arrived at what is stiff resistance at $22 per share. Moreover, it is returning to these levels with less relative strength and momentum than it enjoyed during its last breakout attempt in January. Thus, either a decisive breakout above $22 or waiting for a pullback into the $19 to $20 range would be preferred before beginning to consider initiating a position in the name.
This is a "date" stock, because I'd only ride the $22 breakout to about $27, which is a level Intel has had trouble with historically as well. At just under 20% of a gain, if you can swing this "date", you might wind up "scoring".
Marry - Apple (NASDAQ:AAPL)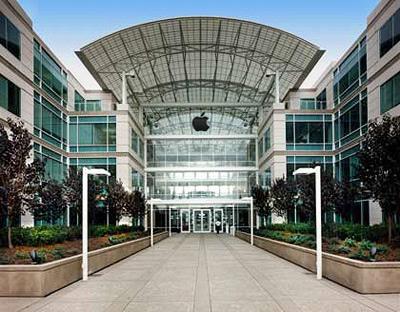 Surely you're going to need several concrete reasons to buy and hold Apple at this juncture of its trading life, right? Apple still remains one of the best buy and hold potential stocks available out there today, in this authors opinion. Here are my reasons why:
1. It's the Most Fundamentally Sound Company in the World
Apple has pockets full of cash and,even when it "misses" estimates is still plowing ahead with $50+ billion in revenues per quarter, gorgeous margins (by any one else's standards except Apple analysts) and tons of cash in the bank. The company has built itself a fortress-like foundation and has the staying power to be around for many, many years to come.
2. More Treats are Coming for Shareholders
As I've written about on the heels of Einhorn's letter to shareholders in regards to releasing some cash for shareholder value, there's been many clues to me that this is eventually on its way. Investors that buy now are potentially setting themselves up for a stock spike that would correspond with increased dividend, share buyback, or some type of other bonus for shareholders.
I wrote in a previous article:
Folks, this is no longer a question of "if" Apple is going to unlock more value from its balance sheet for investors, it's a question of "when." After investigating these media reports today, Apple doing nothing in this situation would be akin to committing shareholder suicide. While I don't think Apple is necessarily going to go Einhorn's requested route of preferreds, the company is clearly going to do something.

In turn, the stock is going to appreciate in value and people's investment in the company is going to be worth more than it would be simply reaping Apple's current 2.2% dividend yield.

Is there a risk of Apple doing nothing? Yes, there is. Apple is starting to establish a bit of a history being stingy and stubborn in court. Does it seem likely? Not at all. It's this investor's opinion that going long Apple, regardless of whether or not the company offers up a shareholder perk, is the right call. While there may be some short-term selling if Apple comes out against any action, Apple remains fundamentally sound for the long run.
3. The rumored coming of the iWatch and other new devices this year.
Yes, it's still a "rumor". But, you can be rest assured that Apple is going to be releasing a new product of some sort this year. With a new product not only comes new revenues, but free media coverage and a buzz that Apple desperately needs to help act as a catalyst for its run back up to, and hopefully through, it's highs near $700.
4. Continued proof that Apple is hard at work doing what they do best; developing
I recently wrote an article about Apple's purchase of WiFiSlam and cited it as a great sign that Apple continues to develop. In my article, I wrote:
Let's venture into the realm of indoor GPS. It seems like a relatively simple concept that, at first, you might even wonder what it could be used for. I'll postulate this question to you: When was the last time you...

Used a skyscraper building directory?
Used a mall directory to find stores you need to go to?
Used a directory in a zoo/amusement park/airport?
Needed directions to find something in a Wal-Mart, Target, or other stores that are built in buildings the size of Airport Hangars?

Now, could you imagine that technology being put into something that you're wearing around your wrist? That sounds awfully convenient.

Catching my drift here? There is no doubt that when Apple comes back and "corrects" its Maps problem, it's going to do so with the fire of a thousand suns. Make no doubts about it, this purchase is a serious indicator of things going on behind the scenes and a massive signal to me of Apple's coming plans.
5. Extremely untapped market share still in computers and potentially an entire new revenue stream with the coming iWatch
As I said in my last Apple article:
Apple has a knack for tapping into new markets. It did it first when it started into the mp3 business and they carried that over and morphed it into the iPhone. From there, it was the tablets. Every single new product it makes is sexier to look at than what's currently out there and offers superlative new function. Apple only seems to enter into a market if it can be the best. There hasn't been anything that has made major media in the world of wristwatches for as long as I can remember. Like a leopard stalking its prey, this could be the best possible time for Apple to enter into this market.
So, with great dividends and tons of space to grow in terms of market share, Apple is a great stock to "marry", for a long, prosperous life to come.
Kill - Blackberry (NASDAQ:BBRY)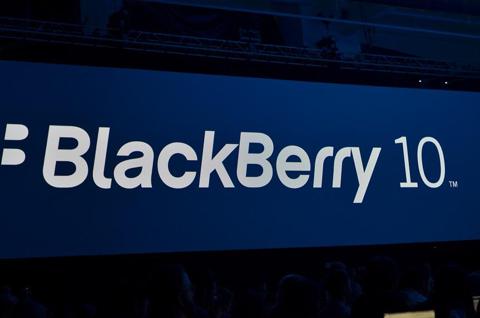 After reading the comments to my last article, I think I'd be hard pressed to find anymore BlackBerry longs that can tell me in a variety of ways how wrong & stupid I am and how I MUST be short for writing an article that's bearish on Blackberry; no matter how many times I disclose that I have zero position in BlackBerry. Cult-like group of support they've got behind this thing, and I have to again extend some credit where credit is due in that respect.
By the way, I have no positions with BlackBerry at all; I just don't think the company has the goods to make the turnaround. I like that they're now profitable and I like that they have a couple billion in cash in the bank. Unfortunately, like J.C. Penney, I think the brand is tainted, and therefore I don't think it has a chance of recovery as it stands. Acquisitions, renaming and massive changes and corporate strategy could be the road that BlackBerry needs.
Anyway, BlackBerry longs have been "rubbing it in" today since earnings this past week on the EPS front were a blowout. The company is profitable, which is great news, but still has issues that it needs to address before the long position in BBRY comes back on the relatively low-risk table. If you're in at $7 or $8, I'd take profits here. If you're insistent on going long, maybe I'd write calls or pick up vanilla puts.
However, Markos Kaminis shares my sentiments that the jump after earnings last week could have been more of a technical glitch than a sustained buying push. He writes about it in his article "Why Blackberry's Gain Was a Mirage":
Record short interest in BlackBerry shares rose to more than 155 million shares heading into its EPS report. More than 30% of its float had been shorted versus 11% at the same time a year ago. While the earnings results were not good enough for yours truly or for many analyzing the stock publicly Thursday, the result was obviously neither bad enough to sink the shares from the get-go Thursday. Because short investors typically have short-term time horizons, many likely closed out their positions on the day to cut their risk and perhaps losses. That's because the next event factor has just as much potential to be a planned or unforeseen positive as it does to be a negative news event. For instance, BlackBerry still has the keyboard inclusive version of its newest phone to introduce to the market, so shorts might not want to be in play around that.

In conclusion, I believe this short interest factor is what drove the stock higher at the open and kept it above water through the day, before it sank into the close. The fact that BBRY closed so convincingly lower speaks to the report itself and portends to the company's challenges and future.
Here's a couple reasons why the long position is off the table here, and why I "kill" by taking profits or going short outright:
1. Bad Signs About US Launch
I just wrote about this two days ago. The U.S. launch is being written off by longs as not meaning anything, but the fact that it's supposed to make up a 20% portion of total BB10 users tells us otherwise. Also, just days ago, another fine article popped up by Vlad Deshkovich who echoes my sentiments about the U.S. release. He states:
The United States is one of the largest smartphone markets in the world by volume, coming in at a close second after China. Evidently, America is the place where BlackBerry could unload a large number of devices and regain market share. Investigations into the release of the Z10 here in the US, however, have come up negative.

Goldman Sachs looked into sales at AT&T locations across America in order to gauge consumer response. What they found was disappointing to say the least:

"Despite the product itself being relatively well received by sales associates and online reviews, sell-through at most locations was less than 10 per day, and in many it was as low as 2-3 per day,"Goldman said.

Compared to other smartphone launches, the Z10 release was embarrassing. Although the phone may be selling well internationally, the thriving US market is essential to BlackBerry's success. The other markets that BlackBerry has chosen to compete in are minute in comparison. Sachs downgraded the stock to a "neutral" after the news.
2. Subscriber Loss of 3 Million
So, what I know today that I didn't know after penning my last article was that the company is now profitable; huge news. However, analysts were looking for a subscriber loss of 1 million or less, and Blackberry reported a subscriber loss of 3 million for the quarter. That's roughly 3% of subscribers. While many longs are right that this metric isn't AS important as profitability, it needs to be kept in check. If this number starts to accelerate next quarter, there is serious reason for concern.
3. Phone Sales
Initial sales numbers for the Z10 came in around a million, which was the median of what analysts have been expecting. A promising number indicating a better than expected launch or sustained interest would have been above the million that was projected.
This number is anything but a sign of certainty for things to come, and it'll ultimately be time that tells the tale for how the rest of the BB10 launch will go.
The long position remains off the table until the launch of the BB10 can show serious traction, as its results will paint the near-term picture of how BlackBerry's stock will trade. I'm "killing" here; bearish or watching from the sidelines at this point in BlackBerry's story. I'd possibly consider option spreads going forward, as the one thing that's been consistent with BBRY has been its volatility.
Next Date, Marry, Kill : Retailers
Additional disclosure: Seriously, I'm not short BlackBerry.
Disclosure: I have no positions in any stocks mentioned, and no plans to initiate any positions within the next 72 hours. I wrote this article myself, and it expresses my own opinions. I am not receiving compensation for it (other than from Seeking Alpha). I have no business relationship with any company whose stock is mentioned in this article.