After many investors - institutional and retail alike - got seriously burned by trying to chase shares of Apple (NASDAQ:AAPL) up to the $1,000/share mark, it seems that the stock is one of the most unloved names on Nasdaq (NASDAQ:QQQ). From David Einhorn trying to bully Apple into issuing preferred stock, to commenters here on Seeking Alpha vehemently calling for Tim Cook to retire early, it just seems that unless Apple comes out and does some silly move to pump its own stock, the company will continue to be hated. But put emotions aside and legitimately ask yourself whether now is the time to buy. I asked myself this question, and now I'm going to share my thoughts with you.
Apple's Getting Cheaper, But Does That Matter?
It's lovely to be able to buy something cheap, but know that unless you're playing in the world of small/mid caps, where significant market inefficiencies may exist, things are generally cheap for a reason. If you're going to go against the grain and buy something simply because it's cheap, then you're doing it wrong. Cheap can get cheaper, so you need a legitimate thesis for what you expect to see to get people to want to buy the stock.
For instance, Apple is cheap because people are expecting that the absolutely gigantic profit streams that the company has been able to draw in over the last several years are unsustainable. Now, I know a lot of retail investors essentially "got lucky" playing this stock on the long side during the back half of 2011 into the first half of 2012, but really, your thesis can't be things like,
"Well, it's coming out with a new iPhone...that's a catalyst, right?"
"Oh, everyone's been talking about that iTV, I better buy the stock before that comes out and the shorts get squeezed!"
"iPhones have the majority of the market share in the US, Android is dead!"
"OMG there's a line outside of the Apple store! Blowout quarter coming!"
I'm sorry - these don't qualify as theses, since these are just far too well known. Betting that the iPhone would be a hit just as it was released (and ridiculed by many) is an example of betting against the market and winning big time. Just buying the shares ahead of yet-another iPhone release isn't going to shock or surprise anybody.
The simple fact is that right now, gross margins are in free-fall, thanks to the fairly commodified nature of cell phones and tablets. Anybody can make them - and everybody does make them - so it is borderline foolish to think that Apple could continue bullying the carriers for large subsidies indefinitely. Either Apple takes a margin hit by giving the carriers a better deal, or the carriers are simply going to start pushing the cheaper - and much more richly featured - Android devices.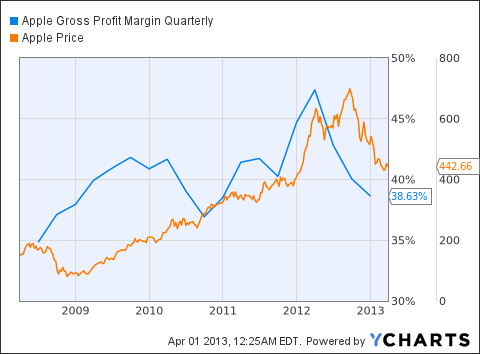 AAPL Gross Profit Margin Quarterly data by YCharts
You will notice that Apple's share price tracks very nicely with its gross margin profile, as it is a combination of both very high gross margins and a substantial revenue base that helps to fuel bottom line growth. Quite frankly, the Street knows that the smartphone/tablet market will probably quickly saturate and that it becomes a big free-for-all battle for market share. This will continue to wreak havoc on Apple's gross margin profile, and I wouldn't be surprised to see negative EPS growth during 2013 and/or 2014 as unit growth in Apple's end markets slows dramatically while ASPs take a hit.
The Cash Hoard Only Limits Downside
On the way up, Apple investors were cheering the company's gigantic cash hoard, but when the stock began to collapse they were screaming for management to hand it back. Anyway, so Apple's cash hoard of ~$137B only helps to limit the downside on shares, rather than act as any catalyst for meaningful appreciation. But even then, that cash is pretty much 100% useless to you since the company seems to have no intentions of giving it back to the shareholders.
I would like to see Apple announce that a significant percentage (let's say 80%+) of free cash flow would be returned to investors in the form of a dividend or a buyback. The current payout is anemic, and the company has more cash than it could ever hope to need in the foreseeable future. Until Apple does something along these lines, it's going to be very hard to convince non-Apple fans that this stock among the thousands of others available is the best investment to be making right now. It's not an income play and it's not a growth stock, so it's stuck in this awkward position of being neither fish nor fowl.
New "Innovative" Product? Don't Hold Your Breath
I love how everyone throws around "innovation" as a buzzword. Innovation happens every single day across the world. Anybody who is actually involved in technological industries and isn't simply a day trader looking for the latest buzz and catalysts knows that behind even the most mundane technological advances is an enormous amount of innovation. What Apple did was innovative, but it was innovative and the general public could appreciate it. But now investors want Apple to repeat this stunt again...and again. Look...it made what was basically a handheld computer with a touch screen because processor technology was finally there to enable it. There's no "magic" here - just straightforward technological advances.
If you're buying this stock speculating on the "next big thing", then you will be sorely disappointed. Apple's "innovations" have all built off of the same iPod basis, and you can expect that future products will continue to do so. No magic, just things becoming progressively better as technology improves.
No Catalysts On The Horizon
Just because Apple's cheap doesn't mean it has any reason to not become cheaper. So what if it adds more cash to the balance sheet? The Street could just assign Apple an even lower earnings multiple and call it a day. Do you really think the folks who run this show don't know that Apple will make a lot of money this quarter? And next?
Apple would need to really surprise the world with a major improvement in gross margins (and signs of a bottom there) and/or a dramatic beat in revenues before anybody could even think about piling back into this stock. An iTV isn't going to do it, nor will a cheaper iPhone - people already expect these things.
Quite frankly, we're talking about a $400B+ market cap company - it will take a lot more than a shiny new gadget to move the needle at this point.
Conclusion
Just stay away from this name...there are better tech opportunities on the market with better dividends, more promising growth, or a healthy mix of both. I know Apple is an "easy" tech investment for many because it's a household name, but if you are only going to buy stocks of companies that are so popular that everybody knows about it, you may as well leave stock picking to others and stick your money in ETFs or mutual funds.
Disclosure: I have no positions in any stocks mentioned, and no plans to initiate any positions within the next 72 hours. I wrote this article myself, and it expresses my own opinions. I am not receiving compensation for it (other than from Seeking Alpha). I have no business relationship with any company whose stock is mentioned in this article.