As the Triple-Net sector is seeing an abundant supply of low cost debt and equity, the demand for public REITs is at an all-time high. Of course, driving the strong demand is a surge in non-traded REIT liquidity events - or planned public mergers - that is leading to a consolidation wave in the predictable cash flow sector.
We have witnessed first-hand the recent Triple-Net REIT merger transactions that include the roll-up of American Realty Capital Trust (formerly ARCT) and Realty Income (NYSE:O), as well as the more recent combination of American Realty Capital Properties (ARCP) and American Realty Capital Trust III (ARCT3). Several other announced mergers include Spirit Realty Capital (NYSE:SRC) and Cole Credit Property Trust II (CCPT2), as well as the latest proposed merger of Cole Holdings and Cole Credit Property Trust III (CCPT3).
I discussed the evolutionary process for non-traded REITs in a recent Seeking Alpha article:
As part of what I call a "forced evolution", non-listed REITs have begun to align with investors and deal openly with the risks associated with the alternative income products. Subsequently, we are now seeing a more recent trend of full-cycle liquidity. Many publicly-listed REITs have "bulked up" over the last few months, thanks in large part to the strong demand in the less volatile non-listed REIT space.
As I mentioned in another recent article, the CCPT3 deal is now being challenged by ARCP in the form of a counter offer. ARCP is hoping that it can provide CCPT3 with better terms while also derailing Cole Holdings from merging its investment advisory business into a publicly-listed REIT structure.
In order to list as a REIT, Cole Holdings will need to pass the 75% test that means the proposed new REIT would need to generate at least 75% of its revenue in the form of rent, while the balance of revenue will be in the form of fees. Right now, Cole Holdings is simply a fee-based platform and that is why the merger with CCPT3 is somewhat critical to Cole's overall REIT roll-up strategy.
When considering other hybrid REIT models like the one proposed by Cole Holdings and CCPT3, the one name that appears to be more closely aligned (in terms of structure) is W. P. Carey (NYSE:WPC). Like Cole Holdings, W. P. Carey is somewhat unique in that the New York-based company generates management-based revenue from its investment management platform.
Carey Financial raises funds through a retail channel that is completely separate from the listed markets and that allows the company to grow revenues without diluting the company's equity base. In 2012, Carey Financial raised around $1 billion and the wholly-owned broker-dealer invested most of the capital in net leased properties.
For publicly-listed REIT investors, the investment management business is harder to understand and that is one reason that the Cole Holdings deal is somewhat complicated. However, by reviewing the details of the W. P. Carey REIT, it could lead to a better understanding since Carey is perhaps the closest peer to the potential new Cole Holdings REIT (proposed ticker is COLE).
The Unique Value Proposition for W. P. Carey
W. P. Carey's Investment Management business has approximately $7.9 billion in assets under management, primarily in the CPA REITs 16 and 17. This segment was Carey's original business, the one the founder Bill Carey established 40 years ago as a pioneer in the concept of offering retail investors access to securitized pools of net lease assets. Over that period, Carey's Investment Management business has raised 16 funds, 14 of which have gone full cycle.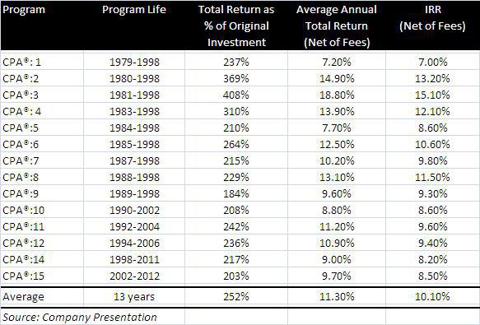 Of the 14 funds (that have gone full cycle), investors have recognized average annual returns of approximately 11.3%. Carey Financial earns revenues from these funds, both during the investment phase as well as the ongoing fees for managing these assets. As Carey invests the capital, the company earns one-time structuring fees based on the total investment amount, including debt. In addition, Carey earns an annual management fee based on the total appraised value of the fund, including debt. As part of the advisory agreement with CPA:16 and CPA:17, Carey holds an interest that pays out 10% of the cash flow of the fund.
Last year (Q3-12) W. P. Carey merged with Corporate Property Associates 15 Inc. (CPA®: 15) and after combining the two companies, W. P. Carey was able to become a publicly-listed REIT. The total transaction value was around $2.6 billion, including the assumption of CPA®: 15 debt of $1.2 billion. By owning over 75% of its combined (merged) assets, W. P. Carey - now a qualified REIT - was able to substantially increase its scale and liquidity making the 40-year old company a more dominant Triple-Net peer.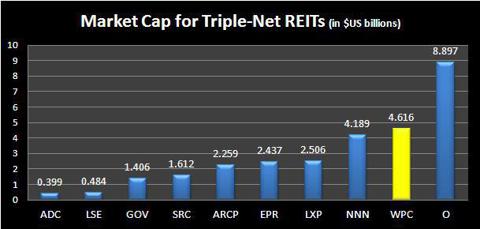 One of the interesting benefits for WPC investors is that there is a "revenue enhancer" that provides a consistent fee-based income stream. Similar to the model that Cole Holdings is proposing (with the merger of CCPT3), WPC has built a track record for growing and maintaining durable advisory fees. As Trevor Bond, CEO of WPC, explained during the company's recent earnings call:
Now this investment management platform is admittedly unique. We're the only major REIT that has one like it. But we think that uniqueness gives us important strategic advantages.
While many companies were forced to suspend or cut dividends during the Great Recession, WPC was able to continue increasing dividends every quarter. According to Trevor Bond, Carey's investment business was a key differentiator for that successful performance. As the CEO explained during the latest (Q4-12) earnings call:
One thing I want to emphasize in connection with the strategic value of this platform is that during the financial crisis, when traditional equity markets were in crisis mode, our continued fundraising capabilities through Carey Financial permitted us to take advantage of an opportunistic buyer's market. It also helped us maintain that streak of consecutive dividend increases that I mentioned earlier, the 47 straight quarters of increases.
So, let's dig deeper into Carey's unique business model…
W. P. Carey's Dividend Policy Is Just Rock 'N' Roll
As mentioned above, WPC nearly doubled in size late last year converting from an LLC into a REIT. Aided by the merger, during 2012, WPC raised its dividend by around 17% to $2.64, which represented the company's 47th consecutive quarterly increase.

Upon closer examination, WPC increased its dividend by over 24% in the latest quarter.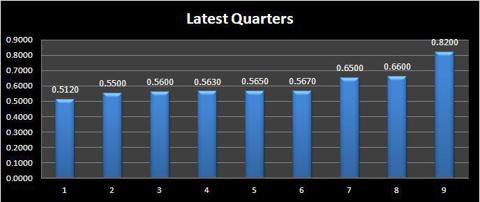 WPC's stalwart dividend policy has been exceptional as the company has increased its dividend every year for the last 16 years.

Here is a snapshot of the actual dividend growth, including the most recently announced increases.

WPC is only one of eleven REITs that has increased dividends annually for over 10 years in a row. Included in the list of eleven, WPC is only one of three Triple-Net REITs that has been on that same list. These eleven REITs include Federal Realty (NYSE:FRT), HCP, Inc. (NYSE:HCP), Universal Health Realty (NYSE:UHT), Essex Property Trust (NYSE:ESS), National Health Investors (NYSE:NHI), Omega Healthcare Investors (NYSE:OHI), Realty Income, Tanger Factory Outlets (NYSE:SKT), and Urstadt Biddle Properties (NYSE:UBA).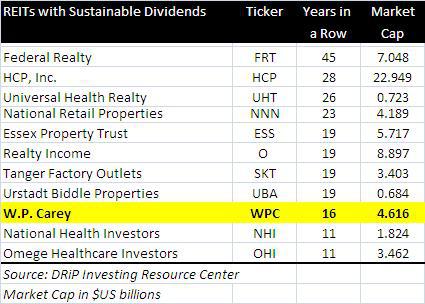 How Does Carey Sustain Its Dividend Success?
W. P. Carey was founded in 1973 (now 40 years old) and was listed on the New York Stock Exchange in 1998. The Triple-Net REIT specializes in sale-leaseback investments of corporate-owned real estate worldwide. WPC has grown its assets under ownership and management to a around $14 billion today (as of December 31, 2012).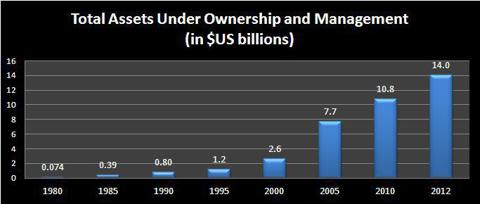 WPC owns around $5.5 billion of assets and the company is the only globally diversified Triple-Net REIT. The well-balanced platform generates around 83% of its revenue through its owned real estate assets (as noted above, the other 17% is from the asset management business).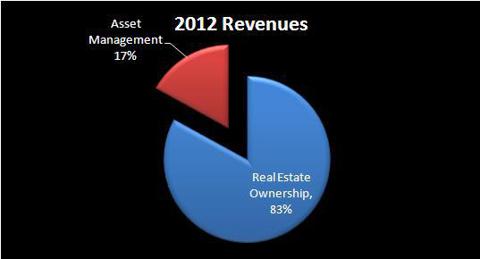 WPC manages $8.5 billion of net leased real estate by generating around 17% of its revenue in fee income. As of 2012, WPC's Asset Management business generated around 12% of the company's overall Funds from Operations (or FFO).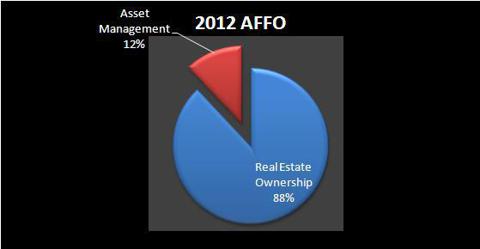 WPC's combined company market capitalization is approximately $5.6 billion and the portfolio consists of 423 properties and around 38.5 million square feet. As the only globally diverse Triple-Net REIT, WPC has a well-balanced property model that consists of office, industrial, retail, warehouse/distribution, and self-storage.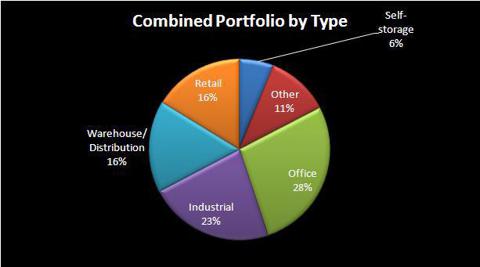 On WPC's recent earnings call, Catherine D. Rice, Managing Director (at WPC), explained the attraction to the industrial space:
Industrial seems to be getting a little hotter nationwide, as we all know, and so we may end up doing less of that. I think it's possible, and depending on the world economy, of course, but industrial real estate may be very attractively priced with respect to build-to-suits. There are several companies, as you know, that are strongly considering coming back to the United States. And when they do and they build new facilities, often they will come to us. And those facilities could be the more fungible sorts of distribution centers that we like, or in some cases, light-assembly, manufacturing-type space that's easily adaptable to other uses.
WPC's portfolio consists of 124 tenants that are scattered globally across a broad geography. This diverse tenant composition consists of properties in Europe and the United States. Here is a snapshot of WPC's portfolio by geography: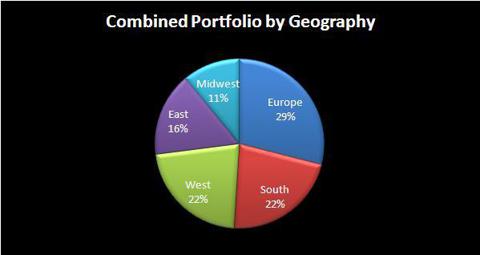 WPC also has a balanced composition of tenants that includes over 15 categories. The largest category is retail (22.3%) followed by electronics (8.6%). Here is a snapshot of WPC's diversification by tenant category (combined company):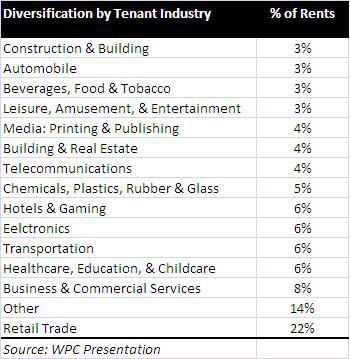 It's not likely that WPC will ramp up its retail acquisitions as Catherine D. Rice explained (during the recent earnings call):
I think that it's unlikely that we will do much purchasing of retails, the big box retail and stores and things of that nature, just because the market -- it's never been something that we've favored as much because typically we find that retail stores are not as strategically important to the tenants and so it doesn't fit in generally with our strategy, so we wait until we can acquire it at very attractive pricing. I suspect we will be doing less of that this year. Again, though, you never know and every now and then a portfolio will come along that we're able to jump on.
Many of WPC's tenants are established corporate credits. Here is a snapshot of the company's top 10 tenants (that account for around 40% of combined company revenues):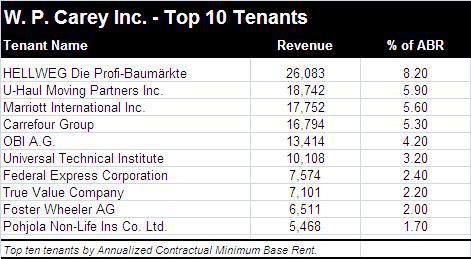 WPC has a well-laddered lease maturity schedule with an average lease term of 8.9 years. As illustrated below, WPC has low near-term rollover with only 13.8% through 2015.

One of the things I like about WPC is the fact that the company generates internal growth from its built-in contractual rent increases. 99% of WPC's leases include either fixed or CPI-based rent increases of percentage rent.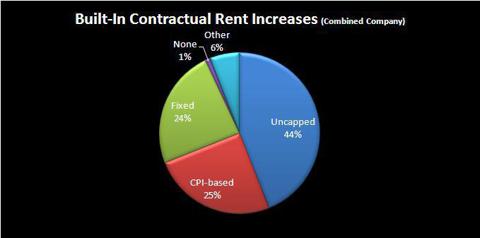 WPC's year-end occupancy was 98.7%, which was an increase of 570 basis points from the end of 2011. In 2012, WPC completed 19 lease renewals and 3 new leases, totaling over 2 million square feet. WPC continued its asset management program of opportunistic dispositions and the extension of average lease terms over the portfolio.
In 2012, WPC sold a total of 17 properties totaling $117 million in proceeds (eight of the properties were either vacant or soon-to-be vacant). The weighted average lease term at the end of the year was 8.9 years, an increase by 2.48 years, or 38% of the beginning of the year.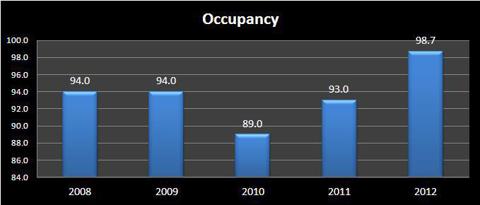 Carey's Latest Results Are Music To My Ears
WPC's recent results include a record-setting acquisition volume that included just over $1 billion of investments (includes the managed CPA REITs) plus approximately $300 million of additional investments for W. P. Carey Inc. and Carey Watermark Investors, another managed REIT.
WPC's adjusted 2012 FFO was $3.76 per share. Of this amount, $3.32 per share (88%) was from the Real Estate Ownership segment and $0.44 per share (12%) was from the Investment Management segment. This amounts to $159.5 million versus total distributions in 2012 of $113.9 million for a dividend coverage ratio of about 1.4x from the real estate income alone. WPC's AFFO for the fourth quarter was $1.13 per share and the company has maintained a payout ratio below 70% over that last few years.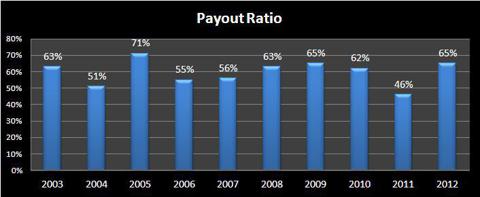 WPC's Payout Ratio is considerably below its peer group: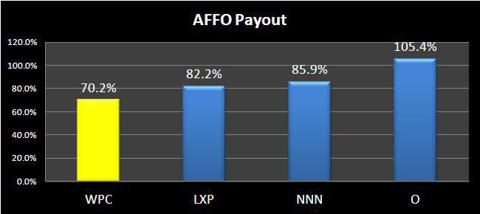 During WPC's recent (Q4-12) earnings call, Mark J. DeCesaris, CFO and Managing Director, discussed the company's lower dividend payout policy:
I think one of the things Trevor (WPC's CEO) mentioned was the coverage we have on just the revenues generated through the Real Estate segment today versus our dividend, which was about a 1.4x. So we're pretty comfortable with the stability of the Real Estate segment. And ultimately, that's what's going to drive our dividend policy, is the stability of the revenues. But those discussions are ongoing right now. Obviously, it's a Board decision as well, so we'll have those discussions with our Board in the future. But as I said, the factors that we're going to look at is the stability of the revenue stream and the coverage of the dividend from that, our AFFO as well as our taxable income piece.
During 2012, Carey has continued to maintain a very strong balance sheet with a debt-to-total market cap ratio of approximately 35%. The company's total capitalization of $5.6 billion consists of around $3.6 billion in equity and $2.0 billion in debt.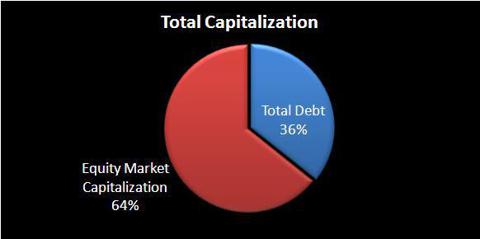 One of the reasons that WPC has not obtained an investment grade rating is because it has a large majority of secured debt. Here is a snapshot of WPC's secured debt history: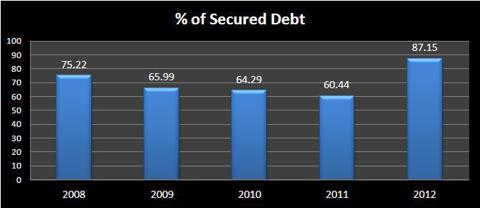 Compared with the WPC's peer group - that includes the leading dividend paying group - WPC has a higher risk debt structure.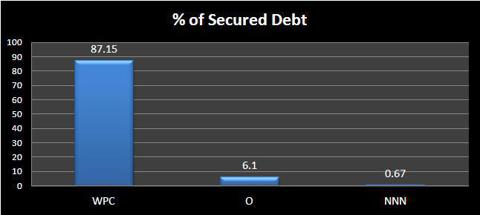 During the recent earnings call, Catherine D. Rice explains WPC's strategy for moving more secured debt off of the balance sheet and obtaining investment grade status:
Although our lines are not unsecured there, they have an asset-based test to them. So really, the strategy is to, as mortgage debt rolls off, to move those assets into the line, which we would hope eventually to get the maturity to be extended. And then as we build a pool there, to go ahead and work with the rating agencies on getting a rating and do an unsecured deal that would take that line down.
In 2014, WPC will have $257 million debt to refinance. That includes the company's unsecured line of credit that is around 15.8% of its debt).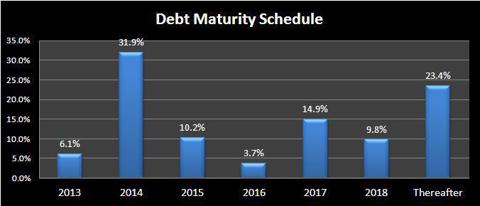 Overall, WPC's balance sheet is in good shape; however, it's important to recognize that the debt structure is not as healthy as Realty Income or National Retail Properties.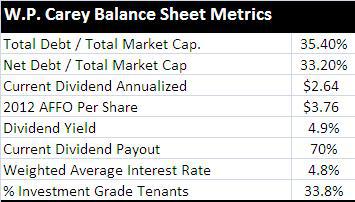 So How Do We Value Carey and Its Extraordinary Dividend Record?
As I alluded to above, I want to emphasize in connection with Carey's strategic value proposition that during the financial crisis, when traditional equity markets were in crisis mode, Carey continued to pay increasing quarterly dividends - 47 straight quarters of increases.
Even though competition has increased, thanks to the growing demand in the Triple-Net REIT sector, (see my article: Seeking Alpha in a Commoditized Triple-Net REIT World), WPC has built its 40-year old differentiated platform on sale-leasebacks. I wrote about the sale-leaseback structure in a previous Seeking Alpha article:
In a sale/leaseback transaction, the owner-occupant of a commercial property sells the asset it owns and occupies by executing a long-term lease with a real estate investor. This structured financing alternative has evolved into an attractive strategy for many corporations to unlock the value of their real estate assets.
As I explained, the primary benefit for the sale-leaseback is that
...many corporations earn a higher return on their core business as compared to investing their capital in owned real estate. This off-balance sheet alternative provides the occupier 100 percent of the value of the property compared to traditional mortgage financing, which is usually around 65 percent loan-to-value. In addition, the gain realized from a sale/leaseback transaction can be amortized on the corporation's income statement, increasing reported earnings (this earnings impact can potentially improve the firm's financial ratios and margins).
In addition, WPC has the ability to tap into international markets. Because the company has the expertise and the experience in underwriting transactions that are off the radar screen of typical net lease buyers, WPC should be able to continue growing both the owned portfolio and assets under management even in this more competitive climate.
Back in October 2012, I wrote a Seeking Alpha article recommending WPC shares at $50.10 and since that time the shares have surged to a recent close of $64.70. That is an increase of over 34% (plus a nice dividend that's yielding 4.87%.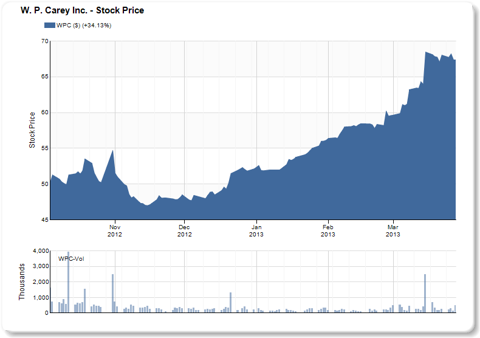 But even looking back over the last year, WPC has outperformed ALL of its peers (with a year-over-year total return of 30.8%):

WPC's three-year history is also solid as the sale-leaseback legend returned over 174%.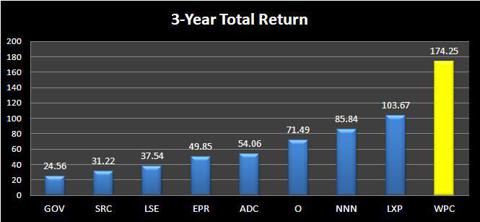 WPC leads the pack again with a total return over the last five years of 213%.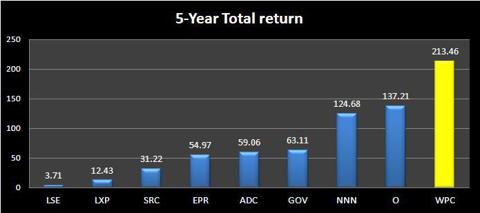 Looking at the last decade, WPC is the "king of the Triple-Nets" with a total return of over 413%.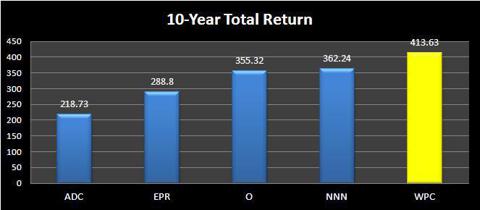 It's clear to see that WPC has dominated the Triple-Net space for its entire history as a public company. Here is a snapshot of the success over the last fifteen years: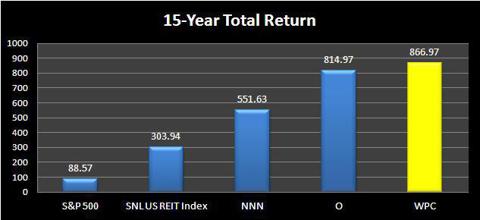 Before I conclude this article on WPC's valuation, I would like to post this excerpt from a recent Seeking Alpha article:
Recognizing the fact that dividends are the primary reason for investing in "The Monthly Dividend Company," you must remember that the dividend yield has two components: security of the current dividend and expected dividend growth… I consider the higher price more like buying insurance. In effect, I'm paying a higher price because I believe in the "blue chip" management team and also because the price is justified given the safety of the income and the durability of the dividend.
In that previous article I was alluding to Realty Income; however, the same value proposition can be applied to W. P. Carey. The incredible high-quality dividends cannot be ignored: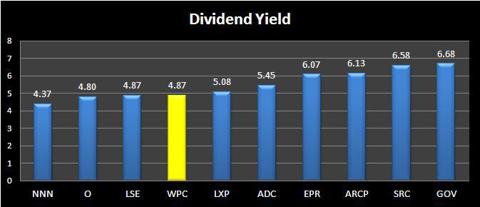 So it's clear that the demand for high-quality income has pushed shares of WPC higher. On March 18th (2013), shares hit an all-time high of $68.99 while the most recent price was $67.40. In addition, the most recent dividend increase and the modest payout ratio gives me added comfort that there will be sustainable dividend growth going forward.
As I wrote in a previous Seeking Alpha article:
Dating is to marriage, as due diligence is to investing. In other words, investors should consider the long-term nature of the commitment and specifically pay special attention to the most important metrics surrounding the capital structure, predictability of the dividend, management team, and operational excellence.
In the same article, I went on to explain:
Skillful risk control is the mark of a superior investor, and the "hold forever" REITs posses the best management teams in the country and therefore warrant premium valuation.
For those current shareholders in WPC, I would argue that "if it ain't broke, don't fix it." In other words, WPC is performing well and I fully expect to see continued above-average earnings growth - a key metric for dividend safety.
Much like Realty Income, WPC's FAST Graph (snapshot below) does not offer "prospective" investors much in the form of a "margin of safety." We see below that W. P. Carey is currently trading at $67.40 (that is the black line), well above the intrinsic value line based on funds from operations (FFO - the orange line marked with an F) with a price of around $40.00. However, we also see (below) that Carey has steadily increased its dividend every year (the shaded blue area represents dividends paid) for 16 years in a row. That's the "insurance" that I alluded to earlier and that's why I think that a dividend investor should be "laser-focused" on the quality of the dividend FIRST and the price SECOND.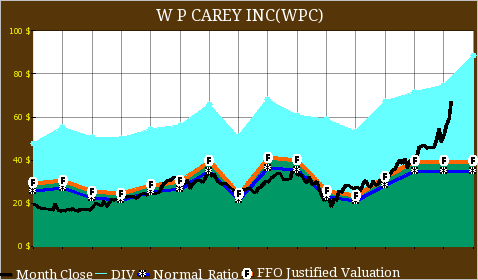 All things considered, WPC shares appear to be "moderately expensive." With a P/FFO higher than the peer group, I would wait to for window of opportunity and I recommend an entry point closer to $60.00. I feel as though there are better Triple-Net REITs that offer more compelling risk-adjusted entry pricing (for example LSE, LXP, and EPR) today.
Last week, W. P. Carey announced that CPA®:17 - Global acquired a 62,000 square foot House of Blues entertainment venue and restaurant facility in Dallas, Texas for around $16 million. The standalone property is leased to a subsidiary of Live Nation Entertainment, Inc., which also guarantees the lease.
Maybe there's some irony to Carey's latest House of Blues acquisition as the performance of the stalwart REIT's dividend history is simply "rock 'n' roll." I'm entertained by the successful risk-management practices of W. P. Carey, and if Elvis was reading my article today, he would likely be singing about A Big Hunk O' Love.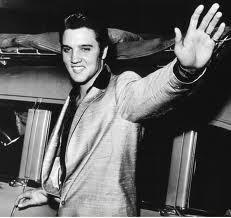 Other REITs mentioned: (NYSE:GOV), (NYSE:LSE), (NYSE:EPR), (NYSE:ADC), (NYSE:LXP), (NYSE:NNN).
Source: SNL Financial, FAST Graphs, WPC Presentations
Disclosure: I have no positions in any stocks mentioned, and no plans to initiate any positions within the next 72 hours. I wrote this article myself, and it expresses my own opinions. I am not receiving compensation for it (other than from Seeking Alpha). I have no business relationship with any company whose stock is mentioned in this article.