BlackBerry (BBRY) recently came out with earnings on March 28th and it shocked and stunned analysts all around. They reported non-GAAP profits of 0.22 per share. The analysts were all probably stunned in one way or another, but one thing has to be clear. The profitability came from cost savings, so as jubilant as I was, I had to look at the EPS number as a onetime thing.
While I won't dig into the details of the earnings report (because many phenomenal contributors already have), I wanted to talk about what's ahead for BBRY.
Is the End Near?
Media pundits love making things climactic and unfortunately Thorsten Heins, the CEO of BBRY, is the last person on Earth to be climactic. His mellowed monotone voice coupled with his sense of discipline and execution makes him one of the most anti-climactic CEOs I've ever seen. Yet, his execution from a financial/business perspective has been nothing but outstanding.
Analysts were expecting a cash burn of $500 million, but BBRY reported the same cash on hand as it did last quarter. To keep this in mind, it did this with a global launch in hand.
The CORE program is ahead of schedule by 3 months, and the cost savings are still rolling in. It achieved this by streamlining its production facilities and improving its supply chain management.
Business/financial execution aside, as a shareholder, I'm extremely proud of what Thorsten has done, and I know he will execute in this area going forward.
As I stated earlier, the media has been emphasizing on the fact that the Z10 is a "make or break" for the company. My question to them is how in the world is it a make or break?
In a recent interview with the Canadian Press, Thorsten Heins talked about what's in store for BBRY this year. He states that:
"In order to stay relevant, we have to build a portfolio. We will bring it out at the moment when we can expect the biggest market attention for these products."
From this interview, we can clearly see that Thorsten isn't putting all his eggs in the Z10, he's already thinking about what other products to bring out. He's also focused on bringing out entry level devices for key markets such as Indonesia and India. If executed successfully, BlackBerry could retain its market leading position in these two countries and perhaps even take market share away from other operating systems.
Reviews of the BlackBerry Z10:
One reason why BBRY is one of the most followed stock/company is because of the simplicity in judging it. Why you might ask? Simple, people can take a look at the product, like or dislike, and conclude their opinion on the company overall. Why do you think so many people like Apple (NASDAQ:AAPL)? They walk into Apple stores and see that the sales are booming, thus they believe that this company is a good investment. While that has some merit (thanks to Peter Lynch for introducing this concept), what a lot of people fail to realize is the international engagement BBRY has. Nonetheless, I will spare you the detailed geographical analysis, and focus on the current review ratings the BlackBerry Z10 has.
Cnet User Reviews: 4.5 stars (out of 5) 51 reviews
Amazon Review: 4.5 stars (out of 5) 46 reviews
AT&T Review: Almost 5 out of 5 stars, 76 reviews
From this early consumer review, we can see that despite what critics have been saying for the past month, the users of the Z10 still love them. And may I remind you, this is a device without the so called "crucial" apps such as Instagram, Netflix, Skype, Spotify, and so on.
As the word of mouth continues, I believe that BBRY will be able to tap into developers for further support. If users are raving about this product, then why wouldn't developers leverage this opportunity and make money from them? It will take time for this migration to happen, but in the end, if you can satisfy the consumer, everything else will fall into place.
A small step to a long journey ahead:
I can tell you right now that the "end" is nowhere near in sight. It's actually quite far away. To all the people that think the next earnings report will make or break BBRY, you are dead wrong. BBRY has been struggling for the last 2 years, and with people making bold predictions about when it's going to be bought out or what not, the company still stands.
The 3/28 earnings report was only a glimpse of what's in store for the company. A turnaround would take at least 3-5 years. The introduction of the BB10 OS is just a stepping stone. While investors will be cheering for profitability soon, the road is still painstakingly long. It would take at least another year or so to make the full transition into the BB10 OS. BBRY still has 76 million subscribers that need to migrate over, and the product releases are still coming.
One thing that is reassuring is to have a CEO such as Thorsten execute from a financial standpoint, but there are still a lot of things they need to do better in. The marketing, for example, needs a huge boost. The ads I've seen thus far do not explain what the Z10 is capable of. Flashy music and dancing peons won't get consumers to buy the product. BBRY needs to show them why, and what the Z10 can add in value.
Think Long Term…
What a lot of people fail to realize is that the smartphone industry is expanding at rates that make other industries look like turtles. IDC is projecting 1.16 billion smartphones sold in 2016.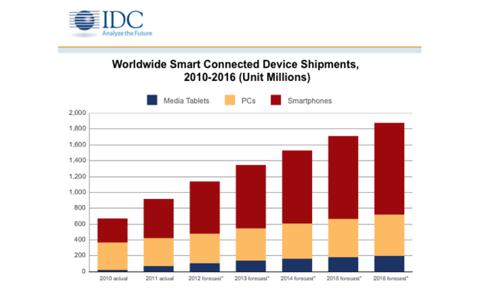 If we analyzed this chart, we can see that smartphone growth will be astounding in the coming years. If BBRY obtains a 5% market share, that would equate to nearly 58 million phones, which would be 14.5 million phones per quarter. BBRY shipped 6 million in the last quarter, and if they can just maintain relevance, investors will be greatly rewarded in the long haul.
And as many BBRY bulls know, Prem Watsa nicknamed Warren Buffett of the north, owns 10% of the company. In his annual shareholder report, Prem reported that he owned 10% of the company at a cost basis of $17 per share. He goes on to state that:
"Thorsten hired a very capable management team and then focused on producing a high quality BB10 - the next generation of BlackBerries. The brand name, a security system second to none, a distribution network across 650 telecom carriers worldwide, a 79 million subscriber base, enterprise customers accounting for 90% of the Fortune 500, almost exclusive usage by governments in Canada, the U.S. and the U.K., a huge original patent portfolio, an outstanding new operating system developed by QNX and $2.9 billion in cash with no debt, are all formidable strengths as BlackBerry makes its comeback!

The stock price recently moved as high as $18 per share, a far cry from the $140 per share it sold at a few years ago. And please note, 1.8 billion cell phones are sold worldwide annually, and of the 6 billion cell phones in the world, only 1 billion are smart phones. Lots of opportunity for Canada's greatest technology company!

What is striking, even for a person like me who has seen many bull and bear markets, is that at $6 1⁄2 per share, all the Wall Street and Bay Street analysts were uniformly negative - just as they were uniformly positive only a few years ago at prices north of $100 per share. John Templeton's advice to us: "Buy at the point of maximum pessimism", still rings in our ears!! We own approximately 10% of the company at an average cost of $17 per share and we are excited about its prospects under Thorsten's leadership and Mike's technical genius."
Conclusion:
The end is nowhere in sight. Investors in BBRY should not be worried about the daily volatility in the stock; they should be focused on the long term prospects of the company. As weird as it may sound, BBRY is still a value investment. With the backings of Prem Watsa on the board, strong tailwind in the smartphone industry, and a focused management team, I believe BBRY made their first successful step in the long journey ahead. Investors who can sit through the gut wrenching volatility will be rewarded greatly in the ensuing years. And as Warren Buffett always said, "Be greedy when others are fearful, and fearful when others are greedy."
Disclosure: I am long BBRY. I wrote this article myself, and it expresses my own opinions. I am not receiving compensation for it (other than from Seeking Alpha). I have no business relationship with any company whose stock is mentioned in this article.