Everybody is getting ready for another summer slump for the S&P 500 (NYSEARCA:SPY). The calls for "sell in May and go away" are coming earlier and earlier. Now that the S&P 500 is at a record high, the bears have another excuse to call for a market correction. I don't want to dismiss caution and I am also nervous about many things right now, especially the Federal Reserve's QE program and the S&P 500's multiple expansion. However, I am not ready to run for the hills. In this article, I will explore the four main drivers of the summer slump last year: (1) job growth, (2) the Federal Reserve, (3) Europe, and (4) corporate earnings. Although there are some parallels to last year, there are key differences. I have a sign above my desk that reads "Don't Be Complacent!" but I am not ready to give up on this rally yet.
Summer Slumps
The following chart of the SPY ETF highlights the previous summer slumps.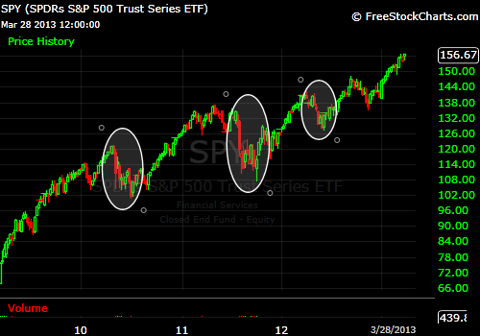 (Source: FreeStockCharts.com)
Job Growth
Looking at the last two years, it seems that job growth (as measured by the nonfarm payroll report) has been seasonal and peaked around this time of year.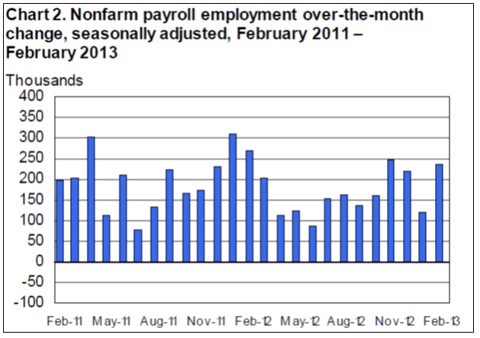 (Source: Bureau of Labor Statistics, bls.gov)
The nonfarm payroll number is one of the most widely watched economic statistics. With a plunge in new jobs each spring/summer, it is understandable that the markets cooled off at the same time.
However, the jobs numbers may now show a different trend. When Ben Bernanke was asked about the summer slump in employment on March 20, 2013, he said:
"Well, you're absolutely right that there's been a certain tendency for a spring slump that we've seen a few times. One possible explanation for that-besides some freaky things, some weather events and so on, one possible explanation is seasonality. Because of the severity of the recession in 2007 to 2009, the seasonals got distorted. And they may have led-and I say "may" because the statistical experts-many of them deny it, but it's possible that they led job creation and GDP to be exaggerated to some extent early in the year. Our assessment is, though, that at this point, that we're far enough away from the recession that those seasonal factors ought to be pretty much washing out by now. So if we do, in fact, see a slump, it would probably be due to real fundamental causes and then we would obviously have to respond to that. As I said, we're planning to adjust our tools to respond to changes in the outlook, and that can go either direction." (Source: Federal Reserve)
Leaving aside the statistical vagaries, there are other factors supporting job growth this year. The housing and construction market has continued to gain steam and is rebounding nicely off its lows. Housing starts are now at a 917,000 annualized pace, up from 706,000 in April 2012 (Source: Bloomberg.com). Housing and construction is an important source of employment and influence many other sectors.
Furthermore, 2012 was the year of uncertainty. Last spring was the start of the election season and midway between the US debt downgrade and the fiscal cliff. Companies seemed to be holding off decisions because of the uncertainty. Although there have been fiscal headwinds in 2013 (tax increases, sequester, etc.) companies are now dealing with these obstacles. If uncertainty was a headwind for job growth in 2012, maybe it is now becoming a tailwind.
Bottom line: there are reasons to believe that job growth will be better this spring/summer.
The Federal Reserve
At this time last year, we were nearing the end of Operation Twist and there were concerns that the Fed needed to do more to support the economy. Eventually, the Fed extended Operation Twist past June 2012 and launched QE3 in September 2012. However, at this time last year, it wasn't clear if the Fed would continue to support the economy.
We are in a much different position now. The Fed is buying $85 billion a month of bonds and has given more visibility about when it will pull-back. In fact, the Fed is clearly expanding its balance sheet now. Operation Twist did not expand the balance sheet - it just swapped short-term bonds for long-term bonds - and the Fed's balance sheet contracted for most of 2012.
The following chart shows the relationship between the expansion of the Fed's balance sheet (through bond buying) and the performance in the SPY ETF, which represents the S&P 500.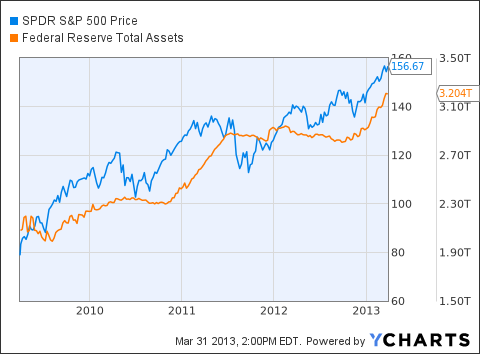 Although the S&P 500 peaked before the end of the balance sheet expansion during QE2, I think that QE-Infinity still has a way to go. For more about this, please see Watching Key Charts For Quantitative Easing Clues And A Big Move In Bonds.
Furthermore, global central banks have jumped on the QE bandwagon. The Bank of Japan, and to a lesser extent the ECB, have embraced accommodative monetary policy.
Bottom line: The Fed is much more supportive of the equity markets than last year. It is important to watch for a change in Fed policy, but I don't think it is imminent.
Europe
Last spring/summer, there was a crisis in Europe as Spanish and Italian bond yields jumped, which prompted concerns about how those countries would finance themselves. We now have a crisis in Cyprus.
The Cyprus crisis is still unfolding and may lead to problems in other countries. The euro and European equity markets are down, led down by the banking sector. However, there is a difference between last summer's crisis and what has happened in Cyprus so far. Then, we were worried about Spain and Italy needing bailouts and the impact on the balance sheet of global banks. Now, we are unsure what precedents, if any, the disastrous situation in Cyprus may have on Spain and Italy. Additionally, Mario Draghi, President of the ECB, has pledged to do "whatever it takes to preserve the euro" and has implemented the Outright Monetary Transactions (OMT) program to support Spanish and Italian bond prices, if necessary.
Interestingly, there has been a divergence between the equity markets in the US and Europe. The following chart shows the year-to-date performance for the S&P 500 and the Financial Select Sector SPDR ETF (NYSEARCA:XLF) in contrast with the lagging iShares MSCI EMU Index ETF (BATS:EZU) and the iShares MSCI Europe Financials ETF (NASDAQ:EUFN).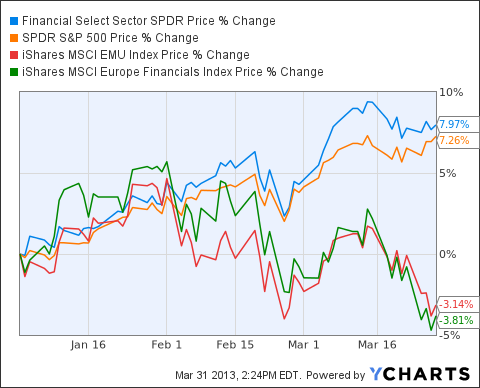 Bottom line: there are problems in Europe once again, but the severity of those problems is not yet clear and so far it hasn't spilled over to US equities.
Corporate Earnings
As I have mentioned in previous articles, I think that corporate earnings are the main catalyst for the S&P 500's next move.
The S&P 500 is entering earnings season at a record high price and a multi-year high multiple. Earnings have been erratic lately and there were several fiscal drags in Q1 that could negatively impact earnings (payroll tax hike, sequester, etc.).
The following table shows the quarterly earnings for the S&P 500 going back to Q1 2010, including estimates for Q1 2013. The table displays two ways of looking at earnings - Operating Earnings Per Share and As Reported Earnings Per Share - but both tell a similar story.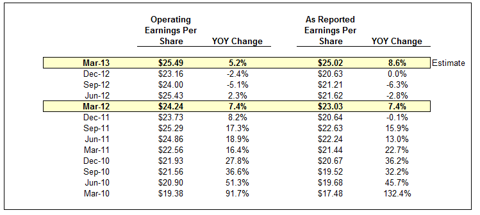 (Source: Standard & Poor's)
Analysts are clearly expecting a better earnings season than we have seen in a while. However, after a few quarters of disappointing results, investors are probably a bit more cautious than they were last year.
Last year's earnings look good, but I think they were the real catalyst for the summer slump as there was a lot less optimism for the rest of 2012 at the time.
Bottom line: earnings are the real swing factor now. Expectations are high, but not unreasonable, and investors have grown accustomed to earnings stagnation.
Conclusions
Of the four drivers of last year's summer slump, three items look better now. Job growth is better positioned to maintain its recent momentum, the Fed is much more accommodative and European problems are not (yet) on the scale of last year. Any of these drivers may become negative catalysts in the future, so it makes sense to avoid complacency and watch them carefully. However, I am willing to give them the benefit of the doubt now. Corporate earnings seem like the real driver of the S&P 500's next move, and we will soon find out if they will serve as a positive catalyst or negative catalyst. For now, I remain in the bullish camp, until I see more evidence to the contrary. We will have a pullback/correction at some point, but I think there could be more gains before that happens.
Disclosure: I have no positions in any stocks mentioned, but may initiate a long position in SPY over the next 72 hours. I wrote this article myself, and it expresses my own opinions. I am not receiving compensation for it (other than from Seeking Alpha). I have no business relationship with any company whose stock is mentioned in this article.
Additional disclosure: I may trade any of the securities mentioned in this article at any time, including in the next 72 hours.