Sandstorm Gold (NYSEMKT:SAND) is a gold streaming company with a business model described on its website as follows:
Sandstorm provides upfront financing for gold mining companies that are looking for capital and in return, receives a gold streaming agreement. This agreement gives Sandstorm the right to purchase a percentage of the life of mine gold produced, at a fixed price.
Sandstorm Gold can be described as a non-operating gold-mining company, or it can be viewed as a highly specialised venture capital provider for aspiring or producing precious metal miners. Its present market capitalization is $828M and the trailing P/E is 37.8. The share price for Sandstorm Gold has come off its early October highs of $15+ and currently sits at around $9.50 after dipping as low as $8.25 in early March. In a previous article we stated our opinion that the share price will dip lower short term, but appears poised for a rally later in the year. We continue to stand by our opinion, patiently waiting for a buying opportunity during the summer months. The present article serves the purpose of supporting our bullish outlook for Sandstorm Gold for the second half of 2013.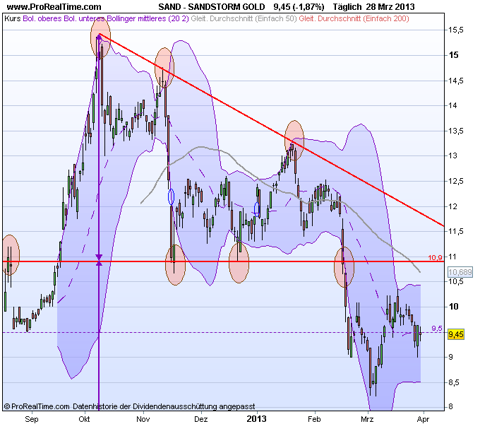 According to the 2012 annual report, Sandstorm Gold sold 33,514 ounces of gold last year. Its forecast for 2013 indicates a moderate increase to sales of 33,000-40,000 gold equivalent ounces. We have reviewed the streams producing revenue for Sandstorm in 2013 and have come to the conclusion that the stated target is very conservative warranting expectations of an upwards revision later in the year. The table below shows currently producing mines with reported ounces sold in 2012 for each mine. The last two columns show our projections for 2013 and the year-on-year change. Details supporting our assumptions are outlined below.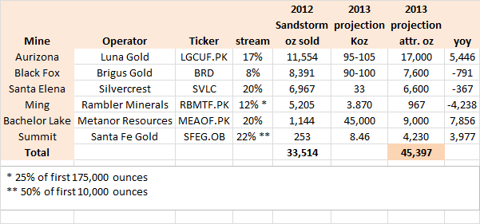 Luna Gold (OTCPK:LGCUF) is expanding its Aurizona mine in Brazil and have provided a 95,000 - 105,000 ounces production guidance for 2013 re-affirmed in the press release dated March 14. Assuming production at the middle of the published range computes to 17,000 ounces of gold attributable to Sandstorm Gold.
Brigus Gold (BRD) has only just published its 2012 results for the Black Fox mine including confirmation of their 2013 guidance of 90,000 - 100,000 ounces. From this data which we deduct a middle-of-the-range attributable production for Sandstorm of 7,600 ounces.
Silvercrest (NYSEMKT:SVLC) has indicated its outlook for production of 33,000 ounces of gold at its Santa Elena mine. 6,600 ounces of this production will be attributable to Sandstorm.
Rambler Minerals (OTC:RBMTF) mined from the gold zone of its Ming mine in the first half of 2012, but have since switched to the copper zone declaring commercial production at this new zone at the end of October 2012. Concentrate production for two quarters has been reported indicating 4955 wet metric tons at 6 g/t gold and 4350 wet metric tons at 7g/t gold of concentrate respectively. Using these numbers gives an average of 967 ounces of gold per quarter. If this rate can be maintained then yearly gold output would be 3870 ounces for 2013. Sandstorm's share is 25% (967 ounces) for the present year based on last year's gold recovery results.
Metanor Resources (OTCPK:MEAOF) have been ramping up its Bachelor Lake mine with great success in recent months reaching positive operating cash flow in February. The published monthly production for the past five months is shown in diagram below. Target output of the mine is 60,000 ounces of gold equating to a monthly output of 5,000 ounces. We assume that this target output will be reached towards the middle of the year resulting in 2013 production of 45,000 ounces of which 9,000 ounces would be attributable to Sandstorm.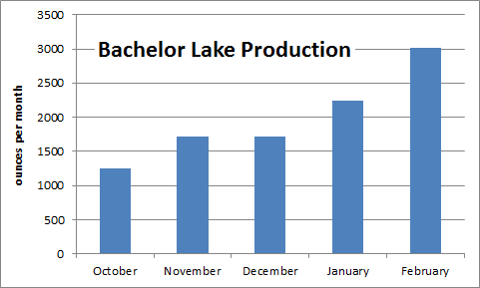 Santa Fe Gold (OTCPK:SFEG) reported on production at the Summit mine for the six months ending December 31, 2012 and gave quarterly gold production figures of 2122 ounces and 2108 ounces respectively. The mine is ramping up commercial production with a production target of 960 ounces of gold per month. The reported gold production is well below this target level; however, we conservatively assumed no increase in gold production for the rest of 2013. This assumption still leads to a projection of 8460 ounces of gold to be produced in 2013 with 50% or 4230 ounces attributable to Sandstorm.
If all goes well, there will be additional small contributions starting to flow in from the Serra Pelada mine scheduled to start commissioning in H2 2013 and the Bracemac-McLeod mine which is scheduled to start ore production in Q2 2013.
In the conference call discussing the 2012 results it was pointed out that Sandstorm's internal projections were conservative when compared to production guidance provided by individual companies. We suspect that part of the reason for this conservative approach is rooted in the preference to over-achieve rather than over-promise.
According to the numbers presented in this article we are led to believe that Sandstorm will achieve attributable gold production of more that 10% above the published target range. Sandstorm's revenue is driven by the gold price on the one hand and by attributable production on the other. As Sandstone continues to mature we expect the share price to be increasingly reflecting financial metrics rather than speculation on future deals. If our assumptions are correct then we would expect revised targets to be announced sometimes in the second half of the year delivering a boost to the share price.
We continue to recommend Sandstorm as a growth investment for investors comfortable with moderate risk. We believe that the share price will dip lower again during the Northern summer presenting very attractive buying opportunities in the months ahead.
Disclosure: I am long SVLC. I wrote this article myself, and it expresses my own opinions. I am not receiving compensation for it (other than from Seeking Alpha). I have no business relationship with any company whose stock is mentioned in this article.