A Big Year Ahead For Bakken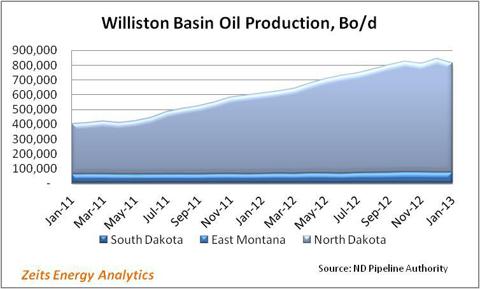 (Source: ND Pipeline Authority; Zeits Energy Analytics)
2013 is shaping up as a strong year for the Bakken, in contrast to 2012 when the play was hurting from skyrocketing drilling and operating costs, severe infrastructure bottlenecks, exploding basis differentials, and disappointing economics, forcing some operators to scale back their drilling plans. Looking forward, several positive factors are at work that should filter through to favorable year-on-year financial comparisons and contribute to a brighter outlook for the play in general:
Crude oil takeaway issues have been largely resolved, with ample rail availability and major pipeline capacity additions expected in 2014-2016.
Natural gas and NGLs should become increasingly bigger contributors to operators' bottom lines as the build-out of processing and pipeline infrastructure is beginning to bear fruit and should catch up with production within next two years.
Deeper Three Forks exploration is gaining momentum in 2013 and may quickly transition from a geological concept to proven reality, adding a large new dimension to the play. Continental Resources (NYSE:CLR) is ramping up an aggressive Deeper Three Forks exploration program, now with 15 additional TF2, TF3 and TF4 tests planned for the year (on top of four successful wells to date). Kodiak Oil & Gas (NYSE:KOG) has initiated two multi-well pilots that include TF2 testing. Tests by other operators will likely contribute many additional data points.
Numerous downspacing assessment projects planned for 2013 may redefine the view on the Bakken's recoverable resource base. Several companies - including Continental, Whiting Petroleum (NYSE:WLL), EOG Resources (NYSE:EOG), Kodiak, Oasis Petroleum (NYSE:OAS) and others - are actively testing downspacing potential in various intervals. Continental alone will drill 47 wells in its four comprehensive pilots. Kodiak has dedicated one third of its 2013 capex budget to downspacing projects. Whiting plans to initiate six or seven pilots in its key operating areas.
"Same store" well productivity is continuing to grind higher, driven by optimized completion techniques and well designs and better well control. While drilling costs remain on the high side, most recent guidance from several operators suggests that the decline trend in operating and drilling & completion costs that became evident in the play during the second half of last year is continuing into 2013.
Among all the factors, the rail solution to the severe takeaway constraints that were manifest in early 2012 remains perhaps the single most impactful factor that has already done magic to price realizations in the play, opened doors to unconstrained volumetric growth, and drastically improved drilling economics.
Bakken's Rail Revolution
Rapid expansion of rail access and loading infrastructure in the Bakken has turned tables for crude price realizations in the play. In less than a year, takeaway capacity from the Williston Basin went from severely constrained to ample.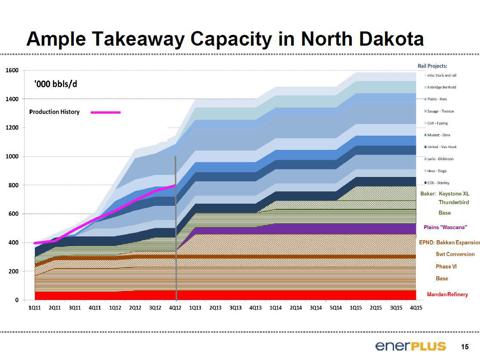 (Source: Enerplus Corporation, February 2013)
At the moment, there are about twenty rail loading facilities with a combined capacity to move an estimated 700,000 barrels of crude per day, which are currently moving over 550,000 barrels per day. The Bakken is serviced by two Category I railroad companies: Burlington Northern Santa Fe owned by Berkshire Hathaway (BRK.B, BRK.A) and Canadian Pacific Railway (NYSE:CP). BNSF carries the majority of the crude volumes out of the Williston as three quarters of rail transloading facilities in the Williston Basin are connected to the BNSF system. (Back in November 2009, Berkshire Hathaway agreed to pay $44 billion for BNSF in one of the largest acquisition Berkshire has ever undertaken. Berkshire also owns a rail tank car manufacturing company, Union Tank Car Co.).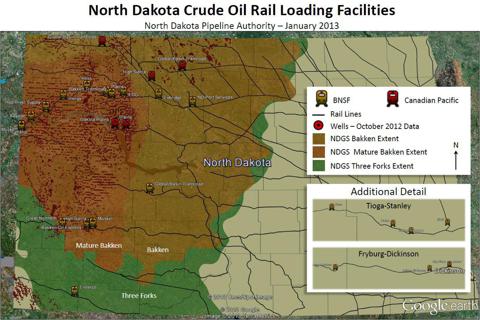 (Source: ND Pipeline Authority, March 2013)
Crude oil volumes shipped out of the Bakken by rail have seen a meteoric rise, with rail shipments growing tenfold in just two years.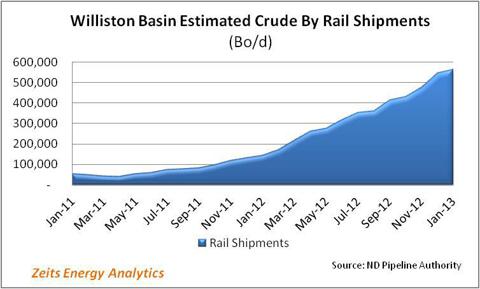 (Source: ND Pipeline Authority; Zeits Energy Analytics)
In fact, rail now represents approximately two-thirds of total crude oil shipments out of the Williston Basin and has become the preferred transportation channel for many Bakken producers.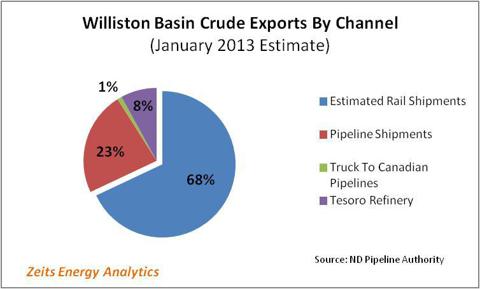 (Source: ND Pipeline Authority; Zeits Energy Analytics)
Contracting Differentials
Looking back over 2012, Bakken differentials widened to as much as $28 per barrel in February, driven by the lagging takeaway capacity. However, new rail loading facilities completed in the second half of the year helped ease the bottleneck in the Williston and contributed to a sharp contraction of the price differential between Bakken and WTI. Via rail, Bakken producers have gained access to coastal pricing points that are typically Brent- or LLS-based and are now able to sell their crude at narrow effective discounts to WTI, even though rail shipping costs are relatively high. Several operators in the play are indicating that they are currently receiving a $2-$5 discount to WTI.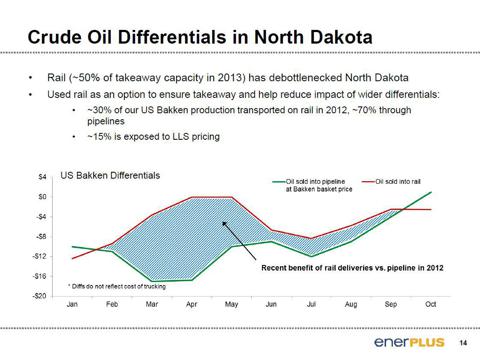 (Source: Enerplus)
The graph from an EIA report shows that Bakken crude has even traded at a premium to WTI in October last year.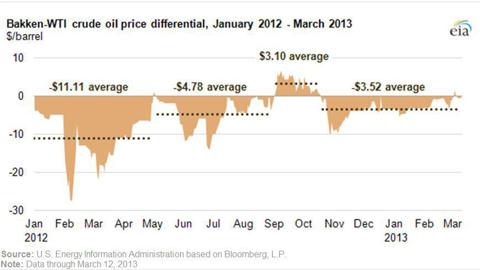 (Source: EIA.)
Avoiding Collision With Canadian Crudes
The Bakken's recently-developed rail takeaway option has strategic significance that cannot be overstated. Located half-way between Western Canadian Sedimentary Basin and the U.S. Gulf Coast, the Bakken competes for pipeline transportation capacity with the growing stream of Canadian heavy crude that needs to find its way to the high-complexity refining and petrochemical complex located primarily in the Gulf Coast area.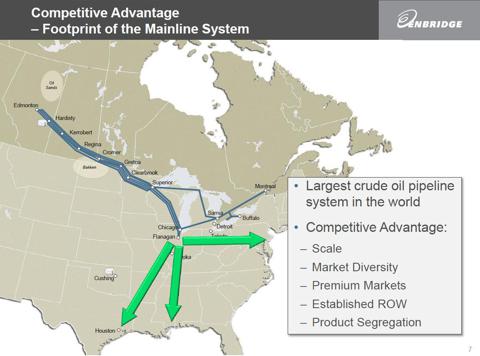 (Source: Enbridge)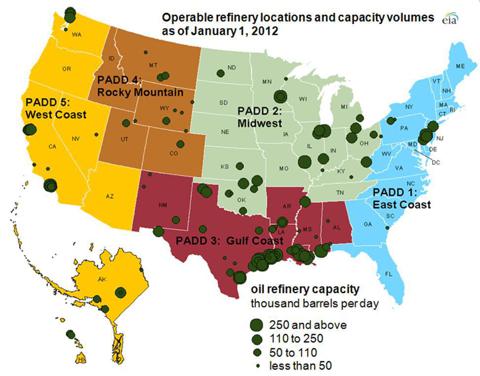 (Source: EIA.)
Oil production from both Western Canada and the Bakken is expected to continue to grow at a rapid clip for years to come. Even relatively conservative forecasts - such as the one from Enbridge (NYSE:ENB) shown on the slide below - suggest that combined production growth from the Bakken and Western Canada may exceed 1 million barrels a day in the next three years. Many other industry forecasts anticipate even faster growth rates (two forecasts - one by CIBC for Canada and one by PIRA for the Bakken - are referenced on Enbridge's slide below). Even with several pipeline expansion projects currently planned, capacity bottlenecks on the route Western Canada-Williston-U.S. Gulf Coast are going to remain a major concern for years to come.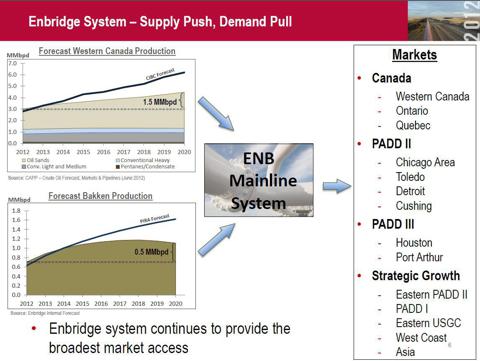 (Source: Enbridge)
In that context, the "crude by rail" alternative provides the Bakken with both a critical fall back option in the event production growth outpaces pipeline capacity expansions and the means to by-pass the most congested (and therefore expensive) pipeline bottlenecks.
Rail's Economic Impact On Drilling Economics
The following sensitivity chart from a recent QEP Resources' (NYSE:QEP) presentation illustrates the magnitude of the impact that a $20/barrel contraction in the basis differential can have on drilling economics in the play. The red line on the Capital Return Price Sensitivity graph corresponds to wells with expected 640 MBoe EUR. At a $95/barrel WTI, a typical well would yield a solid (although not overwhelming) IRR in the low-20% range. However, if the basis differential widened substantially - like it did during the first half of 2012 when discounts to WTI exceeded $20/barrel - the IRR would be substantially reduced to about 10%, a level that would be considered insufficient to justify significant capital allocation to the play. Noting that many "bread and butter" wells being drilled in the Bakken have EURs substantially lower than the 640 MBoe QEP is using for their Fort Berthold Reservation acreage, it should come as no surprise that financial results from many Bakken operators during 2012 were less than stellar. It is also understandable that many operators announced substantial reductions to their capital spending plans during the second quarter of last year.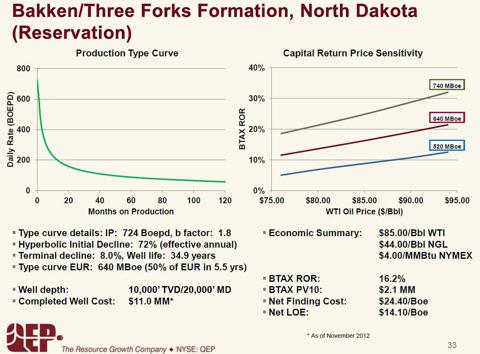 (Source: QEP Resources)
The Rails Take On The Pipelines
Rail is not the most cost-effective means of transportation for crude oil. Cost of delivering crude via rail may often exceed that of delivery by pipeline by a factor of two. Still, in the case of the Bakken (as well as several other fast growing unconventional oil plays), rail has proven a formidable competitor to pipelines and often been able to offer shippers what pipelines could not.
Quick Response. The simple fact is that in many areas that have seen massive increases in crude oil production in recent years, like North Dakota or the Eagle Ford, oil and liquids pipeline capacity is either unavailable or insufficient to accommodate growing volumes. At the same time, railroad service often exists in those areas. Rail facilities typically can be built or expanded much more quickly than pipelines can be. As a result, the crude-by-rail solution in fast-growing oil resource plays has often arrived a lot faster than proposed pipeline solutions.
Unmatched Geographical Flexibility. Another simple fact is that at destination, rails have necessary load handling infrastructure already in place. Railroads serve almost every refinery in the United States and Canada, with dedicated and highly efficient loading and unloading facilities available at refinery sites. As a result, railroads can offer market participants unmatched flexibility to shift product quickly to different places in response to market needs and price opportunities. In the case of the Bakken, rail can deliver the play's premium grade crude to refineries on the U.S. East and West Coasts whereas most Bakken crude shipped by pipeline goes to Cushing, Oklahoma, and eventually to refineries in the Gulf region. Effectively, rail helps the Bakken volumes to avoid competition for transportation capacity on the congested West Canada-Gulf Coast route and, importantly, can provide a better match between the quality of the Bakken's crude and specific refinery's configuration.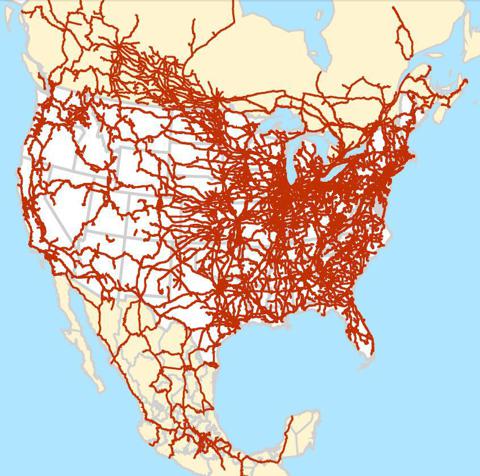 (Source: AAR.)
Rails Go Where Pipelines Don't. Traditionally, the midcontinent pipeline system was configured to deliver crude oil imported to the U.S. Gulf Coast and domestic production from West Texas to refineries in the Midwest via Cushing, Oklahoma. Refineries on the East and West Coasts have received their feedstock from waterborne crude markets. As a result, there is little existing oil pipeline connectivity between coastal refineries on one hand and the Gulf coast, Midwest and Western Canada on the other. With North American crude oil production experiencing rapid growth, the configuration of oil flows between producing areas and refineries has been changing. Coastal refining capacity is increasingly called upon to process the crudes produced on the continent, particularly light sweet grades like the Bakken crude. Rail has filled the void in pipeline connectivity and provided access for American light sweet crudes to Coastal refineries.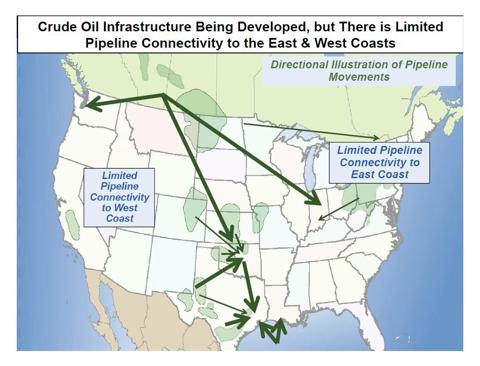 [Source: Plains All American Pipeline (NYSE:PAA)]
Unmatched Speed of Delivery. Another factor that should not be overlooked is the speed of delivery by rail. Crude from the Bakken can be shipped by rail to St. James terminal area in Louisiana in about five days. Via pipeline, it may take as long as two months for the same batch of crude to arrive to the destination. With market conditions changing quickly, rail provides unrivaled flexibility to oil marketers to capture price differentials between locations by delivering physical volumes on almost a real-time basis.
Reasonable cost. It may come as a surprise that cost to ship crude by rail in North America is in fact not all that high, particularly given the remarkable flexibility and speed of delivery (something to be said about the efficiency and scale of North America's railroad network). Based on typical tariffs, freight cost from the Williston Basin to St. James, Louisiana can be less than $15/barrel.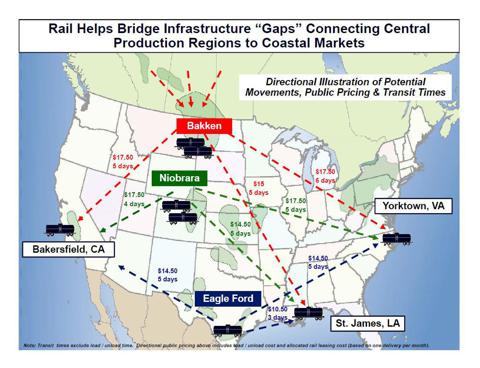 (Source: Plains All American Pipeline)
Moreover, rail shipping costs have room to come down if unit trains are used and logistics are optimized. Unit trains are long trains, often 120 or more cars, consisting of a single commodity. These trains use dedicated equipment and generally follow direct shipping routes to and from facilities designed to load and unload them efficiently - for example, from a gathering location in the Williston Basin to an unloading terminal at a refinery. Unit trains generally have much lower costs per unit shipped than non-unit trains and in terms of cost efficiency are second only to pipelines. A single large unit train might carry 80,000-90,000 barrels of oil and be loaded or unloaded in 24 hours.
No question, pipelines will ultimately be built to service the Bakken volumes. The following slides from Enbridge's presentation show the build-out strategy that the company is pursuing to make the Bakken's premium quality crude available to refineries in the Midwest and East Coast regions. This is just one of several projects currently being constructed or proposed for the Williston Basin.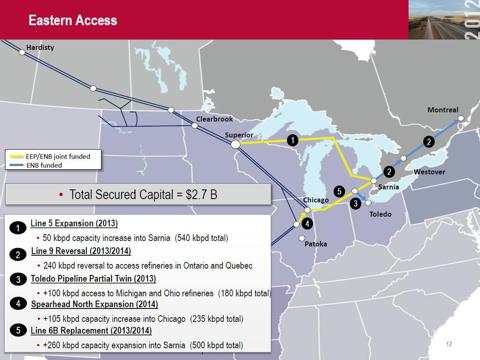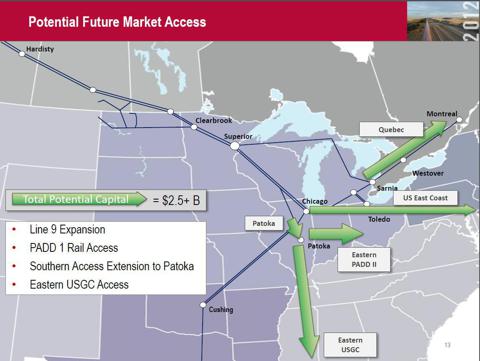 (Source: Enbridge)
In my following note, I will provide an update on the progress of oil pipeline development in the Bakken and discuss key players and potential impact on producers.
Differentials May Continue To Improve
As oil delivery logistics from the Bakken are gradually optimized and given the new flexibility and abundance of takeaway capacity from the area, Bakken operators may see their price realization continue to improve. In that regard, the premium quality of the Bakken crude is an important resource that is yet to be fully commercialized.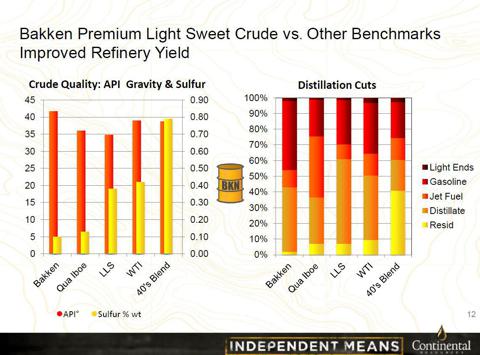 (Source: Continental Resources' October 9, 2012 Investor Presentation)
Given that the majority of the Bakken's volumes are already handled by rail, it would be correct to think of Brent as the primary benchmark for the Williston Basin.
Which Entities Stand To Benefit The Most?
E&P operators in the Bakken are the clear big winners from the transportation optionality offered by rail. The risk of "basis explosions" similar to the one in early 2012 has been virtually eliminated, providing producers with some assurance that their long-term development plans and drilling economics in the Bakken will not be crippled by takeaway bottlenecks and painfully low price realizations. In addition, healthy competition between pipelines and rail in the Williston should help to shape an optimal long-term transportation solution to the Bakken's growth, also benefiting producers.
Those operators who have integrated into the gathering and marketing portion of the oil value chain - EOG Resources and Hess Corp. (NYSE:HES) provide excellent examples of such integration - are positioned to capture the largest slice of the barrel's economics. Indeed, there is a good reason why rail infrastructure in the Bakken has been developed so quickly: returns are currently very attractive in the Bakken's oil midstream business. Those operators who rely on outside service providers for gathering, transporting and marketing their crude will have to share significant portion of their profits with service providers.
In my previous note "Bakken: The Bounty Of Super-Rich Gas" I discussed trends in the natural gas and NGL midstream sector in the Bakken. In my next note, I will focus on the universe of companies who participate in the Bakken's oil midstream sector, including operators of rail transloading facilities in the area.
Implications For Bakken-Focused E&P Stocks
The rail infrastructure build-out discussed above should translate into meaningful year-on-year margin improvements for Bakken operators that should be particularly pronounced in the first and second quarter results. Companies with midstream assets should benefit the most.
My medium- and small-capitalization Bakken-focused stock universe includes:
Continental Resources
EOG Resources
Kodiak Oil & Gas
Newfield Exploration (NYSE:NFX)
WPX Energy (NYSE:WPX)
Oasis Petroleum
QEP Resources
Whiting Petroleum
Enerplus (NYSE:ERF)
SM Energy (NYSE:SM)
Northern Oil & Gas (NYSEMKT:NOG)
Triangle Petroleum (NYSEMKT:TPLM)
My large-capitalization Bakken-focused stock universe includes:
Disclaimer: This article is not an investment recommendation. Any analysis presented in this article is illustrative in nature, is based on an incomplete set of information and has limitations to its accuracy, and is not meant to be relied upon for investment decisions. Please consult a qualified investment advisor. The information upon which this material is based was obtained from sources believed to be reliable, but has not been independently verified. Therefore, the author cannot guarantee its accuracy. Any opinions or estimates constitute the author's best judgment as of the date of publication, and are subject to change without notice.
Disclosure: I have no positions in any stocks mentioned, and no plans to initiate any positions within the next 72 hours. I wrote this article myself, and it expresses my own opinions. I am not receiving compensation for it (other than from Seeking Alpha). I have no business relationship with any company whose stock is mentioned in this article.