A little over a year ago, I wrote an article that created a firestorm of comments, making an argument that share buybacks were a much better strategy than dividend payments. I also addressed my concerns for dividends not being as beneficial, long term, due to the taxable event they create in some accounts. The article attempted to address three reasons investors seem to be set against buybacks. I followed that article up with part 2, which looked at returns of each strategy versus each other and the overall stock market. As you can see below, the strategy has continued to outperform the S&P 500 (NYSEARCA:SPY)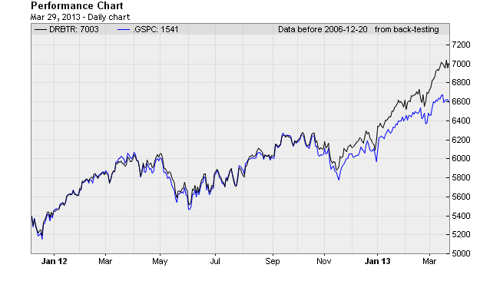 ... while the Dividend Achievers Index (Dividend Growth) has slightly trailed the performance of the S&P 500 during this time: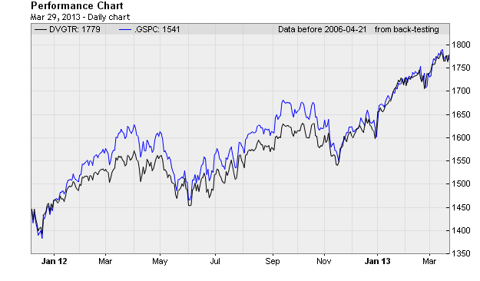 In case anyone didn't take the time to look at the previous articles, long-term charts show the superiority of share buybacks compared to dividend growers since data is available for this study dating back to May 3, 1999: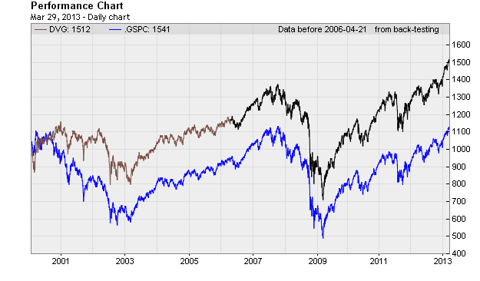 This first chart is The Dividend Achievers Index (From Indxis.com) showing outperformance of about 36% during over 14 years. More evidence for the growing hoards on Seeking Alpha who love a good dividend growth story. The evidence shows that these investors should truly look at companies who buy back their shares though: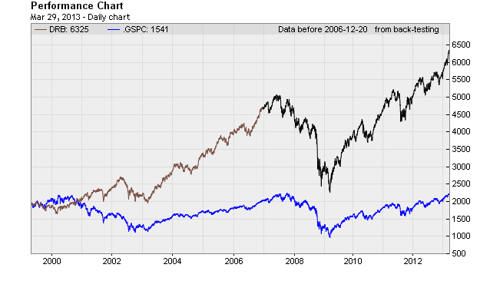 During this same time period, the Buyback Achievers Index has outperformed the S&P 500 by 182%. I would guess that 14 years of data is beginning to shine light on the fact that when investors are forced to re-invest Free Cash Flow (based on the company buying back shares rather than paying a dividend and hoping the investor uses the cash to buy more shares), and the tax burden is avoided for non-qualified accounts, investors are truly rewarded.
A recent ETF by TrimTabs (NYSEARCA:TTFS) which buys 100 different stocks in equal amount that have been reducing their float via free cash flow generation has handily trumped the Dividend Achievers since inception: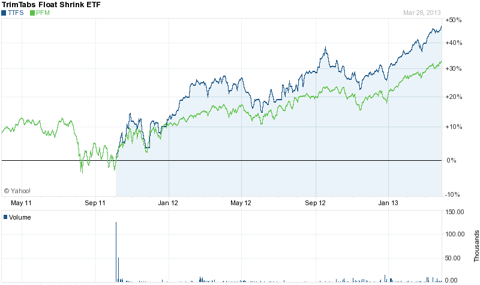 This is an interesting new concept rooted in two powerful investment concepts that have shown to outperform the overall S&P 500 over time:
1. Equal weighting concepts
2. Share Buybacks
S&P 500 Equal weighting (NYSEARCA:RSP) vs. market cap weighting in the S&P 500 has proven a winning concept during recent years: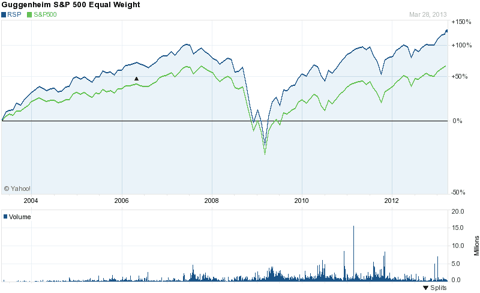 I began to look further in this concept of share buybacks and came across a white paper from 1985 which studied the results from companies announcing their desire to take on debt in order to buy back their shares. The results were stunning. The Harvard Business School Professors revealed that a company announcing debt issuance to buy common stock saw a two-day announcement period return of 14%. This compares to a 6.4% two-day announcement return for a company that only announces a share buyback (to be paid for via cash-flow). I understand this study is 28 years old, but the concept itself got me wondering just how companies who use lots of debt to buy back their shares have performed recently. Without the ability to dig too deeply into this concept, I did a quick search of companies that have been buying back a ton of their shares recently, while at the same time have been adding massive amounts of debt to their balance sheet. A crude search had me take a look at these large cap companies. What follows is the stock name, the amount of stock purchased in the past 2 years, and the amount of debt that was added, and the current market cap. I chose these stocks due only to the fact they had large percentages of debt and stock buybacks as a % of their current market cap:
Amgen (NASDAQ:AMGN) $11.39B Buyback; $12.69B in Debt; $76.72B Mkt Cap.
Autozone (NYSE:AZO) $2.69B Buyback; $811M in Debt; $14.32B Mkt Cap.
DirectTV (DTV) $10.78B Buyback; $6.76B in Debt; $32.43B Mkt Cap.
Intel (NASDAQ:INTC) $15.29B Buyback; $11.23B in Debt; $108B Mkt Cap.
AutoNation (NYSE:AN) $1.04B Buyback; $818M in Debt; $5.29B Mkt Cap.
Becton (NYSE:BDX) $2.87B Buyback; $2.47B in Debt; $18.54B Mkt Cap.
Dscvy Comm (NASDAQ:DISCA) $2.23B Buyback; $1.58B in Debt; $28.76B MCap.
There are many other stocks that would fit in this category, and I am not sure if there is a market edge here or not, but based on the chart below, it seems these stocks with these characteristics have been massive out-performers for the past two years: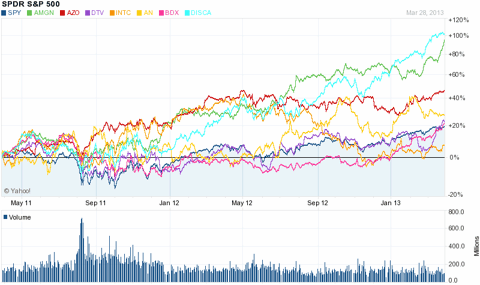 With the obvious staring me in the face, I am left to ask if there is something that would explain the increased benefit an investor enjoys from buybacks compared to dividends? But rather than go down that road again, I had to ask why both dividend paying AND share buyback companies outperform the overall market for long periods of time.
The one glaring obvious I keep coming back to is the anchor of cash on a businesses performance. When a company is a cash cow, (let's use Apple (NASDAQ:AAPL) for this example) cash becomes an anchor to investment metrics of a company. As of this writing, Apple has a $415 billion market cap currently. With $137 billion in cash on Apple's balance sheet, the true Enterprise Value of the company is a "paltry" $278 billion. Looking at the most recent annual number (Sep 2012), we see that Apple generated $42 billion in free cash flow. Here is where the math gets interesting.
Based on these numbers, Apple is generating a 15% Free Cash Flow return based on the enterprise value of the company. This means that if an investor were able to come up with $278 billion in cash to buy 100% of Apple ($415 billion minus $137 billion in cash) the new owner could expect to generate 15% per year in cash on their investment (assuming no growth). Unfortunately, due to the massive amount of cash on the balance sheet, investors have to spend an additional $145 per share just to get their hands on the cash generating portion of the business. All that cash on the books means an investor only gets a 10.12% Free Cash Flow Yield. They have to come up with 50% more money just for the privilege of buying the same cash generating ability. Imagine how unattractive Apple shares become as their cash hoard continues to grow over the years. If Apple were to stay stagnant and generate $42 billion in cash over the next 5 years, without raising their dividend of $10 billion per year, they would increase their cash holdings to $297 billion. Assuming the Enterprise Value stayed constant at $278 billion, the total market cap of Apple in this example would be $575 billion. That $42 billion in cash would now only generate owner earnings of 7.3% going forward. The more cash Apple creates and keeps on its balance sheet, the higher "Zero-Return Premium" we have to pay to get to the core cash generating business.
Conclusion
The numbers and the charts both seem to indicate that management of large companies would do themselves and their shareholders well in the long run to be intentional about shedding the cash they accumulate over and above a logical amount by buying back shares or increasing dividend amounts. For the largest cash hoarder in the world, Apple, I can only hope they begin a new initiative, titled: iPay.
Disclosure: I am long AAPL, AMGN, INTC. I wrote this article myself, and it expresses my own opinions. I am not receiving compensation for it (other than from Seeking Alpha). I have no business relationship with any company whose stock is mentioned in this article.
Additional disclosure: Our clients are also long these shares along with TTFS, BDX, and DTV