SodaStream Intl Ltd (NASDAQ:SODA)
SodaStream is an Israeli company that manufactures home beverage carbonation systems which transform tap water into soft drinks and sparkling water. Over the past three years this company has an earnings growth rate of 60% and a sales growth rate of 42%. The company also boasts zero debt. In addition to strong corporate fundamentals and impressive price performance, SODA is opening several paths for even stronger performance through its growing partnering relationships.
Even more impressive is the fact that there have been significant positive earnings surprises in four of the last five reports as shown in the chart below: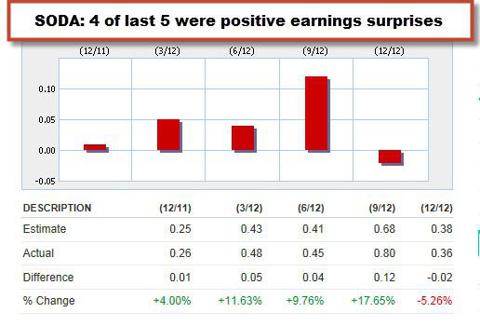 Analysts have been so impressed that growth projections have been bullish and that trend has continued as shown below: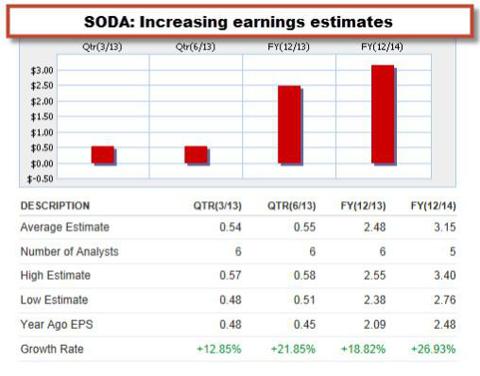 Why this is a strong candidate for your portfolio:
In addition to having an earnings per share growth rating in the top 2% of all equities traded on US exchanges, SODA has been forming partnerships to expand its growth potential. Here is a list of some of those partnerships:
Crystal Light
Kool-Aid
Country Time Lemonade
V8
Ocean Spray
EBOOST
Cott Beverages
The added perk:
There is an added bonus to this fundamentally sound equity. SODA is a stock on The Blue Collar Investor watch list of eligible candidates for covered call writing. This means that in addition to potential share appreciation, additional profits can be generated by selling out-of-the-money call options. Let's look at a current 2-month options chain as the stock trades at $49.64: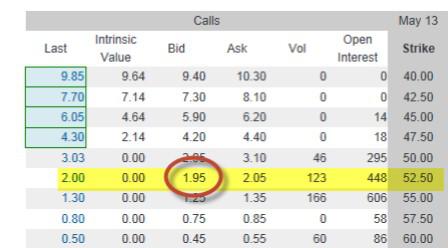 Selling the $52.50 call option will generate an additional 3.9% over the next seven weeks and allow share appreciation up to $52.50 (an additional 5.8%). This creates a possible 7-week return of 9.7% if the price appreciates to the $52.50 strike price.
Conclusion:
Because of its strong fundamentals and strong growth projections along with its extensive partnering relationships, SODA is a strong candidate for consideration in your portfolio. In addition to great fundamentals, SODA options offer the added benefit of a second income stream by selling out-of-the-money call options to bolster profits.
Disclosure: I have no positions in any stocks mentioned, but may initiate a long position in SODA over the next 72 hours. I wrote this article myself, and it expresses my own opinions. I am not receiving compensation for it. I have no business relationship with any company whose stock is mentioned in this article.