I've never made a mortgage payment (sorry, Bank of America). Every year at tax season my tax software asks me why I didn't include a mortgage interest deduction. I've been blessed in the no mortgage payment regard though it wasn't from being born with a silver spoon in my mouth. It's because I despise debt. I realize debt has an appropriate place in the world but I try to avoid it as much as possible. As a young man just out of the U.S. Air Force though I decided I didn't want to be burdened with a house payment for 30 years. I had just gone to work for a company that I was to spend the next 36 years of my life working for although I obviously didn't know it at the time. I had recently purchased some empty acreage, had a little money saved up, and so I decided to build my house myself.
What I had was a dream, an idea that I was competent enough to take care of my own affairs, build my own house with my own hands and pay as I went without accumulating debt. I knew it would take time, but it started with a dream. I laid the block for the foundation (full basement), did the carpentry work, the plumbing, the electrical wiring, insulation, the roofing, the inside finish work, and the outside stone and siding work, all while working full time. My wife and I have now been living in that house for 31 years, raised three kids in it, and it's our home with all the enjoyment and memories that brings. At the first of this year my wife decided she wanted the kitchen remodeled and oddly enough the remodeling reminded me of building and remodeling my dividend growth portfolio. There are some similarities I'd like to point out.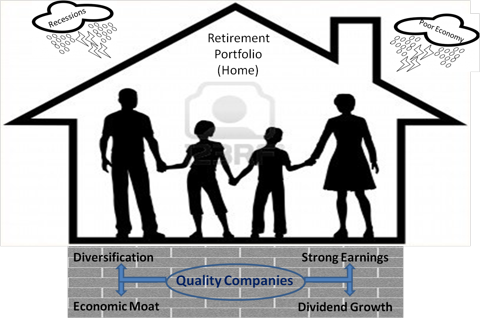 First A Dream Then The Plan
I said it started with a dream. Many people today have a dream of retirement in the future but there is a lot of doubt whether Social Security will be there for them. And if it is it will probably be quite different than it is currently configured. There's an old adage that states "if it's to be, it's up to me." Too many people today, in my opinion, have unconsciously let that become "if it's to be, it's up to the government (or someone else)." That's a recipe for dependence, addiction, and failure. I believe the dream can only be realized by taking responsibility for your own financial future. But along with responsibility comes accountability, which means accepting that what happens with your retirement portfolio is yours to live with, both good and bad.
To have the greatest probability of it being there when needed it is necessary that you have a plan. For my house I had to have building plans that included the design, a bill of materials, the construction plans, etc. For my retirement portfolio I also had to have a plan. I prepared a written plan that included my purpose, what some people call a mission statement that included a timeframe for accomplishment. I then identified the goals/objectives for the portfolio, the strategy of how to achieve my objectives, which was primarily a dividend growth strategy, the rules and tactics I would use to support the strategy, how much to add annually in terms of new capital, all of which was intended to serve as a foundation for the overall purpose I had established. That plan serves as my overall guide. If you haven't prepared a written plan for your retirement portfolio, you might start with reading this article by David Van Knapp. Bob Wells has also provided his business plan that you can review. The better your plans the better your results will be over the long term so give them a lot of thought. Keep in mind they don't have to be perfect but they have to match your goals and to some extent your personality. And just like you may need to update your electrical schematics for your house if you add on to it, you can update your business plan as your investment plans change.
The Foundation - Quality Companies as Building Blocks
Every house needs a strong foundation. I knew that the foundation for my house was the essential part that would be supporting it for as long as it stood. When I laid the block for the foundation in my house, I took my time making sure it was correct. The foundation for your portfolio also needs to be decided upon deliberately and carefully. I've tried to build my portfolio foundation on quality companies that exhibit consistently strong earnings, that provide products or services that are recession resistant, that have dividend growth, and have economic moats. At the same time I try to diversify among industries and position size. The core holdings I have in my portfolio are intended to be there for the rest of my life. That's not to say they all will be, but my intention is for them to be removed only if something goes wrong. In other words I want well run companies that will be around for the long haul. Here are the companies I use as the foundation for my portfolio along with my basic reasons why.
The Coca-Cola Company (NYSE:KO): Founded in 1886 KO handles the manufacture, marketing and selling of nonalcoholic beverages worldwide. When I started building my portfolio foundation the very first company I started with was Coca-Cola. I remembered my Dad buying me the small 8 oz. bottles out of the short red machine when I was a small boy. I always loved drinking Coca-Cola, and still do. But that's not why I selected it to be in the foundation of my portfolio. I selected it because it has proven to be a very strong company with one of the best brand moats in the world, it has paid a growing dividend for 51 years (growing it at a 9.8% clip over the past 10 years), and it met my fundamental valuation requirements. It continues to expand its business around the globe. At present KO is my largest holding. As you can see from this Fast Graphs chart KO's earnings were barely impacted by the 2008 recession and dividends not at all.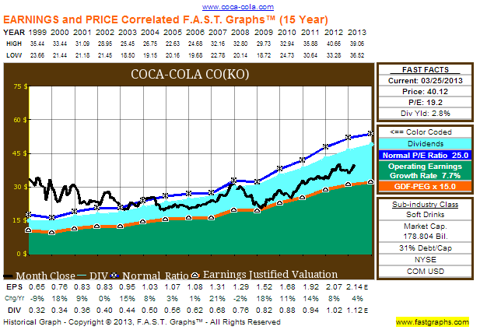 Procter & Gamble (NYSE:PG): Abraham Lincoln was still practicing law in Springfield, IL., when Procter & Gamble was founded (1837). It manufactures and sells a wide range of branded consumer goods, goods that I think the consumer will continue to buy even during difficult economic times. It operates in five different segments, Beauty, Grooming, Health Care, Fabric/Home Care, and Baby/Family Care. In other words I think people will continue to buy shampoo, deodorants, razor blades, toothpaste, washing powder, disposable diapers and tissues. PG sells and markets its products in 180 different countries and continues to expand. It's paid an increasing dividend for 56 straight years with a five-year DGR of 10.2%.
Royal Dutch Shell (NYSE:RDS.B) - RDS.B is an independent oil and gas company with worldwide reach. It explores for and extracts crude oil, natural gas and natural gas liquids, along with associated activities such as conversion, refining, marketing, and selling petroleum and petroleum based products. It operates about 44,000 service stations around the world. I originally went with it because of its worldwide reach and the international diversification that it gave me. RDS.B is one of the holdings in my portfolio that I'm considering adding to because I think it is under-valued. Its current dividend yield is about 5.1%. On the downside though is that it tends to trade in a range or channel but this provides for entries or additions at decent prices if you're a long-term holder like me.
Southern Company (NYSE:SO) - SO is a public utility company that operates in Alabama, Georgia, Florida, and Mississippi. It operates nuclear, fossil, hydro, combined cycle, solar, and gas facilities. Are people going to continue to use electricity during recessions? I think so and I believed SO was a well run company when I added them to my portfolio as a foundation block. I still do. It's been an electricity provider since 1945. It's a dividend contender and has paid an increasing dividend for 11 straight years. Its five-year DGR is only 4.0% but is a solid wide moat building block which I think adds stability to my portfolio foundation.
McDonald's (NYSE:MCD) - What can you say about MCD that hasn't already been said? I'm a cheese burger fan and have loved MCD since I was young enough to know what it had. I used to watch the numbers increase when it put how many burgers it had sold on its signs. It was founded in 1940 and at the end of 2012 it operated over 34,000 restaurants, either owned or franchised. It has excellent management to my way of thinking and continues to adapt to societal changes. It has paid an increasing dividend for 36 years, has a five-year DGR of 13.9%, and even at its current high price has a 3.14% dividend yield. If you look at its earnings line (orange) during the 2008/2009 period on the Fast Graphs chart below, it never knew a recession occurred. That's the kind of company I want to build a foundation on.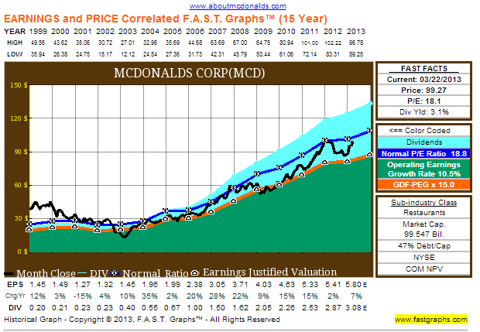 Kimberly-Clark (NYSE:KMB) - Kimberly-Clark is another one of those older companies that just keep on keeping on. It was founded in 1872 and manufactures and sells consumer products that also tend to be recession resistant. It has four segments: Personal Care, Consumer Tissue, K-C Professional, and Health Care. Products include disposable diapers, baby wipes, feminine products, Kleenex, sanitizers, and surgical and infection prevention products. It's paid an increasing dividend for 41 years, has a five-year DGR of 7%, and currently yields 3.4%.
Walgreen (WAG) - Walgreen is known as a drug store company but I remember when it operated a grill and soda fountain in my local town. You could buy a burger or sandwich and malt shake and sit at a counter and eat. We had a Walgreen before we had a McDonald's. Today WAG has over 8,000 drugstores that cover all 50 states. It survived the 2008/2009 recession relatively unscathed based on earnings, but a dispute with Express Scripts dropped earnings in the 2011/2012 time frame. It has since recovered but face increased competition so their economic moat is under attack. WAG recently entered into an agreement with and investment in Alliance Boots, and a 10-year supply agreement with AmerisourceBergen to act as its primary wholesale distribution source for its branded and generic prescription drugs. WAG has paid an increasing dividend for 37 years, has a 5 year DGR of 23.7%, and currently yields 2.38%.
The Clorox Company (NYSE:CLX) - CLX is another consumer oriented company that I perceive as somewhat recession resistant. Founded in 1913 it manufactures and sells bleach and other laundry products, home care products such as Pine-Sol and Liquid Plumber, disinfectants, plastics bags, cat litter products, charcoal (I really like Match Light), dressings and sauces like Hidden Valley and KC Masterpiece, and natural personal care products like Burt's Bees. It's been increasing its dividend for 35 years and has a five-year DGR of 10.3%.
Conoco-Phillips (NYSE:COP) - My 2nd energy company, COP explores for, produces, transports and markets crude oil, bitumen, natural gas, liquefied natural gas and natural gas liquids worldwide. It's the American opposite of my other energy company RDS.B. It's been raising its dividend for 12 years and has a five-year DGR of 13.1%.
Darden Restaurants, Inc (NYSE:DRI) - DRI operates about 2,000 full service restaurants around the U.S, including Red Lobster, Olive Garden, and Longhorn Steakhouse. It has other branded restaurants in its portfolio but I was only personally familiar with those three when I bought it. It's been increasing its dividend for eight years and has a five-year DGR of 25.8%. Watching the local restaurants during and since the recession they continued to stay busy and it's not unusual for there to be a waiting line. Earnings stayed level during the recession as well.
Intel Corporation (NASDAQ:INTC) - Intel is the big dog when it comes to integrated circuits, and when you're the big dog you always have smaller ones yapping at your heels. So it goes with INTC. I added it to my core or foundation specifically for its size and it is one of only two companies that I have in the technology arena in my entire portfolio. It has been increasing the dividend for nine years and has a five-year DGR of 14.1%, and is currently yielding about 4.25%. Intel is making a move into mobile circuitry and this will need to be watched.
Microsoft (NASDAQ:MSFT) - MSFT is the company that a lot of technology geeks love to hate. It has had a strong economic moat for several years with Windows and Office, but hasn't responded well to the mobile environment and is attempting to make up lost ground now. Nevertheless it has been a cash cow with revenue and has increased dividends for the past 10 years. Earnings have done well and it has 15.2% DGR for the past five years. It is the second of the two technology companies I own as part of my portfolio.
Omega Healthcare (NYSE:OHI) - Omega is the only REIT I have as part of my foundation holdings. I wanted real estate exposure when I was establishing my portfolio building blocks but I wanted one with a continual and growing client base along with exposure to healthcare. While there are other good REITs out there, my thoughts were that the baby boomer requirements for nursing home care, assisted living facilities, etc., was only going to increase. And while Medicare/Medicaid is susceptible to a great degree to government actions, I couldn't see the need for these types of facilities being impacted significantly over the long term by government changes to those funding mechanisms. OHI has increased its dividend for the past 11 years and has a five-year DGR of 9.4%. Since OHI is a REIT you want to watch FFO or Funds from Operations, not operating earnings. Using the pink line or Income Valuation Line shown on the Fast Graphs chart below, it shows a steadily rising income little affected during the Great Recession.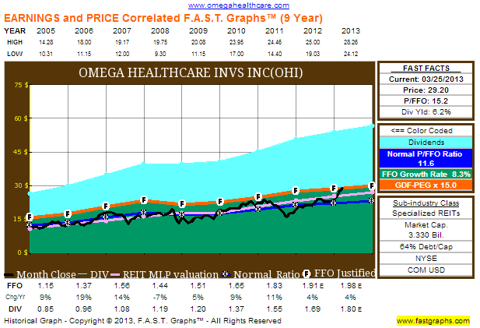 Community Bank System (NYSE:CBU) - CBU is the only bank I have in my portfolio. It's a regional banking system (holding company) operating in upstate New York and northeastern Pennsylvania. It does what I consider typical bank business, making loans, holding deposits and charging fees for its services. In studying its 10-K form I couldn't find anything that alarmed me as far as handling a lot of derivatives (which I do not like) when I decided to invest in it. CBU has increased its dividend for 20 years, which to me speaks volumes for a bank, especially in light of 2000 and 2008/2009 recessions. Its five-year dividend growth rate is 5.5% but it has shown an increase in its three-year and one-year rates. Just like utilities, it's what some might call a widows and orphans stock.
Kinder-Morgan Inc (NYSE:KMI) - KMI is one of two recent additions to my core holdings. My reason for adding it was my belief that natural gas and other products will be a strong product in the energy sectors in coming years. In fact, I would not be surprised to see us driving vehicles burning natural gas as the primary fuel in our personal vehicles in the not too distant future. However, because of the volatility in that sector, I wanted to capture the dividends that are available from the 62,000 plus miles of Kinder-Morgan "toll road" that fuel has to travel to get from point A to point B. KMI is structured as a corporation and not an MLP. While it has a short history its original holding company has a much longer history and was a solid dividend paying company. Even at its current over-valued price it still yields almost 4%. The other thing I liked about KMI was that its Chairman and CEO Richard D. Kinder, earns a salary of $1 per year and does not receive a bonus, stock options or restricted stock grants. Its philosophy is that Kinder Morgan is a company run by shareholders for shareholders. It eliminates unnecessary corporate overhead expenses such as corporate aircraft, sponsorships, sports tickets and executive perks. It caps senior executives' base salaries below industry standards and its financial incentives, such as bonuses, are tied directly to the performance of the company and its own personal performances. I like that type of structure for management.
Norfolk Southern Corporation (NYSE:NSC) - Norfolk Southern is the other recent addition to my foundation blocks, which I described buying in October 2012 in two prior articles. I originally bought it not intending to make it a foundation core holding but later changed my mind, deciding that I needed a railroad company. Founded in 1883 it operates on about 20,000 miles of rail line in 22 different states and continues to expand and grow the company, recently adding the Crescent Corridor to its operations. It has increased its dividend for the past 11 years and has a current five-year DGR of 15.1%.
Waste Management (NYSE:WM) - Waste Management is a company that I originally added because I believed it had a strong economic moat in an industry that would continue to be required. In the past year or so I have become somewhat dissatisfied with its rate of growth for its dividends and described in a previous article how I had sold a covered call against it, intending to work toward selling it. I sell hesitantly, especially my foundation holdings, and I later rolled the covered call option to a higher strike, and then took profits on that option on a subsequent price drop. Consequently I'm still holding WM in my portfolio and continue to monitor it. Essentially that means it's not in good graces but hasn't been cast aside yet, it's being made to stand in the corner while I decide if I'm going to do anything with it. It has increased its dividend for 10 years and has a five-year DGR of 8.1% but a one-year of 4.4%, slightly above supposedly official inflation. I'll continue to watch what it does with its dividend growth before making a final decision.
Below is a table of the sector/industry (as shown by Morningstar), moat type, and credit rating for these companies.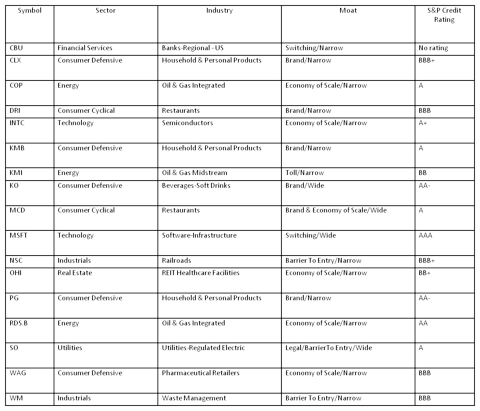 As you can see by these 17 companies I tend to be conservative with my investments. I wanted companies that were stable with strong business models, excellent dividend histories, recession resistant products or services, and growing earnings. I prefer low volatility and these 17 companies have an average beta of 0.73. I keep a watch list of other companies I believe would be strong additions as building blocks such as 3M (NYSE:MMM), Chevron (NYSE:CVX) and Wal-Mart (NYSE:WMT). But I won't buy them at just any price, they have to come to a price where I'm willing to buy them, and of course when I have funds available. I make an effort not to overpay, to buy at under-valued prices, although I will sometimes buy at fair value, but I stress avoiding buying at over-valued prices. I also try to be conservative when doing fundamental analysis and performing valuations of each company. If I'm going to be wrong I want to err on the side of being overly cautious and not overly optimistic.
Some may think I'm under-weight or in certain sectors since I have no companies in the Basic Materials or Communication Services sectors, and over-weight in other sectors since I have five in the Consumer Defensive sector. But I place more emphasis on the quality of the company, position size and industry diversity. These are not the only companies in my portfolio, just the ones that I consider core companies or building blocks. I own nine other companies such as Glaxo SmithKline (NYSE:GSK), Government Properties Income Trust (NYSE:GOV), and Aberdeen Asia-Pacific Income Fund (NYSEMKT:FAX), for a total of 26 positions. That number periodically changes as I move in and out of those companies over time. The other nine were bought with a specific purpose in mind, such as growth, income, or speculation, but I don't consider them foundational or core. The building block companies currently make up 80% of the total portfolio.
My objective is for the building block companies to generate an increasing and reliable income in years to come. Because of that I measure the success of the portfolio against its internal income growth. There are a number of different ways to build a strong foundation in your portfolio with much of it being determined by one's personal circumstances. One needing immediate retirement income may opt for higher yield over higher growth whereas a younger person may go with higher growth and a lower yield, and some may choose differently based on their individual risk profile. Some may even have 100% of their portfolio as foundation companies. But regardless of which way one chooses, in my opinion emphasis should be given to quality companies with economic moats and a proven record of paying and growing their dividends. As I described in My 7 Principles for Dividend Growth Investing surround yourself with good companies.
Utilizing Resources
Not everyone can build their own house and not everyone can or wants to handle their own investments for a variety of reasons. For those people finding a good registered investment advisor or certified financial planner may be the way to go. Others may choose to continue to contribute to mutual funds, ETFs, etc. through selected companies. Since record amounts of money are flowing into U.S. equity mutual funds as well as bonds, it is obvious investors are seeking ways to generate income through their investments. And since you are reading this it would indicate you are one of those who believe they can build their own retirement portfolio, which leads me to my second point. You don't have to do it alone.
I was not an experienced house builder when I started building my house but I had some practical experience growing up in the country (I knew which end of the hammer to hold). I was fortunate to have a lot of contacts with experience, carpenters, electricians and plumbers. I sought their counsel with a lot of decisions and methods. A few months after I started building the house I got married, which immediately increased the amount of money available to invest in the house since my wife worked where I did (for the record that's not why I got married). My Dad, Mom, and wife all helped with labor as their schedules permitted. I also enrolled in night classes taking carpentry at the local vocational school. One of the benefits of doing that was the instructor allowed me and other students to go work on my house during class for practical experience. They got experience and I got free labor.
The point here, especially if you're a new investor deciding to handle your own account, is that you have many resources available to you today for investing assistance. Many sites such as Seeking Alpha, Morningstar, FinViz and Yahoo Finance provide lots of free resources. Investopedia is a resource for all kinds of investment information and Moneychimp and Buyupside.com have free valuation and other investment calculators. Many sites offer free webinars. There are many others and they don't necessarily have to cost. You simply have to identify them and start utilizing them. Establish contacts and create your own investing network. And make a determination over time of those sites that are worth the subscription cost. Fast Graphs is one of those worthy ones in my opinion. But you can do that by taking your time and studying before rushing in and spending your money where you may not need to. You may be putting money in a subscription or website that would be better utilized to invest in a stock or a fund. By being frugal you can increase your portfolio contributions significantly over the years.
The Summary
I started by talking about having a dream, planning and setting goals and a time frame for your investment plans. I think it's also important to do that with your life. I set a goal to be financially able to retire by age 53 if I so desired. I was fortunate that the company I worked for had a defined retirement/pension plan, but around 1989 I opened up an additional but separate retirement account and started funding it as I could. By living frugally and increasing my retirement contributions, I met my age 53 goal, although I chose to keep working, and finally retired at the ripe old age of 54. My wife and I chose to live frugally at a young age so that we would not be forced to live frugally at an older age. Even though I'm retired now, and really enjoying it, I intend to continue to grow my portfolio. It may at times need remodeling just like my wife wanted her kitchen remodeled. I am hopeful that both my house and my portfolio will outlast me. With that said though I think there are two important things that need to be remembered in developing a plan for a retirement portfolio that will outlast you. First is that if you plan on it being there at retirement, and to last all during retirement, make sure you build it on a firm foundation that can withstand the storms that will inevitably come. And the second and last point is to understand that when the plan and goals are achieved, and retirement has come to fruition, it's not the end or time to stop, it's simply another fork in the road to be enjoyed as you continue traveling down it.
Disclosure: I am long CBU, CLX, COP, FAX, GOV, GSK, INTC, KMB, KMI, KO, MCD, MSFT, NSC, OHI, PG, RDS.B, SO, WAG, WM. I wrote this article myself, and it expresses my own opinions. I am not receiving compensation for it (other than from Seeking Alpha). I have no business relationship with any company whose stock is mentioned in this article.
Additional disclosure: I am not a professional investment advisor, just an individual handling his own account with his own money. You should do your own due diligence before investing your own funds.