Introduction
Intel (NASDAQ:INTC) has in the past few years dramatically increased its capital expenditure and is forecasted to become the top semiconductor spender in 2013. Some analysts have blasted Intel for spending too much money on building fabs and have advised Intel to lower its capex. However, I think that Intel's huge capex is allowing it to erect a stronger competitive barrier and is a good move on the part of the management. There are very few companies left in the world that have the money to build a new 300mm fab, given the $4-5 billion in capex required to build one. Rather than just letting its huge cash flow pile up, Intel is investing in the future. Intel is far ahead of its rivals not only on the technology front but also on the manufacturing front. The company's R&D spend of ~$13 billion is the biggest amongst all technology companies. Intel is the only semi company to have fabs running on the 22 nm node. The company is looking to further expand its lead by building the world's first 14 nm fab by the end of this year. Corporate America has been criticized for spending its money on buybacks rather than investing the money to create more employment. The reason is that both Wall Street and top executives love this kind of behavior, which is harmful, both for the company and the country in the long run. Intel is taking an opposite line of action to the herd behavior, which is a good thing in my opinion.
Intel's Lead over other Semi Logic Companies grows bigger and bigger
Intel doubled its capex spending in 2011 as the company focused its efforts on getting into the mobile processor space. This jump in expenditure allowed the company to build new 300 mm fabs focused on the most advanced technology node of 22 nm. Intel's servers and PC processors have decimated the competition (NASDAQ:AMD) and now the company is looking to capture the mobile processor space. Intel spends as much money on building processor capacity as the rest of the industry. Readers should note that almost all of Intel's expenditure goes into building "Logic" capacity, while that of other big spenders like Samsung goes both into "Logic" and "Memory." As semiconductor processes have become more advanced and complex, most semiconductor companies like Texas Instruments (NYSE:TXN) have got out of manufacturing and now outsource making chips to foundries like TSMC (NYSE:TSM) and UMC. There are only 5-6 companies left who can build a new 300 mm fab because of the prohibitive costs. This chart from IC insights shows that there are only 5 companies that will spend more than $3 billion in semi capex in 2013.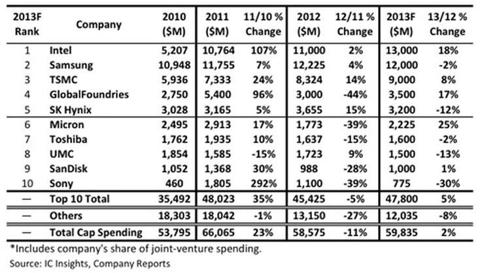 Intel's Lead is going to become bigger in the next 3 years
Intel has bought a substantial equity stake in the largest semiconductor equipment maker ASML. Note ASML is only one out of the 3 companies that can make advanced lithography machines for the semiconductor fabs. It has a sizable technology lead over competitors like Nikon and Canon in making this very expensive equipment. Intel has invested money in ASML to accelerate technology advancement and further its lead over competitors. Intel is also spending $2 billion to build the first 450 mm fab in the world. These new fabs will use 450 mm wafers instead of 300 mm wafers. The 450 mm wafers will dramatically decrease the overall cost, as the new wafers will produce almost 2x more chips for the same cost.
Intel Fab Utilization is low currently but will fill it up fast
One of the criticisms that Intel is facing is that its fabs are running at low utilization. The reason is that the PCs are declining at a faster pace than expected and Intel wants to keep a low inventory level. However, Intel is rapidly catching up with competitors in the mobile processors space. By the end of this year, Intel will introduce a new generation of mobile processor chips, which will compete with the best out there. It should also manage to integrate a communications chip in its mobile SOC products. This will give it a much greater market share of the rapidly growing smartphone and tablet chip market. This should fill up a large share of the fab capacity. Some commentators are also speculating that Intel might use its advanced fabs to produce leading edge NAND memory chips. Intel recently sold its interest in the IMFT JV to Micron Technology (NASDAQ:MU). The company continues to have a close relationship with Micron and that possibility remains in play.
Stock Performance
Intel's stock has not performed well as the market has given it a low multiple due to its slowing growth prospects. The company has traded in the $20-28 range for most of the last 5 years, except during the March 2009 market crash when the stock went down to the $12 level. The stock is currently trading at the lower end of the range at $21.83. Over the past 5 years, the company has substantially outperformed its major competitors like AMD and Nvidia (NASDAQ:NVDA) in the PC processor industry.
Valuation
Intel trades at a forward P/E of ~10x, which is quite cheap when compared to the S&P 500, which trades at nearly 15x. The company has the highest dividend yield amongst the large technology companies at ~4%. The company's P/E is in line with other big tech companies such as Cisco (NASDAQ:CSCO), Apple (NASDAQ:AAPL) and Microsoft (NASDAQ:MSFT). However, it is much lower when compared to some of its big semiconductor competitors like Qualcomm (NASDAQ:QCOM) and Texas Instruments.
Summary
I think that Intel has one of the strongest competitive barriers in the technology industry due to its lead in both semiconductor technology and manufacturing. The company is spending its huge cash flow on building for the future, unlike some companies, which simply hoard cash. While Wall Street likes short-term profit and low capex, I think Intel is being smart by spending its idle cash in increasing its lead in the semi industry. Intel has one of the lowest cash levels amongst mega cap technology companies as it spends nearly all of its cash flow in either capex or dividends/buybacks. Intel remains one of my favorite technology picks due its low valuation and strong competitive barriers.
Disclosure: I have no positions in any stocks mentioned, and no plans to initiate any positions within the next 72 hours. I wrote this article myself, and it expresses my own opinions. I am not receiving compensation for it (other than from Seeking Alpha). I have no business relationship with any company whose stock is mentioned in this article.