While enjoying my weekly Saturday morning stock pursuing, I ran across an interesting company that I hadn't heard of before: Geospace Technologies Corporation (NASDAQ:GEOS). I typically follow large cap dividend aristocrat type companies so, admittedly, this one is a little out of my comfort zone. However, after looking further into this company's story I am intrigued by the potential growth that its specific niche within the oil and gas exploration market offers. I worry about fluctuating commodity costs within this sector, but GEOS boasts several statistics that manage to put my mind at ease. One being that the company has produced 17% annualized growth in retained earnings since its IPO in 1997. Due to the nature of its business, GEOS's earnings can be rather "lumpy", but when looking at its recent shareholder return on equity figures I was impressed. The company boasts that it has posted positive earnings every year since 2004, proving its profitability across commodity cycles.
So, Who Is Geospace Techologies Corporation ?
GEOS is a Houston based oil and gas exploration company. 88% of Geospace's revenues come from seismic equipment where it has become an industry leader in innovation with its wireless devices, selling more wireless channels than any of its competitors. 49% of the company's total revenues come from this seismic wireless division. Geospace expects that this wireless revolution will continue to grow because of the ability of this technology to increase production through crew productivity, lack of downtime, and lower maintenance requirements. These wireless modules are essentially hand held (though multiple units are required to complete an effective system) and do not require heavy and burdensome cables. Because of this, there are fewer obstacles for placing these systems which also offer a much smaller footprint environmentally.
2012 was a standout year for Geospace Technologies Corporation . Geospace even titled their 2012 Annual Report "Breakthrough", showing their excitement about the previous fiscal year and their confidence moving forward. GEOS, formerly known as OYO Geospace Corporation, broke away from the OYO family of companies in October, 2012 when the OYO Corporation sold the remaining 20% of the Geospace stock that they owned. Since the break up, GEOS has renamed themselves, changed their ticker symbol (previously OYOG), split their stock 2-1 which effectively paid their shareholders a "100% stock dividend" and added liquidity for the stock.
GEOS's most recent fiscal year ended September 30, 2012. During this period the company posted record revenues of 191.7 million. This was a 10.8% increase over the 173 million in revenues posted during the 2011 fiscal year. Geospace set another record in 2012, posting a net income figure of 35.1 million; an increase of 18.2% from the 2011 number. Research and development of new products and technologies drives this growth; GEOS boasts that the majority of its revenues and profits comes from products which did not even exist at its IPO.
The company has recently built a new branch office in Bogota, Columbia which is expected to become operational during the second quarter this year. This office should greatly benefit the company's business in South America providing support to GEOS's sales, rentals, and field support services in the region.
The company also owns 120k square feet of manufacturing space in Bashkortostan, Russia. Geospace is expanding its wireless rental business into the Russian Federation. The company expects its 2013 investment in rental equipment to be roughly $40 million. This is a key process to the company's continued growth. GEOS states that historically, their rental investments have been offset by the sales of their rental equipment to its customers.
Geospace Technologies is also expanding its wireless business by gaining the confidence of several offshore drilling industry leaders. GEOS states that during the 2012 4th quarter it entered into agreements to rent over 1,100 ocean bottom seismic recorders "OBX" with two costumers. The company has recently installed a permanent seismic seabed reservoir system in the deep waters offshore of Brazil's coast for the BC-10 Field being operated by Shell (NYSE:RDS.A) and their partners Petrobras and ONGC. Geospace expects revenues from this contract to start showing up in the second quarter, 2013. GEOS also reached a monumental agreement with Norwegian oil and gas power, Statoil (NYSE:STO) in November 2012, signing a $160 million dollar contact to install two permanent seabed data acquisition systems in the Snorre and Grane Fields in the Northern Sea. GEOS expects to receive the contract's revenues in yearly weighted installments over the next 3 fiscal years which serves to avoid an unwieldy revenue spike and gives the company a multi-year visibility into its backlog.
Due to this lucrative contract with Statoil and GEOS's confidence in its ability to land future marine contracts, the company is investing in itself, having recently purchased a 30,000 square foot facility in Houston. The company states that it expects to invest in further facilities in 2013, with hopes to spend roughly $14 million that will increase its manufacturing ability and improve its rental business. GEOS is dedicated to maintaining its innovative nature and expects that these investments combined with its continued research and production of new technologies will increase its organic growth creating unparalleled value for its customers.
And it wasn't just the marine segment that was successful for Geospace in 2012. The company's land wireless segment sold 73,000 channels, increasing its revenues by 30% ($82.6 million in 2012 compared to $63.8 million in 2011). GEOS is focused on increasing the efficiency of its wireless data acquisition systems. In 2012 the company increased their system's memory capacity and operational speeds. Their system's power consumption has also been lowered. GEOS expects that these technological advancements will drive market wide confidence and segment growth into the future.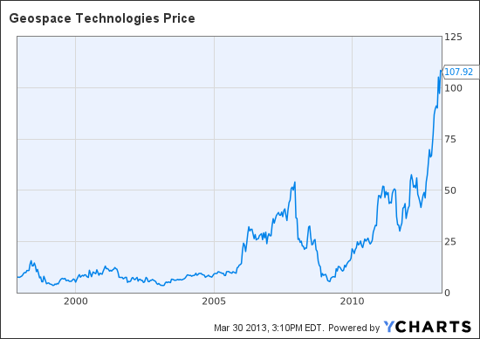 Balance sheet:
GEOS ended the 2012 fiscal year with $146 million of working capital. The company maintains $71 million of cash and short term investments. GEOS has no long-term debt and its $25 million credit facility has yet to be touched. Because of this, the company's end-year liquidity was $96 million.
2013 Q1 highlights:
Record revenues of $77.6 million.
Diluted EPS of $1.70 which was the company's best quarter ever; 91% higher than its previous best quarter.
Gross profit margin: 52%
Operating margin: 41%
Fundamentals:

P/Earnings: 28.7x
P/Sales 6.1x
P/Tangible Book: 5.8x
P/Cash Flow: 23.8x
Return on Assets: 19.21%
Return on Equity: 22.82%
Return on Investments: 22.55%
1 year EPS growth rate: 15.77% (Scientific & Technical Instrument sector average: 2.99%)
5 year EPS growth rate: 11.10% (industry average: 6.23%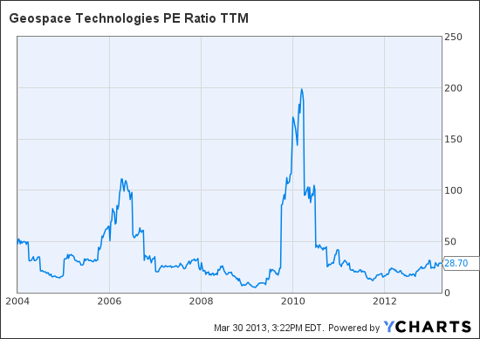 GEOS PE Ratio TTM data by YCharts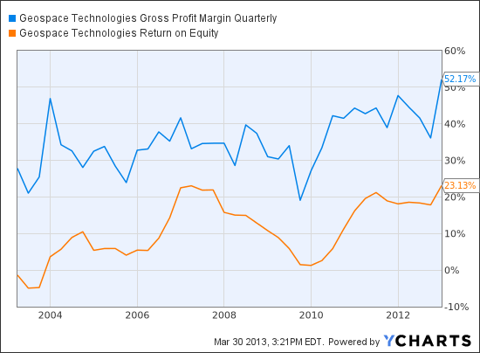 GEOS Gross Profit Margin Quarterly data by YCharts
All research performed for this article is taken from Geospace Technology Corporation's 2012 annual report and the company's investor relations presentation.
Disclosure: I have no positions in any stocks mentioned, and no plans to initiate any positions within the next 72 hours. I wrote this article myself, and it expresses my own opinions. I am not receiving compensation for it (other than from Seeking Alpha). I have no business relationship with any company whose stock is mentioned in this article.