Alcatel-Lucent (ALU) is a company that people love to hate and doubt. Alcatel-Lucent tops my list of favorite turnaround stocks, but it also has one of the lowest probabilities of success in my opinion. However, I think the rewards if it is successful still make it a stock worthy of consideration for some styles. I am also a huge fan of its technology. There have been a lot of developments with the stock as of late.
New Captain and New Lifeline
I am extremely neutral about the CEO change. I agree that it had to be done, but I do not see this as a positive for the company yet. The new CEO Combes starts April 1, 2013, and his previous experience is in Vodafone as CEO of Vodafone Europe. It will take some time before we get a full picture of how the company will progress under new management, until then patience is required.
Goldman Sachs and Credit Suisse have stepped in to offer Alcatel-Lucent a lifeline of cash to salve liquidity concerns. This credit facility is backed up by Alcatel-Lucent's best units. A company in the shape of Alcatel-Lucent would need to offer up quite a security for a credit line, but this might look bigger than it is.
Make no mistake about Alcatel-Lucent coming down to the wire on its turnaround, meaning time is running out. An inability to meet its obligations regarding this new debt would come about because it has been unable to accomplish its turnaround, in which case it would be fair to call it game over. What assets are secured under what debt might matter to creditors after the company fails, but shareholders are unlikely to get anything anyway. Alcatel-Lucent really is on its last chance, and putting the best assets on the block exemplify this.
I always like to be clear about the risks when it comes to Alcatel-Lucent. Around $2 billion in loans was given to the company and that is supposed to give it 3 years to complete its restructuring and fix its operations. The money will primarily be used to roll over the most recent debt that will be due in order to stave off a potential default. The loans were out of necessity as well as easing fears. Liquidity concerns have plagued the company for some time, and while this only pushes back the issue it does make those concerns a less pressing matter. There are other issues in the interim that are more important for the company.
I think the three years the company suggests it has is ambitious all things staying about the same. With the restructuring costs and the other changes the company has to make it probably has a year and a half to two years before it runs into issues. That is if business does not start to turn. If it posts lower losses on its way to profitability it will gain more and more time, until such time that it is profitable. Even then it has to be profitable enough to meet its obligations for both the interest and the principal eventually. Rolling over debt will be hard unless it can show consistency, because you want favorable rates. Paying down its debt would be the best option, but that might be a tall order for the next three years. If things start improving the "kill" date for the company will be pushed back until it disappears as a certainty all together.
lightRadio in the Darkness
It was disappointing that the last earnings call had about two sentences devoted to lightRadio being important. No particulars were given. I was not even in the prepared comments, but an analyst had to bring it up during the Q&A. I do not want to jump into any negative conclusions, but I expect that it will be a while before lightRadio makes any waves for the company. The path for that product was not a fast one.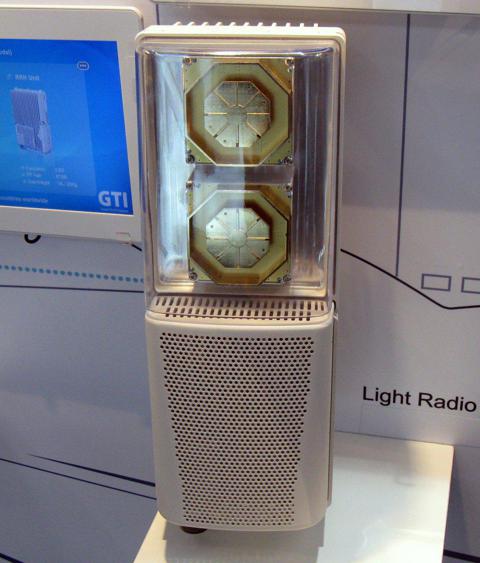 I have learned more about lightRadio since I first wrote about it. I confused the actual radio for the entire system. The cube actually fits into a casing. Most of the functionality is in the cube, and it can be quickly swapped to add a newer cube. The shell is installed with all the requisite wiring. If the carrier wants to upgrade the cube with a newer model it pops out the old ones and installs a new one. It might not be quite so simple, but it is supposed to be simple and quick. Software can be upgraded remotely. The remote access is the another important facet of the system. There is a lot of information available on Alcatel-Lucent's lightRadio page.
From the materials and datasheets on the Alcatel-Lucent site, it seems that there will be little cause to go onsite for standard maintenance. Only upgrading the cube or fixing serious hardware related issues would require a visit. The shell seems pretty simple which gives it a degree of robustness. The cube can be swapped easily, but is much more complex. Complex technology is more prone to failure than simple ones.
lightRadio has a lot of features, but one of the most basic is support for almost every form of wireless communication. With the addition of Wi-Fi to the cell phone standards of 2G, 3G, and 4G, lightRadio is all a company would need. Small cells will be used for gap filling, and high traffic areas that cannot be sectioned out through macro-cells. Indoor areas like stadiums see a lot of traffic, but even outdoor transit hubs see a lot of traffic. That does not just mean lightRadio, but any small cell technology. The features of lightRadio definitely make it a fantastic contender in the space from a technological perspective. In all things, I think modular is the future, and lightRadio is a modular small cell solution. lightRadio is the shorter product discussion here, but I have written about lightRadio in detail before, and only wanted to include mostly new information here.
7950 Extensible Routing System and the 7750 Service Router
The new core routers will be easier to sell than lightRadio. New means that it is out the door now, but it made a debut last year. There are a few reasons for this. Core routers can be bought on a one-off basis. lightRadio is a system that involves hardware, services and a broad geographic range. It is possible to buy just one router. While there might be issues with efficiency and compatibility having routers from different vendors, it is not a problem that cannot be overcome. If the company decides to go a different way and go with another vendor the other router can be used for redundancy.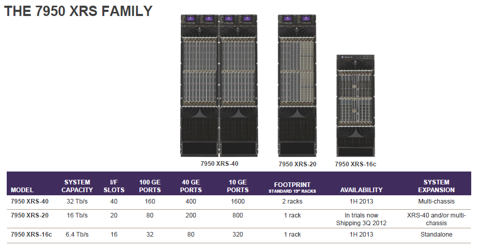 lightRadio would be a serious investment. The backhaul for small cells is a serious issue, because the geographic range means that you need to spend more on hardware to move the data over to the core network. Small cells might be so diffuse that the company has to have hardware in far more locations than it would have before. Also, lightRadio works as a whole, and installing the small cells means laying down the wire and the hardware to run everything. Part of the backhaul hardware is a network of edge routers to move the data from the cells onto the core. As you will see, Alcatel-Lucent now has core routers to complement its existing edge router and small cell solutions. Core routers are a logical step for the company, and fills a gap in their product offers.
The new core router from Alcatel-Lucent is a monster as a single unit. There are three models with a demi-version that is for customers not requiring massive power. There is the middle version, which occupies a full rack. Then there is the huge version which is two of the middle versions linked together as a single system. Even though it occupies 2 racks it is not being marketed as a normal multi-chassis product. For other routers, linking 2 or more of the routers requires specific hardware to enable that support. For the 7950 XRS you only need that extra hardware for 3 or more. The specific hardware has been described to me under various terms including backplane, shelf, or fabric. You can read more about the router here (PDF), though it seems to be pro-Alcatel-Lucent. I liked the technical details.
The XRS-40, which is the one with the two boxes linked together, with 40 slots. Each slot is capable of having a card installed that can support 4-100Gbe ports. Those 4 ports are full duplex meaning that they are running at 100Gbps in both directions, incoming and outgoing. Remember your upload is the server's download and vice versa. So each port can simultaneously transmit 200Gbps as long as the data is going in different directions. Alcatel-Lucent has an impressive routing chip it uses to manage all the data flow. The FP3 chip can handle 400Gbps of routing information. The FP3 chip was developed for the tried and true service router, but is still beyond what competitors have. The router is also designed to handle 400Gbe ports.
The core router is designed to be energy efficient for its power. Energy requirements add a lot to the ongoing costs of customers and it is a major issue. Heat and energy consumption are actually some of the biggest considerations when it comes to new hardware, because they add a lot to expenses. The routers are supposed to save one-third on energy compared to other platforms, with 50% savings in space compared to those same platforms.
The 7750 Service Router is the older product and has received a lot of coverage over the years. A lot of what applies to the core router applies to the service, or edge, router. A service router is usually not as powerful as a core router, but has to deal with a lot of different issues. The edge router is the ramp onto the information superhighway made of core routers. That is a simple way of explaining it.
Alcatel-Lucent has been in the edge router business for years and actually unseated Juniper from the number two market share spot, but that amounts to about 24%. Cisco's dominance is insane. Even though you can use an Alcatel-Lucent service router with a core router from another vendor it is beneficial to use equipment from the same vendor. The simplicity in maintenance, software and expertise makes it far easier.
Networks are complicated and people actually get specific training and certifications for different technologies. Using the same vendor eases compatibility and training. The benefit of having products from the same company is one of the reasons that Verizon, a customer of the service router, will be using the 7950 core router.
The success Alcatel-Lucent has had with its service router should help it in selling these core routers. Core routing is a fairly lucrative market, and Alcatel-Lucent is a newcomer. In its recent history it has not had a core router offering, so any gains it makes in this industry will be new revenue, not replacement revenue of an older line of products. If it can keep expenses under control the core router could be a significant boost on the way to being profitable. The three products I have mentioned can all work together. The service router is a component of the backhaul network to transport all the signals flowing into the small cells over to the core network. A mobile provider seeking to ease compatibility might use lightRadio small cells, edge routers, and core routers in order to simplify employee expertise, maintenance and support contracts, and supply chains. The products can also be used individually so there is a great deal of flexibility in Alcatel-Lucent's product lines.
Hunting for Signs of Success in the Noise
More money in than out, it could not be simpler than that. Revenue growth is far down on my list of important things for Alcatel-Lucent. I even expect revenue to shrink if Alcatel-Lucent is closing down entire units. On the other hand, lowering expenses is high up on my list. Alcatel-Lucent has over $18 billion in revenue for the trailing twelve months. That means nothing if the company cannot consistently make a profit. I would take $10 billion in revenue with $2 billion in pure profit over the current situation.
Through all the information and metrics available to investors, I will be focusing on two things for Alcatel-Lucent. First, I will be looking at operating cash flow and free cash flow. I would probably focus on the trailing twelve months if the information was readily available, but I would also want single quarter of information to judge the quarter. I would supplement all this with net income and both gross and net margins. However, the most important thing is the cash flow. Alcatel-Lucent still has a liquidity issue coming down the road. Therefore, consistent and growing positive cash flow would be one of the earliest signs of a change for the company.
One thing to look out for is one-off charges or income. I like to see the cash coming in, but I would not make too much of money coming from asset sales. The cash helps, but I do not want the company to put off its expiration date. I want the company to be profitable consistently. Certain one-off charges are a normal part of doing business, as long as they are not too severe I would restrain my concern. Though, large charges are a concern, because of the weakness of the company.
My Trade
I grabbed a few call contracts for Alcatel-Lucent last week. I grabbed some January 2014 $2.50 calls for $0.15 and January 2015 $3.00 calls for $0.25. I probably overpaid a little for the 2015 calls, and had I waited for this week I could have saved five bucks a contract. I am not really concerned with that, though. It is not too much money at risk, though Alcatel-Lucent haters would think it's money wasted.
Since I am looking for profitability, I think the trades are fine. If Alcatel-Lucent can show one quarter of profits, it could see a nice run. If it can show two and a continuing positive trend, I think it could meet and cross the targets. The expiries are pretty far out, though January 2014 is not as far as it seems. Only three earnings reports will come out between now and then. If I am still waiting into December, it would have to see quite a run. It is not unheard of for Alcatel-Lucent to make large movements quickly. Granted the direction is mostly down. The profit potential on these trades is huge, even if the probability of success is low. Steps in the right direction could move the stock.
Conclusion
The clock is ticking for the company. Be extremely careful if you decide to invest. Even shorting the stock warrants concern, but I will leave that to someone else. I am long Alcatel-Lucent, sort of. On a side note I also have Cisco calls for 2014, because I really think that wireless and specifically mobile are at an important point and will grow from here.
News for Alcatel-Lucent has been coming down the pipes regularly for at least the year I have been following it closely. You can look at the headlines or follow the company on twitter, and you will occasionally get news about a new deal or some new event. For example, the recent announcement about the upcoming announcement about software-defined networking. While it is nice to see that the company is not idle, the primary focus should be on money in vs. money out.
Disclosure: I am long ALU, CSCO. I wrote this article myself, and it expresses my own opinions. I am not receiving compensation for it (other than from Seeking Alpha). I have no business relationship with any company whose stock is mentioned in this article.
Additional disclosure: I have LEAPs in Alcatel-Lucent and Cisco. Details are in the article itself. Not a registered investment adviser. Do your own due diligence.