Most great investments are easy to understand and Bio-Reference Labs (NASDAQ:BRLI) fits the bill.
Bio-Reference Labs performs clinical laboratory diagnostic services which includes tests such as blood and urine analysis, hematology services, tissue analysis, and cancer cytogenetic testing with most of the revenue coming from the New York metropolitan area.
Here are 5 reasons why Bio-Reference Labs is a solid business and worth putting on your buy or waiting list.
1. A strong and resilient business
The business model is recession proof. Regardless of the economy, companies need to continue performing lab tests on new and potential employees. An example of this is where Bio-Reference Labs posted a 20% increase in revenue in 2002 despite the September 11, 2001, attack in New York, and another 20% growth in revenue in 2009 when other businesses were citing losses due to the 2008 recession.
Bio-Reference Labs has increased revenue every year since 1993 with an average gross margin of 49.7%. In the past 5 years, the average gross margin has been 51% which clearly indicates how strong this business is. A high gross margin attracts competition but Bio-Reference Labs has been able to maintain consistently high margins for over 10 years.
Such high margins show that despite the fact that the clinical labs industry is fragmented, the company enjoys a competitive advantage.
2. Solid Fundamentals with Excess Returns
Check out these numbers
5 year ROE average of 17.6%
5 year ROIC of 18.7%
5 year CROIC of 24.7%
ROIC and CROIC are both designed to show the profitability and effectiveness of the company.
A CROIC of 24.7% shows that BRLI is able to generate 20c of every $1 of owner earnings used to invest.
The balance sheet is healthy with a quick ratio of 3 and minuscule debt ratios of 4%.
3. Excellent Quality of Accounting and Earnings
When I look at a company, I want to make sure that the company is not manipulating its numbers.
I check earnings quality and accounting using several measures.
The Piotroski Score is a scoring system based on checking 9 accounting principles compared to the prior year.
BRLI scores a perfect 9 for the Piotroski score.
The Altman Z score is signals how likely a company will go bankrupt within a couple of years.
BRLI has a strong balance sheet and there is no risk of bankruptcy.
The Beneish M Score is a financial model based on detecting earnings manipulation.
Again, BRLI is completely in the green. No signs of accounting manipulation.
The fourth part of checking earnings quality is by using the DuPont analysis method to break down ROE to see how the company is achieving its current numbers.
With the DuPont analysis, you want to make sure that ROE is not increased due to debt. Remember that an increase in debt will also increase ROE.
ROE has remained at an above average level due to consistent margins, increase in asset turnover and decreases in the equity multiplier.
All very healthy signs.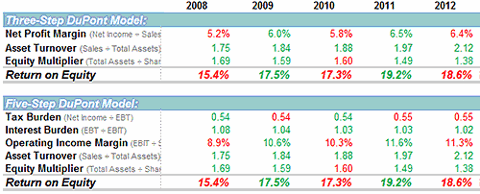 4. Good Insider Ownership
Management has done a good job with the business. Accounting is the language of business and the numbers show that BRLI has been very well managed and executed.
With an insider ownership of over 11%, with the CEO owning 10%, it shows that insiders are committed to the business and will act in the interest of shareholders.
The founder still runs the business and is chairman and CEO.
5. Best of Breed Company
BRLI really only has two main public competitors. There are other small and specialized competitors, but it wouldn't be comparing apples to apples.
Here is an image showing how well BRLI stacks up against its much bigger competition.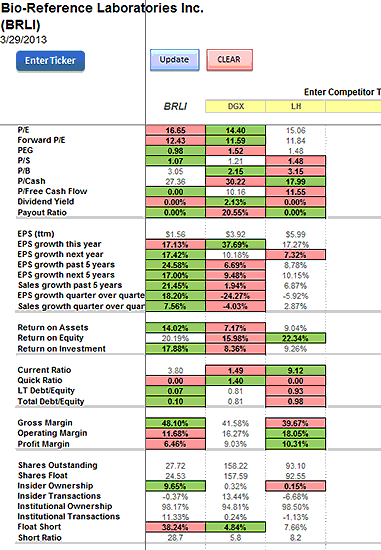 Priced at a very slight premium
Strong earnings growth in the past and expected
Great business returns as mentioned above
Fabulous financial position
Lacks in the margins area compared to competitors but that could be due to economies of scale
The strange thing is that despite the great fundamentals, the short interest is very high.
Valuation Targets
Looking at how stable the company is, projecting future cash flow and earnings will be easier.
Using the Old School Value valuation tools to value BRLI, here are the valuation numbers that I get.
DCF: Conservative target price of $26 with a more normalized target of $35
Ben Graham Growth valuation: Conservative price of $39 and a more normal target price of $46
Absolute PE valuation method: Fair value of $30 with a fair value PE being 19.6
EBIT valuation: Conservative price of $23.9 with a more optimistic fair value of $39.
This gives BRLI a target range between $24 to $46.
The current price of $26 is within this range and shows that it is priced at around fair value.
As much as I like the company, without a big enough margin of safety, I will just have to wait for BRLI to come back down.
Here's an overview of BRLI.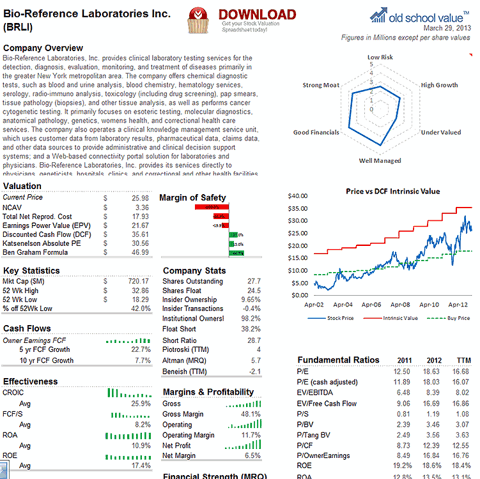 Disclosure: I have no positions in any stocks mentioned, and no plans to initiate any positions within the next 72 hours. I wrote this article myself, and it expresses my own opinions. I am not receiving compensation for it. I have no business relationship with any company whose stock is mentioned in this article.