As someone who covers a lot of short ideas on this site, one of the most important items I follow is short interest data. One must always be aware of the short interest in a stock. A large short base could spark a short squeeze on good news, while low short interest could spark a huge drop on bad news. Every couple of weeks, we get an update from Nasdaq on short interest data, and I report on what I am seeing. Today, I'm here to discuss the middle of March data. I will cover five names that have seen significant increases in their short interest numbers recently.
Groupon (NASDAQ:GRPN):
The daily deals site saw its first rise in short interest in almost four months. This name has been on the flip side lately, the list of names with declines in short interest. As you can see in the chart below, the number of shares short sharply rose from the end of February to the middle of March. A rise of nearly 13 million shares short implies a jump of more than 47%. The number of shares short in Groupon is now at its highest point since the middle of December.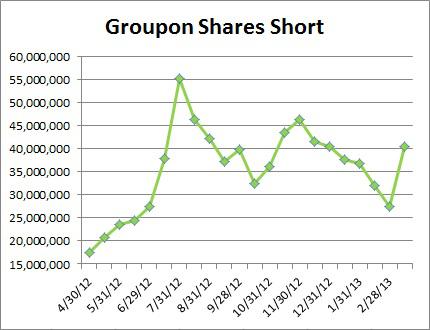 I mentioned last time around that Groupon fired its CEO, Andrew Mason. This was not exactly a surprise, as the company's business has struggled and the stock had dropped to the low single digits after debuting in the mid $20s in 2011. Shares plunged on the last day of February after another terrible earnings report, which you can be assured was part of the reason Mason was removed. However, shares have staged an impressive rally since Mason's departure, up 35% during the month of March.
Groupon will be an interesting name to watch in terms of short interest next time around. With shares rallying back over $6 by the end of the month, you have two competing forces. On one hand, you have the bull side, which thinks Groupon is now set for a turnaround with Mason gone. On the other hand, you have the shorts who might believe Groupon is an even better short at $6, given the company's poor business performance recently.
Green Mountain Coffee Roasters (NASDAQ:GMCR):
Green Mountain shares have rallied to a new 52-week high in the past few weeks, and with that, the number of shares short is increasing a bit again. This is a stock that has gone from $15 to the mid $50s since August, so you can imagine some are starting to doubt the rally. The number of shares short had declined from 51.45 million (almost a third of shares outstanding) in mid November to just 27.12 million by the end of January. However, in the month and a half since, as you can see below, the number of shares short is up more than 25%. With just under 34 million shares short at the latest update, short interest in Green Mountain is at its highest point since the middle of December update.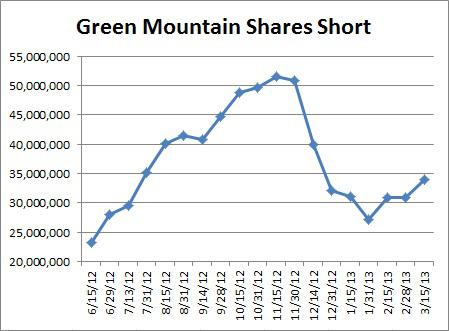 Green Mountain has been one of the biggest debate stocks over the last two years. Growth and inventory concerns, accounting questions, and a David Einhorn short trade knocked down this stock from triple digits to just $15. However, the company's growth numbers have settled in, and a huge buyback program has roasted the shorts. But with a stock that's rallied nearly 275% from its low, you can be assured that there will be doubters. Green Mountain dropped about 12% after its latest quarterly report, because investors did not believe the results justified the rally.
However, it didn't take very long for shares to rebound and head even higher. The company's buyback still had $325 million left at the end of the previous quarter, one reason why shares could head higher. The valuation is reasonable at this point, meaning that the stock could rally if results remain strong. You also have more than 20% of shares short, so any good news could result in a sizable short squeeze. The number of shares short represents about 8 full trading days of volume (given the 3-month average volume), and that's a lot of shares to cover if needed. You can expect the bull/bear debate will continue to heat up as this name approaches its next earnings report, probably sometime in late April or early May.
Molycorp (MCP):
The rare earth mineral producer has seen short interest hit a new high after the company delayed its Q4 earnings release. As you can see in the chart below, the number of shares short has more than doubled from 17 million to 37 million since July. Twice now the number of shares short declined from its roughly 34 million level to under 30 million, but we're back up again. In the last month, the short count has risen by more than 7.75 million shares, a rise of more than 26%.
The problem with this rare earth name is its inability to meet expectations. They had another huge revenue miss in Q4, and there has been a lot of executive turnover. Back in December, the CEO was removed, and two more executives recently resigned. When I first started following this company in late 2011, analysts were expecting nearly $4.00 in profits in 2013 from the name. With a number of disappointments since, current estimates call for a $0.62 loss. Revenue growth expectations have also been sliced in half over the last year. The company has also been forced to add a ton of debt. Even with shares close to a 52-week low, the number of short sellers has continued to increase as this company has continued to disappoint.
Dendreon (NASDAQ:DNDN):
Dendreon's short interest has hit a new yearly high, and now more than a third of the outstanding shares are short. Since the end of April, the short count has risen by more than 57%, and now stands at 51.7 million shares. As you can see in the chart below, the number of shares short continues to hit higher highs. There hasn't been a ton of news recently, although some investors might have been worried by a recent lawsuit settlement related to Dendreon's Provenge, their blockbuster prostate cancer treatment.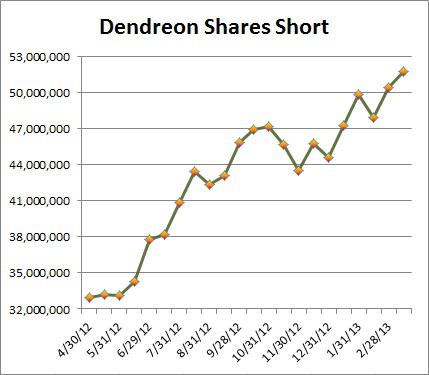 A couple of weeks ago, I updated investors on Dendreon's financial picture. Dendreon has stated that they will be cash flow positive from US operations when they hit a quarterly revenue figure of $100 million. However, total revenues have stalled out in the low to mid $80 million range, and a $100 million quarter is looking further and further off. Dendreon is undergoing a large restructuring effort that will improve results going forward, but they still need to improve the top line. Even if they can cut costs, they need to hit that magical revenue number. As I stated in the article, analysts thought a $100 million quarter was a 100% certainly in the middle of 2012. Currently, with yearly revenue estimates at $358 million, the chances of a $100 million quarter are a bit less.
As Dendreon's losses have piled up, the balance sheet has gotten a bit worse. The balance sheet didn't get terribly worse in Q4, but that's only because they sold their NJ facility, which produced a bit of cash. Since a sale like that won't happen again, the balance sheet will continue to get worse. I've argued that if Dendreon cannot hit the $100 million mark in the next few quarters, the company will probably need to raise more money. That will either mean a very high interest rate on debt, or significant dilution to shareholders. Since my article, Dendreon shares are down almost 15%, but I wouldn't necessarily short it here. With a large number of shares short, any good news could result in a massive short squeeze.
Boeing (NYSE:BA):
The aircraft manufacturer and Dow component is close to its 52-week high, and that is one reason why the number of shares short have increased. You can understand that concerns over the 787 Dreamliner are one of the main causes as well. Until Boeing can get that aircraft fully running as planned, there will be those willing to short this name. Add in the fact that Lion Air, a key Boeing fortress, signed a huge deal with Airbus, and Boeing's skeptics have risen.
Over the last two months, the number of shares short in Boeing has increased by nearly 60%. As you can see from the chart below, the number of shares short in this name is at a new yearly high. This is the fourth update in a row where Boeing's short count rose, and the 22% jump in shares short during the first two weeks of March is not exactly small. The number of shares short represents less than 2% of shares outstanding, but a 60% jump in short interest over two months is nothing to ignore. Keep an eye on this one.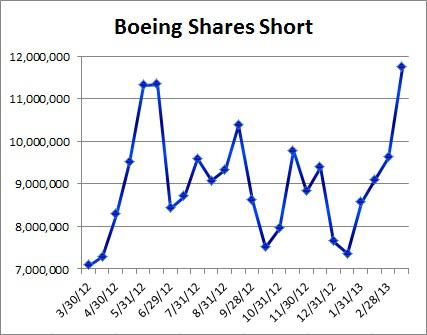 Final Thoughts:
Investors in these five names are hoping that the recent increases in short interest are a one-time issue. If these names can produce good news going forward, the number of shares short will reverse, and for some of these names, a nice short squeeze could occur. One thing is certain. These names have all seen large increases in short interest, and we'll see if any make this list when we get the next update in a couple of weeks.
Disclosure: I have no positions in any stocks mentioned, and no plans to initiate any positions within the next 72 hours. I wrote this article myself, and it expresses my own opinions. I am not receiving compensation for it (other than from Seeking Alpha). I have no business relationship with any company whose stock is mentioned in this article.
Additional disclosure: Investors are always reminded that before making any investment, you should do your own proper due diligence on any name directly or indirectly mentioned in this article. Investors should also consider seeking advice from a broker or financial adviser before making any investment decisions. Any material in this article should be considered general information, and not relied on as a formal investment recommendation.