Dividend investing is an extraordinarily popular topic now as more retirees pursue income. The Wall Street Journal published an article this weekend titled 'Five Really Dumb Money Moves You've Got to Avoid' and the number one mistake was reaching for yield. With savings rates near zero, investors are pursuing high-yield opportunities without fully understanding the risks. While some investors are buying Italian ten-year bonds yielding less than 5%, I suggest considering American equities with comparable risk-adjusted yields.
This week, I had to expand my usual ex-dividend screen to capture companies with 3% yields due to a lack of candidates. I specifically focused on companies that have been growing their yields and/or have had yields in excess of 4% in the past. The six companies are extremely diverse and are from industries ranging from banking to information technology to food wholesale. The yields are packed in a tight range from 3.2% to 3.8% and market capitalizations are significantly higher than usual.
For details of the strategy and my screener details, please consult my methodology on the topic (last modified 1/21/2013). In brief, the screen focuses on relatively stable equities with a concentration on liquid companies at affordable valuations. This is summarized below:
Dividend Yield ≥ 3.0%
Ex-Dividend Date = Next Week
Market Capitalization ≥ $1B
P/E Ratio: 0-20
Institutional Ownership ≥ 15%
Ideally Modest YTD S&P 500 Underperformance
Minimal European Exposure
After applying this screen, I arrived at the equities discussed below. Depending on your belief in the investment hypothesis, you may decide to hold long enough for the dividend or to hold for long term. The information presented below should simply be a starting point for further equity research in consultation with your professional financial advisor before making an investment decision. My goal is to present new companies to you and provide a brief overview of their recent developments; this should not be considered a substitute for your own due diligence.
The Toronto-Dominion Bank (NYSE:TD): 3.79% Yield; Ex-Dividend 4/1
The Toronto-Dominion Bank ("TD") is the sixth largest bank in North America with over 22 million global customers and C$818B in assets. The company operates in four key business lines:
Canadian Banking (Personal and Commercial)
Wealth and Insurance
Wholesale Banking and Securities
US Banking (Personal, Commercial, and Auto Financing)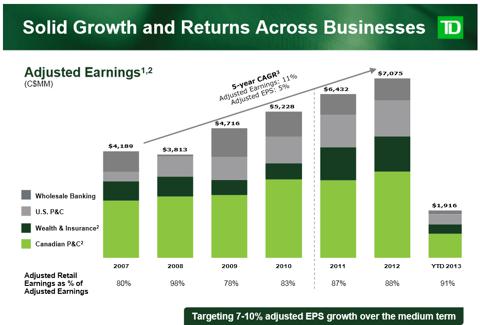 (Source: TD Investor Overview Q1 2013)
All four of the businesses are generating positive earnings with most logging growth in the range of 11%-15%. TD's competitive advantage is its focus on customer service and convenience; for example, TD branches are open an average of 45% more hours than Canadian peers are. TD has undergone a dramatic transformation in the last ten years as the company shifted towards a franchise dealer model, which entails significantly less risk. TD has been active in pursuing strategic acquisitions and recently acquired Epoch Holding Corporation in a deal that is expected to be accretive in fiscal 2014. The Basel III Common Equity Tier 1 capital benchmark has been steadily rising every quarter for the past year and currently sits at 8.8%. Additionally, I believe that the Tier 1 capital understates the risk profile as TD generally focuses on less risky assets. The Bank is consistently named one of the strongest and safest banks in the financial press.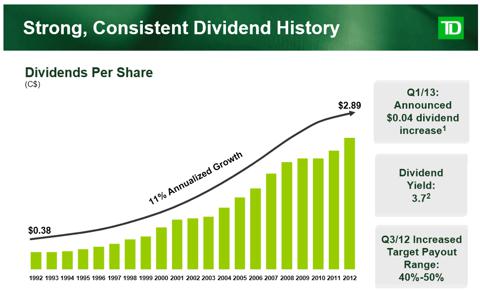 (Source: TD Investor Overview Q1 2013)
Last week I covered two other large Canadian Banks, Canadian Imperial Bank of Commerce (NYSE:CM) and The Bank of Nova Scotia (NYSE:BNS), both of which have significantly higher yields. TD's yield is "only" 3.7%, which is appropriate given the lower risk assumed. TD has been range-bound in 2013 and I believe it is undervalued at a forward P/E under ten. This is a well-managed company with quality dividend is expected to rise in the near future. Management is targeting a payout range of 40%-50% and the payout is currently 37.2%. The yield has held around 3.8% in the past few years; therefore, any rise in dividend will likely translate into share price appreciation.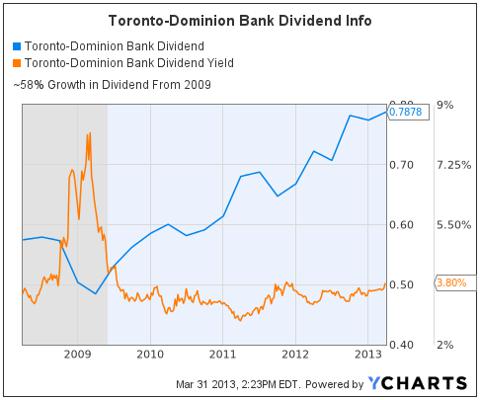 Raytheon Co. (NYSE:RTN): 3.4% Yield; Ex-Dividend 4/1
Raytheon is one of the leading defense/aerospace systems companies and recently celebrated its 90th anniversary last year. Raytheon is similar to Lockheed Martin (NYSE:LMT), which I analyzed in detail the past summer. The company specializes in missile systems, space and airborne systems, integrated defense systems, and network centric systems. The company recently announced a reorganization that will save $85M in costs and the network centric systems will be reallocated to the other business segments.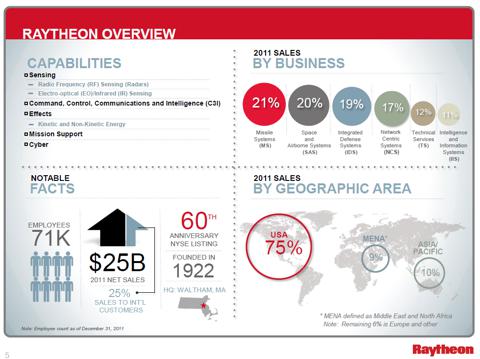 (Source: 2012 Company Overview)
Raytheon has enjoyed a CAGR of 10.7% in the past ten years but the company is facing strong headwinds. One very real risk for the company is that 75% of sales are in the United States and the country is facing dramatic cutbacks to military spending. The Pentagon has stated that weapon programs are facing "terrible" reductions in budgets. The stock plummeted from $58 to $53 in January but has recovered to just fifty basis points below its 52-week high. Raytheon is a classic defensive dividend company but I am worried that the entire industry could slip to trading at a forward multiple below ten.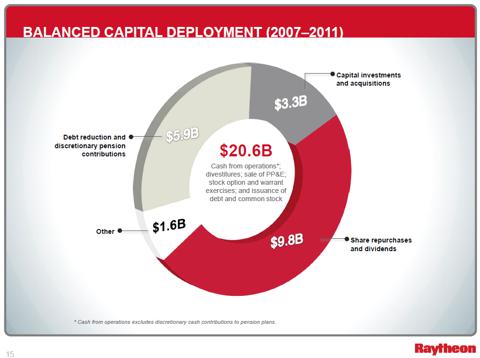 (Source: 2012 Company Overview)
Dividends4Life recently covered Raytheon and concluded, "with relatively low debt, a low free cash flow payout and trading close to my $54.68 calculated fair value price, RTN is a stock that is definitely on my radar." The company has been committed to returning funds to shareholders and has returned nearly $10B to shareholders from 2007 to 2011 via share repurchases and dividends. The dividend has been steadily increasing throughout the years and the yield has climbed from 1.9% to 3.7% since 2009. The payout ratio is still below 30% and the company has increased the dividend for nine consecutive years. Based upon the US government fiscal woes, I cannot recommend Raytheon for dividend capture purposes.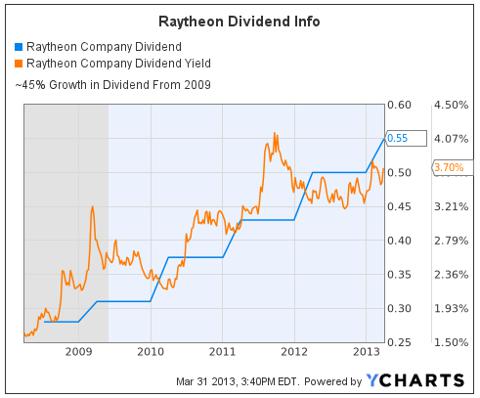 Cisco Systems Inc. (NASDAQ:CSCO): 3.25% Yield; Ex-Dividend 4/4

(Source: Yahoo! Finance)
Cisco is one of the leading technology companies with dominant market shares in routing, telePresence, wireless LAN, switching, and numerous other markets. Cisco has stagnated since 2001 and has lagged the market by approximately 20% over that time. The company remains attractively valued (9.9 forward P/E) given its 61% gross margin and 17.8% return on equity. It appears as if the stock has been punished for its solid, albeit unremarkable growth over the past few years. Cisco's recent capital allocation policy updates could revitalize the shares.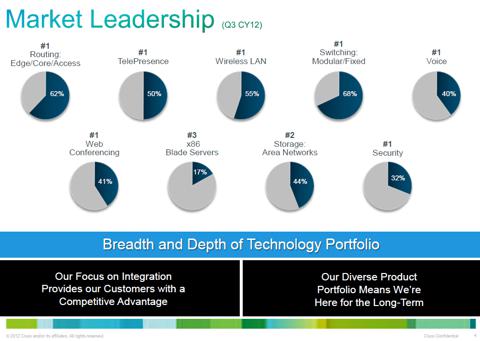 (Source: Cisco January 2013 Corporate Overview)
Cisco began paying a dividend in 2011 and the payment has more than doubled in the past year. Last week the dividend was increased three cents to $.17 per share (not depicted in chart below). Frank Calderoni, executive VP and CFO, described the change by saying, "we are increasing our dividend as part of our strategy to deliver a consistent return to our shareholders, in line with our capital allocation commitment. Cisco's continued execution and strong financial position enable us to provide a higher dividend directly to our shareholders." This follows the CFO's announcement in August 2012 that the company would "return a minimum of 50% of our free cash flow annually to dividend and share repurchases." This policy should lead to a substantially increase in shareholder distributions going forward. Alexander J. Poulos wrote an article last week discussing Cisco's recent transformation that has seen the share count drop and dividend rate increase dramatically. Only time will tell if Cisco is able to break out of its long-term trading range but an increased dividend can only help.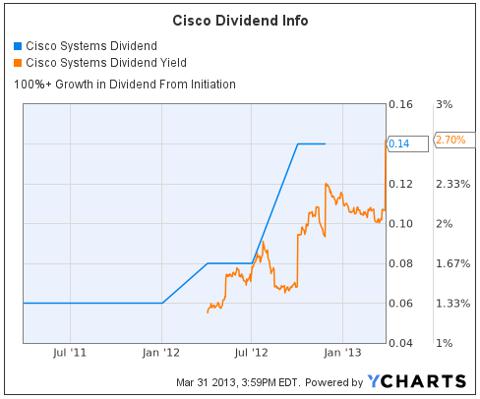 Bristol-Myers Squibb (BMY): 3.39% Yield; Ex-Dividend 4/3
Bristol Myers Squibb ("Bristol") is one of the largest pharmaceutical/biotechnology companies with a market capitalization greater than $66B although it is significantly smaller than its rivals Pfizer (NYSE:PFE) and Merck (NYSE:MRK). Bristol has historically had a dividend above 4% as well as a P/E below 20 but both metric have moved in the wrong direction. The absolute dividend payment has been increasing but the yield has fallen by approximately 50% over the past few years since due to the stock's appreciation. In the past quarter alone, the stock has jumped almost 30%. The P/E has increased due to poor performance and the ratio has increased dramatically as declining earnings have outpaced the stock's appreciation.

(Source: Yahoo! Finance provided by Thomson/First Call)
Bristol's major products include Abilify, Plavix, Sustiva, and Reyataz, which generated less than 50% of Bristol's $17.6B in 2012 revenue. In comparison, those same drugs accounted for over 60% of Bristol's 2011 revenue ($21.2B). BMY has one of the better investor relations websites and you can easily compare product sales year-over-year going back to 2007. When it comes to pharmaceutical companies one of the most important factors is the pipeline quality and further research is necessary. Despite the stock's appreciation, BMY appears overvalued at its current level. On a forward earnings basis, BMY is trading at 19x, which is expensive given the declining revenues. Both the mean and median price targets are around $36.20, or 19% below the current stock price; therefore, I would avoid for dividend capturing.
Comcast Corporation (NASDAQ:CMCSA): 1.86% Dividend; Ex-Dividend 4/1
Comcast Corporation is one of the largest media conglomerates in the United States and with a $110B market cap, this is also one of the largest publicly traded companies. For comparison purposes, Comcast is almost 10% larger than Disney (NYSE:DIS) and its Magic Kingdom. Just like Disney, Comcast has very diverse entertainment interests that can be loosely grouped into four categories:
Cable Communications - 22 million television customers, 18 million Internet customers, and 9 million voice customers.
Cable Networks - 15 National cable channels including USA and E!
Broadcast Television - NBC.
Other - Film (Universal Pictures), Theme parks, and an arena in Philadelphia.
I wrote a detailed article recommending Comcast in 2012 when the stock was trading near $31 and it has surged 35% in the past half-year. Positive catalysts such as the London Olympics and the election season really strengthened shares and the stock continues to break 52-week highs. I am always hesitant about recommending a stock at its high but I believe Comcast has more gas left in the tank.
Management recently increased the dividend by 20% to an annualized payment of $.78 per share. Additionally, management has announced a $2B repurchase plan for 2013 and has maintained a very shareholder- friendly capital allocation plan. While the dividend yield is lower than that of most traditional high-yield securities, the remarkable growth makes it a very strong dividend candidate going forward.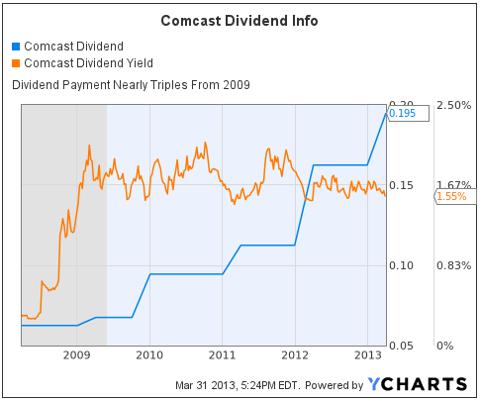 Sysco Corp. (NYSE:SYY): 3.18% Dividend; Ex-Dividend 4/3
Sysco is a food service company that specializes in distributing a full line of food and non-food products. For example, Sysco is often engaged to provide food for healthcare and educational facilities. Sysco is the clear market leader in this segment and is the only large publicly traded foodservice distribution company in the United States. The company has approximately 400,000 customers, the majority of which are restaurants. Despite being the market leader, the industry is extremely fragmented and Sysco currently holds less than 20% of the total market. For comparison, the top ten regional competitors hold a combined 11% of the market. The company is growing at a slow rate but has been active in acquiring companies. For example, Sysco has completed ten acquisitions in fiscal 2013. As the industry continues to consolidate, I expect Sysco to benefit.

(Source: Sysco Fiscal Q3 2013 Investor Fact Sheet)
Sysco has been increasing the dividend by a few percent each year but the growth has been unremarkable. The yield has hovered around 3.5% and I believe the stock will see support at 3% as it has not dropped to that level since the recession. It is difficult to form a meaningful comparison between Sysco and the food wholesale group as the largest competitor, United Nation Foods, Inc. (NASDAQ:UNFI), is significantly smaller. SYY currently trades at a forward P/E of 16.75, which I believe is rich given the high price-to-book ratio (4.2) and low annual sales growth in the past five years (3.9%). In conclusion, I would skip Sysco for dividend capture purposes.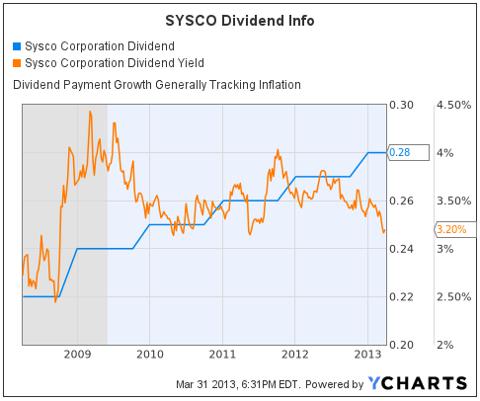 The information presented has been summarized below. I make no guarantees regarding the information in the chart as industry classifications are frequently imperfect. Orange and green represent "avoid" and "consider" classifications, respectively. All utilities in blue have been analyzed in a separate article.

Please refer to profile page for disclaimers.
Disclosure: I have no positions in any stocks mentioned, and no plans to initiate any positions within the next 72 hours. I wrote this article myself, and it expresses my own opinions. I am not receiving compensation for it (other than from Seeking Alpha). I have no business relationship with any company whose stock is mentioned in this article.