According to Bespoke Investment Group, the companies on this list have incurred the biggest changes in their EPS estimates over the past month. We took the top/bottom 10 companies (excluding financials) on the list and provided our outlook on these firms based on their attractiveness from a valuation standpoint and the sales growth expectations embedded in their current stock price. The companies on this list with an attractive valuation and reasonable expectations for growing sales are the companies we believe are the most likely to outperform.
It is important to note that earnings are important but not sufficient for evaluating a firm's ability to create wealth and the shortcomings of EPS alone, take a look at a recent article titled EPS Incresed…Company Underperformed? For a more comprehensive approach to valuation, we suggest you look at the following strategy of how The Applied Finance Group finds value.
Companies With The Biggest Changes To EPS Estimates (last 4 weeks)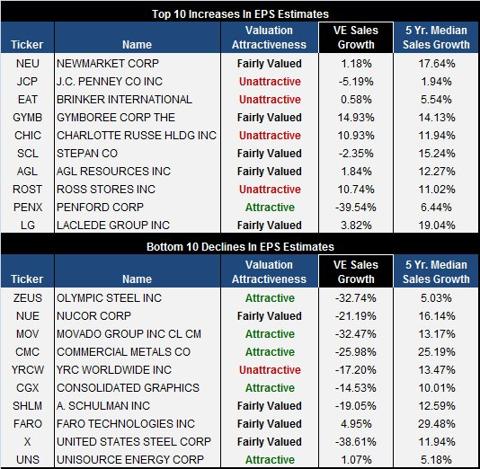 *Companies are listed in order from the biggest increase/decline in EPS estimates to the smallest increase/decline.
*AFG's Value Expectations allows us to understand the Sales Growth, EBITDA Margin, and Asset Turnover a company has to deliver in the future to justify its current trading price. In theory and in normal circumstances, if the imbedded future performance is very conservative relative to the company's historical performance, the stock is regarded as undervalued. The table displays the implied future Sales Growth of the list of companies assuming their EBITDA Margins and Asset Turnovers stay at the 5 year median levels.