When stocks go up too far too fast relative to their trend lines, they tend to pause or decline. Many dividend stocks in general may be in that danger zone now.
There are several indicators that one might use to be alerted to possible "overbought" conditions. One we like is to see how many standard deviations of 200-day volatility the price is away from the 200-day average.
The number of standard deviations is referred to as the "Z-Score".
An example of an overbought condition is often thought of as stocks 2 standard deviations above their 200-day average (Z = 2).
In a normal distribution (and that is an idealization of what is actually a skewed curve), a stock 2 standard deviations away from its 200-day moving average has less than a 2.5% probability of being higher at that time.
A stock that is 3 standard deviations away (Z = 3), has less than a 0.1% probability of being higher at that time.
Here is a chart of a stock that is 5 standard deviations away from its 200-day moving average (we'll talk about it below), but on the face of it without explaining the lines, it looks to be on an unsustainable path.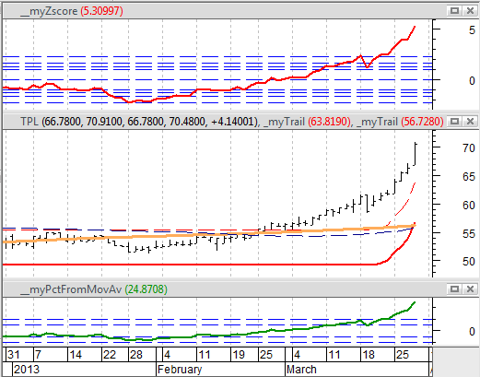 We like the stocks we own to zoom up, but don't want to buy stocks when they have zoomed to unsustainable heights relative to their trend lines.
We note that probability is ignorant of specific special drivers that could justify the price movement, but most of the time most stocks are not subject to unusual forces to drive them unusually far from their moving averages -- so most of the time the probabilistic approach is a good alerting mechanism. You have to look beyond that alert to make an investment decision.
However, when a large number of stocks of a particular kind get really far away from their moving averages, you might conclude that in fact something really special is justifiably driving the market, OR that the market is suffering from an excess of enthusiasm that may not be sustainable.
That's our worry at the moment. Not only have dividend stocks reached a height where probabilities do not favor a near-term rise as much as they favor a near-term decline; but we are also in a general US market rally where defensive stocks are in leading roles.
It is true that the Russell 2000 small-cap index and S&P 400 mid-cap index are leading the S&P 500 large-cap index; but utilities, consumer staples, dividend stocks, and so-called low volatility stocks are ahead of the small-cap and mid-cap indexes. That seems a bit like a conflicted market mindset.
Among the many daily screens we do, our screen of the 446 Dividend Champions, Contenders and Challengers list maintained by David Fish shows 17 of those with Z-scores over 3 or more (less than 0.1% probability of being higher at this time). Additionally, 142 of those stocks have Z-scores of 2 or more but less than 3 (probability of a higher price at this time of less than 2.5% ranging to about 0.1%).
That is a large number of stocks pushing the envelope.
Here is a list of the 17 highest Z-score stocks from the list:
| | |
| --- | --- |
| TEXAS PACIFIC LAND ORD | TPL |
| OGE ENERGY ORD | OGE |
| HANOVER INSURANCE GROUP ORD | THG |
| CENTERPOINT ENERGY ORD | CNP |
| SONOCO PRODUCTS ORD | SON |
| ATMOS ENERGY ORD | ATO |
| CAMPBELL SOUP ORD | CPB |
| NEXTERA ENERGY ORD | NEE |
| GENERAL MILLS ORD | GIS |
| MCCORMICK ORD | MKC |
| WESTAR ENERGY ORD | WR |
| CRACKER BARREL OLD COUNTRY STORE ORD | CBRL |
| KIMBERLY CLARK ORD | KMB |
| GENUINE PARTS ORD | GPC |
| ALLIANT ENERGY ORD | LNT |
| PEPSICO ORD | PEP |
| CLOROX ORD | CLX |
The data looks like this:

The table provides (1) the name, (2) the Z-score, (3) the ratio of the last closing price to the 200-day simple moving average, (4) the percentage difference between the price and the 252-day [1 year] trailing high, (5) the ratio of the current 200-day average to the same average 10-days ago, (6) whether the 252-day slope is up or down [1 or 0], (7) the 21-day percentage rate of price change, (8) the 63-day percentage rate of price change, (9) the 252-day percentage rate of price change, (10) the 3-month average per minute dollar trading volume, and (11) the trading symbol, as used by Reuters [eliminate any ".O" or ".K" to obtain the commonly found symbol].
Here are charts for three of those 17 high Z-score stocks to graphically illustrate how far the prices are from the average:
The upper panel shows the Z-score.

The middle panel shows the price, the 200-day average (tan line), and the price that is 20% below the 1-year trailing high price (red line).

The bottom panel shows the percentage difference between the 200-day average and the price.

The dashed lines above and below the zero level in the upper panel mark the levels above which (for the top four) and below which (for the bottom four) have only a 15%, 10%, 5% or 1% probability for the price at this time.

The dashed lines in the bottom panel mark the levels 5% and 10% away from the 200-day average.
Texas Pacific Land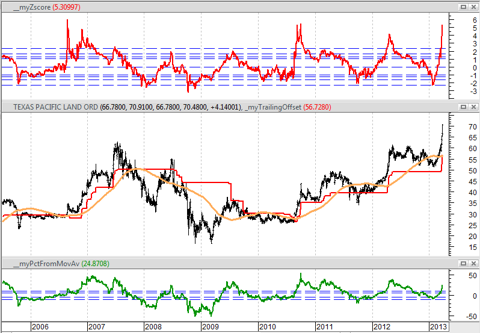 General Mills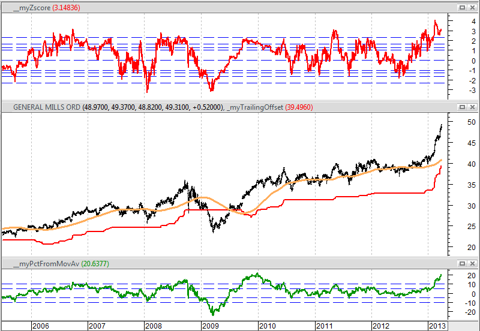 Genuine Parts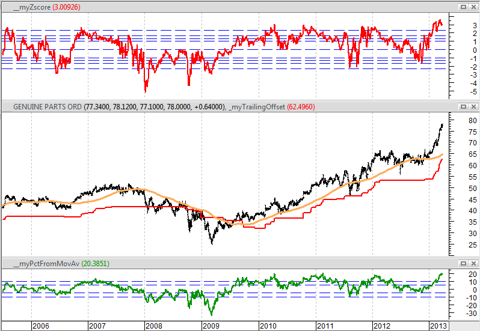 Of course, not all dividend stocks are so far into overbought territory, but the group is a bit extended.
For example, the Dividend Aristocrats ETF (NYSEARCA:SDY) has a Z-score of 2.42 versus the S&P 100 ETF (NYSEARCA:OEF) with a Z-score of 1.89. Both scores are high, but the dividend ETF Z-score is higher than that for the 100 large-cap stocks. The utilities sector ETF (NYSEARCA:VPU) and the consumer staples sector ETF (NYSEARCA:VDC), have even higher Z-scores than the dividend ETF at Z = 2.77 and Z = 2.96 respectively. Statistically, they are very high numbers, suggesting those securities are extended and cannot keep up the pace, and are highly prone to a reaction (5% counter move) or a correction (10% counter move).
If you would like to have the full table of data for all 446 dividend stocks, it is available to those who opt into our emailing list at our RationalRisk website at this link.
The 10 most actively traded dividend stocks in the list have a much more varied set of Z-scores.
Those 10 stocks are:
| | |
| --- | --- |
| MICROSOFT ORD | MSFT |
| EXXON MOBIL ORD | XOM |
| INTEL ORD | INTC |
| AT&T ORD | T |
| INTERNATIONAL BUSINESS MACHINES ORD | IBM |
| JOHNSON & JOHNSON ORD | JNJ |
| QUALCOMM ORD | QCOM |
| PROCTER & GAMBLE ORD | PG |
| VERIZON COMMUNICATIONS ORD | VZ |
| CHEVRON ORD | CVX |
The segment of the data table pertaining to those 10 stocks is here:

To the extent that this sort of statistics hold up, one might expect Verizon to be more likely to correct or to correct harder than AT&T ; or for Chevron to correct or to correct harder than Exxon; based on the data in the table.
On balance, from looking at dividend stocks individually and dividend ETFs, we think that dividend stocks are extended and are probably in line for some sort of pause, reaction or correction sooner than later.
Disclosure: QVM has positions in CVX, JNJ, MSFT, GIS, KMB, GPC, PEP as of the creation date of this article (March 31, 2013). We certify that except as cited herein, this is our work product. We received no compensation or other inducement from any party to produce this article, but are compensated retroactively by Seeking Alpha based on readership of this specific article.
General Disclaimer: This article provides opinions and information, but does not contain recommendations or personal investment advice to any specific person for any particular purpose. Do your own research or obtain suitable personal advice. You are responsible for your own investment decisions. This article is presented subject to our full disclaimer found on the QVM site available here.