It takes a great deal of risk to invest in Pacific Biosciences of California (NASDAQ:PACB). The stock was trading for almost $20 in 2011. Since then, it kept going down, and currently trades for only $2.5. Many investors already sold out their shares to cut their losses. Those who stayed on board hope that the stock will finally recover back to its glorious days. However, given the company's negative earnings, it's a great risk to invest in PACB. Yet, the stock seems to find itself strong support around $2. It actually gained positive momentum this year, returning about 50% since January. So, is it the right time to invest in PACB?
Stock Overview
PACB's performance in the stock market has not been an impressive one. The stock started the year at a closing price of $2.95 on January 3, 2012, and ended the year at $1.70 on December 31. However, this was still a better performance compared to the horrendous 2011 performance. PACB lost about 82% of its market cap in 2011.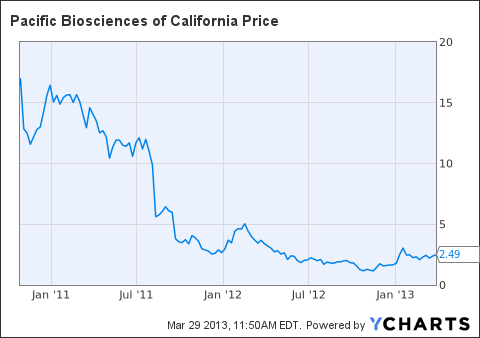 Last year was a rather profitable year for some active PACB investors, thanks to the stock's erratic fluctuations. PACB's stock market behavior created a perfect playground for shorts and longs.
PACB had a good start in 2012. The first few weeks saw an upbeat trend as it journeyed towards the peak level of the year. The stock was trading around $3 to $4 in January, and finally peaked at $5.04 on February 16. Since then, it kept sliding until it hit the all-time low of $1.10 on November 13. Those who bought a couple of PACB shares at this price were lucky, because from thereon, the share prices made a rebound a few steps forward.
PACB made a great start in 2013. The stock rallied towards $3.04 by January 17, before settling down and back to the $2-$2.5 range.
Financial Overview
The financial performance of PACB is not quite impressive in terms of earnings per share. However, when it comes to revenue, the data is rather acceptable. In 2012, the first quarter EPS was -$0.50. This slightly improved to -$0.40 in the second quarter, and remained stable at that level in the third quarter. A slight improvement was seen in the last quarter ending at -$0.38. It finally ended the full year with a total -$1.69 earnings per share.
While the EPS were negative, revenues showed some encouraging figures. In the first quarter, the company was able to generate $10.05 million, up from $0.27 million in the same period of the previous year. The 2nd and 3rd quarter revenues stand at $7.29 million and $2.77 million, respectively. The 4th quarter saw a rebound to $5.78 million. Total revenues in 2012 amounted to $26.0 million. Analysts project that the company will generate almost the same amount of revenues this year 2013 at $26.8 million, which is estimated to increase to $33.8 million by 2014.
Aside from having positive revenues, PACB still remains attractive to investors, because it has a small market capitalization of $132.8 million, but it has total cash of $100.58 million. Thus, each share comes with a cash or equivalent of $1.75 per share. In February 25, the company announced that it just completed its $20.5 million debt financing, solid proof that it properly managed its finances. The company has $2.79 million of outstanding debt. It has a current ratio of 7.8, which reflects that the company is in strong financial position.
Analyst Ratings and Recommendations
Pacific Biosciences remains volatile and you should always keep in mind the risks. Many financial analysts have contrasting opinions, and they all share the same vote for no buy. Most analysts rank PACB as underperform, with only a few recommending hold. For contrarian investors, it could be worth investing in at this time, while the share prices are nearing the strong support levels.
Insiders also are bullish on their stock. There are massive insider purchases over the last two years. The Chairman, CEO and President, Michael Hunkapiller, bought hundreds of thousands of shares from August to December 2012 amounting to millions of dollars. Its founder and CTO, Stephen Turner, also holds significant number of shares.
This can be a sign that PACB is poised to make a comeback and play a major role in the industry. This may also reflect the management's utmost confidence on the company's future success in the coming years. After all, insiders are in a better position to project where the company is headed to in the future. Obviously, they will not invest in a company that does not have future prospects. While the risks remain, insider transactions are worthy to follow.
Disclosure: I have no positions in any stocks mentioned, and no plans to initiate any positions within the next 72 hours.
Business relationship disclosure: EfsInvestment is a team of analysts. This article was written by one of our equity researchers. We did not receive compensation for this article (other than from Seeking Alpha), and we have no business relationship with any company whose stock is mentioned in this article.